If you wish to be a capable outdoor cook, you must invest in some must-have smoker accessories. In addition, your skills can improve from the ease and effectiveness of various additions to your smoking collection.
There is a wide range of smoker accessories available, and some are must-haves that you can't smoke without, like a cookbook, a meat thermometer, charcoal starter, and heat proof gloves. We collected a list of the essentials so that you can make the right decision from all the options.
Smoker accessories are the underdogs of the smoking world since most of us overlook them. So, here's a closer look at some smoker accessories you can't smoke without anymore.
Must-Have Smoker Accessories
You might be a decent cook, but smoking new recipes can't hurt. A Meat-Smoking Manifesto is more than just a smoking addendum or recipe book. Anyone can enjoy browsing through the book, whether you're a novice backyard cook or a professional chef.
The book is by well-educated chefs known for their distinction in the cooking industry. However, unlike other recipe books, the writers of this paperback gave more than just simple recipes for people. Instead, they share some of their skills to provide book lovers with a better comprehension of the culinary arts.
The book also stands out since it is a New York Times Bestseller. Furthermore, it features the definitive guide for meat smoking. Even beginners can use it. The book focuses on assembling or modifying your smoker, getting the ideal wood, and starting fires for well-cooked meat.
Some people claim that the book doesn't have enough recipes, while others prefer the writers' point of view more than many recipes. If you prefer a large number of recipes, you should check elsewhere. However, the book provides excellent value for money, so it's a worthwhile purchase.
Pros
Top chef authors
New York Times Bestseller
Great smoking meat guide
Unique recipes
Value for money
Cons
A small number of recipes
Smoking pros sometimes ignore the importance of a meat thermometer primarily due to some vague sense of ego. Still, a thermometer is a critical device that should be present in your smoking accessories arsenal. It prevents you from agonizing over your coals and often biting into underdone or overdone foods.
The device has a solid build with dual probes. It also has an LCD connected to a remote unit of stainless steel. Consequently, you can safely keep it inside your foods while they cook. The thermometer seems intricate but is easy to operate. It doesn't need any assembly. You plug the batteries in, and they'll immediately start working.
What makes the thermometer stand out is its wireless feature. You can track the progress of your foods from a distance of about 300 feet. You can move away from the smoker and enjoy meeting and mingling with your guests.
The accuracy and precision are also stunning. So, if it's hard for you to decide whether your food is ready or not, this is the answer. You can fix the temperature on the device to cook food to your taste. If it surpasses the designated limit, an alarm goes off via a count-up timer.
Ultimately, this is part of those must-have smoker accessories for a barbecue enthusiast or pro chef. You can cook food at an ambient temperature and monitor your meats from a distance. So definitely invest in the ThermoPro TP20.
Pros
Monitoring distance of 300 feet
It needs no setup
Precision and accuracy
Count-up timer
Useful dual-probe
Cons
Accuracy reduces with frequent use
Smoker BBQ Grill Thermometer" height="500" width="500" />
Wood chips are ideal for when you wish to get a robustly smoky flavor. You can use large chunks or smaller ones. The Western smoking chips are compatible with multiple devices like gas grills, smokers, or charcoal cookers.
The chips are available in a large pack. They have significant size and thickness, but they have a strong sweet taste that some might not appreciate. They are a mix of cherry, apple, maple and peach.
If you want sweet sauces or savory meats, this is the definitive collection of wood chips to get those flavors. The peach wood sets the Western smoking chips apart. Usually, you can add authenticity you're cooking as a sauce base but not as smoker wood. Unfortunately, peach wood is also rare, so this mix is hard to come by.
Great taste aside, the chips provide excellent value for money by coming in large packs. They are also affordable despite containing a unique collection of flavors.
Pros
Works on multiple cooking machi es
A rare mix of woods
Ideal for sweet and savory flavors
Large pack
Affordable
Cons
Flavor can be too sweet. Need stable wood to balance it
You can light your smoker in multiple ways, but you should pick the process that suits you. A gas torch seems to be the most convenient and time-saving method. The JJGeorge charcoal starter is exceedingly safe, flexible and convenient due to its ergonomic design.
The torch takes your safety and convenience into consideration. A downward angled nozzle maintains a safe space between your hands and direct flame. It also averts sputtering, unlike other propane torches.
The torch also has an ergonomic handle that is comfortable and convenient to hold. It is also wireless, so the handling is straightforward. The torch is also strong enough to handle years of use while maintaining ease of use and quality. Furthermore, it uses solid and rust-free stainless steel.
You can start a fire any time you'd like to grill or barbecue within a minute. It's hotter and has no excess popping or sparks while lighting your coal. The JJGoeorge charcoal starter makes no cold spots while freely moving it over other coals until you start the ideal flame.
The JJGeorge charcoal starter is a dependable instrument for lighting a smoker. It is feature-filled, harmless, practical, and reasonable. Moreover, it costs even less than a hardware store flashlight.
Pros
Ergonomic
Durable stainless-steel
Safe to use
Faster burning
No cold spots
No sputtering
Affordable
Cons
JJGeorge Grill Torch Charcoal Starter
ECONOMICAL - Get up to 100 charcoal starts on a single 14 oz can of Propane or MAP gas MINIMAL SPARKING - Grill Torch does not cause charcoal to spark like other lighters that blow air to spread flames.

When removing food from the smoker, a few instruments like tongs or forks can help put your food on a platter. Occasionally, you have too much food on the smoker, so you can't rely on a thin spatula or fork, so grill gloves are a great option.
The Grill Heat Aid gloves are durable, heatproof, and non-slip. Their para-aramid and meta-aramid design makes the gloves comfortable to wear. Cleaning is also easy since you can put them into the dishwasher, and voila!
Without grill gloves, you wonder how to keep your hands in direct flame to get meat from the smoker. No worries, their design can handle high temperatures for safety purposes. As a result, you can get to temperatures as high as 425 degrees with barely any concern.
The fun part is that you don't even need oven mitts. They're more for multipurpose functions in your kitchen, so professional chefs or novice cooks use them in cooking.
Cooking can be much calmer if you can get off all the meats from the smoker simultaneously instead of using dangerous tools like forks or tongs. Overall, you can enjoy your smoking experience with the Grill Heat Aid gloves.
Pros
High-grade durability
Versatile use
Dishwasher-safe
Heatproof
Cons
May not have a too-long life
Final Words
Smoking delicious meats don't start and end with buying the best smoker. You need to invest more money in extras to get a better flavor from your foods. There are many smoker accessories, but you can't own them all. Still, you can begin with the must-have smoker accessories and slowly enhance your collection. Happy smoking!
Keep reading: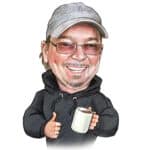 Scot has loved smoking food in his free time for the last few years. Each major holiday or off-weekend, Scot spends days testing and prepping new recipes for perfection.