When grilling or smoking food, the crucial thing is that the cooking temperature matters. It ensures that your meat cooks properly at a safe temperature without being overdone or burnt. Before picking a Bluetooth meat thermometer, you need to consider some essential things. The range is one of the most important criteria for these devices. Using a remote thermometer, you can walk away from your grill if the Bluetooth range is long enough.
The best Bluetooth meat thermometer helps you remotely monitor your food with ease and convenience. Some of our top picks for Bluetooth meat thermometers include the MEATER+ Meat Thermometer, the ThermoPro TP25 Thermometer, and the NutriChef Smart Thermometer.
Each one has its unique features, but you should be focusing on ease of use. Whether a more extended range makes your cooking more accessible or more accurate probes, it all comes down to you. So, peruse the list below to see which Bluetooth meat thermometer suits you best.
Best Bluetooth Meat Thermometers
The MEATER+ is the sole wireless Bluetooth meat probe on our list. Since it has no probe wires to look after, it is easier to put different foods on the grill. You synchronize it with its free mobile app and watch your meats from a distance of 165 feet. Not only that, but some users say that it's also operative through walls.
The dual-probe has two sensors. They monitor the internal and external meat temperature up to 212- and 527-degrees F. The app also connects to as many as four probes. So, you can enhance the effectiveness of your temperature control.
The app has many incredible features, with a directed cooking system that aids you at every stage. It also has a progressive algorithm that can approximate the cooking time of your meats. It even connects to Alexa so that you can control it remotely.
While most people feel the range is adequate, others think it would stop working at longer distances. Another drawback brought to our notice was the slight inaccuracy of the sensors. However, for the quality at its price, the MEATER+ is a worthy Bluetooth meat probe.
Pros
Wireless
Can monitor internal and ambient temperature simultaneously
The app connects to up to four probes
The app has features like an estimation algorithm
Cons
The range can be less than promised
The ambient temperature probe can be inaccurate
ThermoPro is a significant brand that released a new popular Bluetooth thermometer, the TP25. It has features that enhance its ease of use and convenience, letting you cook the best meat recipes without any flaws.
The device has an extensive 495-foot Bluetooth range with one of the most dependable connections. So, you can observe your meat's cooking progress even when you're about 500 feet away from the grill entertaining guests.
You download the device app onto your tablet or phone, where you can fix the ideal temperature for different foods. The device is also oven-friendly, so you can utilize the app to get various kinds of doneness with your meats and the excellent taste and texture.
Another great feature is the time estimator and the pre-alarm. Both help estimate the time needed for your food to cook to the set temperature and alarm you when the grill finishes cooking. That allows you to get ready and serve or start the next round of meats on the grill to save on time.
Its three-year warranty is the ideal budget option for cooking your meats. In addition, you get a wide variety of features in a device that can last a while. So even though you can find more premium options with higher durability, this device manages a remarkable feat at an affordable price.
Pros
Wide connectivity
Oven-friendly
Four color-coated probes that prevent mix-ups
Three-year warranty
Cons
Better premium options out there
The best Bluetooth meat thermometer for smokers would be the NutriChef smart thermometer. Its probes and cables can withstand temperatures as high as 482- and 716-degrees F. The wires are 32 inches in length, so they're long enough to maintain a safe distance from direct heat.
This device comes with an outdoor and indoor range of 200 and 100 feet, respectively. So long as you're within range, you'll get a push alert and a loud alarm on your phone or tablet once the food reaches the set temperature. You can either pick the temperature yourself or set one of the professional pre-saved settings on the app.
The digital display has noticeable backlit numbers that you can easily read. The device's changeable stand allows you to fix the base up right where you'd like for easy display or to improve connectivity. The screen also shows the reading of each different probe. So, you can keep an eye on the grill, even if they don't connect their phones to the device.
Some people feel that the range isn't as extensive as shown and that the probes can show some inaccuracy at times. Customer service might also not be a strong suit. However, its durability and ease of use still make the NutriChef smart thermometer a great purchase.
Pros
Push alerts when the food reaches the set temperature
The app has presets for various foods
LCD is large and easy to read
Sturdy design
Cycling probe temperatures
Cons
The range can be an issue
Probes become inaccurate with time
Customer service isn't that helpful

The iChef BT-600 has one of the longest and strongest connection ranges, reaching 300 feet! The device is also compatible with most phones, so that anyone can use it. So, most users can manage cooking and host simultaneously without worrying about device connectivity.
This device synchronizes with your smartphone through a free app that includes multiple features. For example, it contains 15 pre-saved settings, with temperature presets for common foods such as chicken and beef. You can even cook unique game meats like rabbit or duck.
There are also four doneness settings to pick from, extending from rare through well done. Your phone gets an alert when the meats reach the ideal temperature. An out-of-range warning lets you know if you're out of the 300-foot range for longer than a minute.
The device has dual stainless-steel probes, each cable monitoring temperatures as high as 572 degrees F. The transmitter is waterproof. So, if it starts to rain, leave the device outside to monitor your food while you wait for the shower to stop. You can even improve its accuracy by getting two additional grill clips.
While connectivity and accuracy can cause issues from person to person, the iChef BT-600 is the overall best choice for range.
Pros
Extensive 300-foot range
Sound alert when you're out of range
Waterproof
15 settings for cooking different meats in-app
Cons
Range issues
Probes can be inaccurate
Final Words
The best Bluetooth meat thermometer can help you relax while keeping an eye on your food's temperature from afar. Whether on the grill, on a smoker, or in an oven, you can easily manage your time and multitask confidently.
You can choose any options mentioned above for your cooking needs if you know which one works best for your food. Good luck!
Also read: Best Wireless Meat Thermometer for Smoker [GUIDE]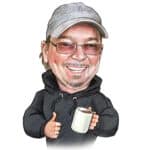 Scot has loved smoking food in his free time for the last few years. Each major holiday or off-weekend, Scot spends days testing and prepping new recipes for perfection.