To produce great cookouts every time, a pitmaster should always invest in a good quality meat thermometer. Traditionally, analog dials were used to monitor the temperature of smoked foods. But, as technology advanced, remote or wireless meat thermometers replaced the analog dials and have made grilling, smoking, and baking a lot easier than ever imagined.
Wireless meat thermometers notify you when your food is ready within a certain range indoors/outdoors. The five best wireless meat thermometers for smokers are – ThermoPro TP20, NutriChef BBQ Thermometer PWIRBBQ80, Soraken Wireless Thermometer, BFOUR Meat Thermometer, and Meater Wireless Thermometer. 
It is really hard to produce perfect BBQs unless you keep providing consistent temperatures and know when the meat is cooked to the desired degree of doneness. After thorough research, here we have listed and reviewed the best wireless meat thermometer for smokers with an app.
How To Use A Wireless Meat Thermometer?
Insert the probe of the meat thermometer to the thickest part of the meat. If the meat thermometer operates with an app, then download the compatible app from the Playstore or Apple Store and complete the set-up as guided.
Wireless thermometers are equipped with a transmitter that sends a signal to your smartphone or a remote. This allows you to monitor the temperature and produce beautiful smoked foods without having to babysit. You can even set alarms and timers to automatically turn on/off the temperature settings of the smoker.
When buying a wireless meat thermometer, it is important to consider these three factors:
Receiver – It is a remote/ dedicated app on your smart device that can monitor the smoker from a distance. The receiver should be user-friendly, easy to carry, glitch-free, and always give accurate readings.
Probes – The probes are inserted into the meat to check their internal temperature/ monitor the desired degree of doneness. You should preferably opt for meat thermometers with multiple probes for getting done large jobs.
Range – Most wireless meat thermometers can be operated remotely from a distance of 100 to 200 ft. Some of them can even offer connectivity up to 500ft.
The 5 Best Wireless Meat Thermometers
Eliminate all the guesswork by investing in a high-precision and advanced wireless meat thermometer. Besides the factors mentioned above, read speed, accuracy, and clutter-free design are some additional features that you might look out for in a meat thermometer. Here are the top five best wireless thermometers for you:
ThermoPro TP20
The ThermoPro TP 20 is an advanced wireless remote smoker thermometer with dual probes. The kitchen timer and the easy alarm function ensure no overcooking of your favorite smoked foods.
Pros:
The meat thermometer has dual probes, which can automatically monitor the temperatures of two different kinds of meat at the same time.
The ThermoPro TP20 gives a constant readout.
Good connectivity and immediate response time up to 300 feet away.
No manual syncing is required.
Probe wires can withstand temperatures up to 716 degrees Fahrenheit.
Gives an accuracy of ±1.8°F (or ±1°C).
Additional features: Countdown and count-up timer, automatic settings for different kinds of meat (ground beef, ground poultry, beef, veal, chicken, pork, poultry, lamb, fish, and oven), and different USDA-approved doneness of meat.
Backlit LCD-display.
Watch the full review of the ThermoPro TP20 here.
Cons:
The device is not programmed to warn you if the temperature drops below a certain temperature.
Limited number of probes.
NutriChef BBQ Meat Thermometer PWIRBBQ80
Now you can monitor your favorite BBQ cookout with NutriChef BBQ Meat Thermometer, which is considered one of the best wireless meat thermometers for smokers, with an app on Android and iOS platforms. The EasyBBQ mobile application alerts you immediately when the food reaches its desired cooking temperature. The outdoor wireless range is up to 200 ft.
Pros:
The device comes equipped with 2 probes, and you can add 4 more for remote monitoring of up to six food items simultaneously.
The probes can withstand a temperature of 482 degrees Fahrenheit, while the stainless steel cables can withstand a temperature of 716 degrees Fahrenheit.
Bluetooth pairing is available and is easy to set up.
Reliable temperature readings.
You can add pro cooking presets for your favorite recipes.
Here is how to use the NutriChef BBQ Thermometer like a pro.
Cons:
Extra probes are not included in the packaging.
Some users report receiving defective products that may give false readings.
Soraken Wireless Thermometer
Whether you are making cold or hot BBQ smoke, the Soraken Wireless Thermometer is a multifunctional and super easy-to-use meat thermometer that lets you enjoy your cooking time effortlessly. The four colorful probes can be connected to your smartphone and can be used for multiple and long cooking sessions.
Pros:
The device allows simultaneous monitoring of six food items. You can add two additional probes besides the four color-coded probes that are already provided by the brand.
It has a wireless range of 100ft (indoors) and 190 ft (outdoors).
The thermometer can give readouts between 32°F to 572°F.
You can pair it easily with the EasyBBQ app.
The thermometer has preset temperatures for 11 different kinds of food and cooking levels.
The device supports both short-term measurement and continuous monitoring.
Cons:
The probes are not as durable as other models, and you need to be careful with higher temperatures.
You might experience some glitches with the Bluetooth system.
BFOUR Meat Thermometer
The BFOUR Meat Thermometer is a professional wifi smoker thermometer that can withstand temperatures up to 33°F to 572F. Besides giving accurate readings every time, the gadget was also awarded the Red Dot design award in 2019 for its unique and minimal construction. The wifi smoker thermometer is a great choice for modern or style-conscious kitchens.
Pros:
It has stable performance and can transmit signals up to 196ft outdoors and 100ft indoors.
You can preset temperature and set alarms or personal preferences using the 'grill5.0' app on Google Play and Apple Store.
The package already has 6 probes and 2 probe clips, so you need not buy them separately. (However, you can also buy the cheaper version with 2 probes only).
You get a 24 month free replacement policy with this product.
Cons:
The probes are not marked, which can get confusing for new users.

Meater Wireless Meat Thermometer
Although a little expensive, the Meater Wireless Meat Thermometer is a one-time investment and the 'cleanest' looking thermometer for smokers. You should definitely consider buying it if you are a professional pitmaster. The transmitter on this device is directly built on probes and has dual sensors, which massively improves the performance of the gadget. The gadget has also been featured on popular media like Forbes, CNET, and Men's Health.
Pros:
The Meater thermometer is completely wire-free.
The compatible app provides high-precision, accurate readings.
Besides timers and alerts, the app also provides extensive guides on how to prepare different kinds of dishes.
The device is lightweight and mess-free.
The First sensor can measure the internal temperature of food up to 212°F, while the second sensor is made with a K-type thermocouple that measures ambient temperatures close to the food.
The app can be operated via smartphone or directly through WiFi or Bluetooth. You can also connect it with Alexa and monitor your food through a computer.
It has a wireless range of 33ft for the gas grill, kamado, oven, and rotisserie, and up to 10ft for the smoker and kettle grill.
The gadget can be fitted into an eco-friendly and sleek bamboo charging dock.
Similar post: What Is The Best Propane Smoker?
Cons:
The probe is small in length, which makes it unsuitable for cooking large cuts of meat.
The signal range is limited.
Once the cooking is done, always hand-wash the probes (even when they are mentioned as dishwasher safe). Wipe with a clean, damp cloth and sterilize with alcohol, so you are always ready for the next mega BBQ cookout!
Also read: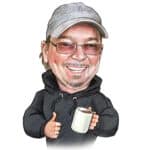 Scot has loved smoking food in his free time for the last few years. Each major holiday or off-weekend, Scot spends days testing and prepping new recipes for perfection.