When getting a smoker grill, you must ensure that you obtain the best one for perfect grilling. For many people, one of the critical considerations for getting a good smoker grill is the size. The truth is that many valuable things, including diamonds, come in small sizes.
One of the main advantages of investing in a small smoker grill is that it does not take much of your space. In other words, if you have a small space in your home, purchasing a small smoker grill will give you the exact ingredients of a bigger smoker without losing your space. In addition, you can easily take your cookout anywhere.
If you are contemplating purchasing a small smoker grill and do not want to make a mistake, read on for more insights.
What To Consider When Purchasing A Smoker
With numerous brands of smoker grills in the modern market, you need to understand the critical considerations to make to get the grill. People who purchase smoker grills without due diligence make costly mistakes often. Here are some essential factors you must consider before making your decision.
Smoking Plan
People have different preferences when it comes to smoking. For instance, some people love smoking outdoors most of the time. If that is your preference, then a small smoker grill will be the best option because it is portable, meaning that you can travel with it anywhere. Importantly, it is critical to define your smoking plan before you can order your grill.
Temperature Adjustment
It is prudent to pay attention to the temperature adjustment of a grill before you can purchase it. With perfect temperature-controlled capabilities, you can have a smooth smoking experience. While most people associate temperature adjustment capabilities with electric smokers, these days, even charcoal and gas smokers have features that make it possible to adjust temperatures when using them.
The Type Fuel
The type of fuel that you will require for your small smoking grill is another worthwhile consideration. You will need to consider major types of fuels: charcoal, electric, gas, and pellet. Keep in mind your smoking needs when deciding on the type of fuel for your smoke. For example, electric smokers may not be the best option if you love your own Smokey flavor.
Design and Shape
Smoker grills come in different shapes and designs; therefore, you need to make sure that you pick an appropriate shape for your use. Bullet-shape or small smoker grill will be the best option if you are looking for a smoker primarily for a hobby or for your family.
Heat Distribution
The heat distribution is an important fact as it directly influences your grill's efficiency. You need to pay attention to how the fuel affects heat distribution whenever the grill is used. A grill with lots of fluctuating hot zones may not be the best option for some types of grilling.
How To Use A Small Smoker
Using a small smoker is pretty much the same as using a bigger one, with the only advantage being that a smaller smoker does not occupy much space. Further, a small smoker cooks meat under low heat using fuel and smoke. If you are wondering how to use a smoker effectively, here are simple steps to follow.
To use your smoker, you need to have your smoker ready. Charcoal, electric, and gas are many of the most popular types of smokers.
The first step is assembling your smoker and paying close attention to the firebox and air vents.
Cure your smoker before you can start using it for your cooking ventures, including cleaning it and hitting it up to a temperature of 400 degrees.
Make sure that the energy source is free from any chemicals that might harm your health.
Find a safe place to place your smoker.
Prepare the food that you want to smoke before you can start smoking. If it is meat, it is vital to have a meat thermometer as it will help you tell when it is done.
Essential Things To Note When Using A Smoker
Choose a smoker size that can meet your grilling needs.
Heating your smoker is key to cooking your meal properly. It is always essential to wait until your smoker attains the desired temperature before you can add the meat.
Adding flavor to a smoker
Timing your smoker
Stick to the cooking time
| Image | Title | Details |
| --- | --- | --- |
| | Kamado Joe KJ23RHC Classic Joe II 18-inch Charcoal Grill with Cart and Side Shelves | Learn More |
| | KAMaster Large Big Green Egg Side Shelves HDPE Egg Mate Outdoor Storage Side Table | Learn More |
| | Char-Griller E06614 AKORN Jr. Portable Kamado Charcoal Grill, Red | Learn More |
| | Royal Gourmet CC1830SC Charcoal Grill Offset Smoker with Cover | Learn More |
What Is The Best Small Smoker?
One of the common questions that people ask themselves whenever they think of investing in a small smoker is what the best model is.
Indeed, with many brands in the market, it is easy for anyone to get undecided on the best smoker.
The Traeger Pro 575 Wood Pellet Grill is the best smoker grill to get for your cooking needs. It is a serious cooking tool with high-tech capabilities that will give you ample time to cook meals. In addition, the grill is nice and versatile; you can use it for cooking technically any meal. Here is why investing in this grill will be an excellent investment.
It is made up of quality materials for durability and efficiency
A top smoker when it comes to energy efficiency
High heating capability
Connected home technology
Excellent versatility to make it possible for you to cook a wide range of meals
Designed for family cooking
Easy to assemble, use, and install
DIY Mini Smoker
If you have developed a sudden craving for smoked food and do not have a smoker, you can do a DIY mini smoker and solve the problem.
Basic Materials
The basic materials you will need to make your DIY smoke are;
BBQ gasket
Two clay flower planters
Small BBQ charcoal grate
Wine Corks
U-Bolt
Circular grill grate
Drill
With these materials, it will be easy for you to build your DIY drum and start smoking your meat. However, if you find it challenging to put together your kit, you can invest in the Big Poppa's DIY Drum Smoker Kit. The good thing with this kit is that it comes with full instructions on how to assemble it. Therefore, you will not likely have difficulty putting it together.
How Much Wood Chips Do You Put in a Mini Smoker?
Every barbecue boss will agree that wood chips are the perfect fuel for your smoking ventures. However, if you want to get the most out of your wood chips, you must ensure that you choose the best types of wood.
So how much chips will you need to put in a min smoker? It depends on how long you want to smoke.
For long smokes, you will need to add a packet of chips every thirty minutes to keep the smoky flavor going. Placing two handfuls of chips on direct heat can smoke for an hour.
What are the Best Types of Wood chips?
When smoking, you can use different types of wood. Nonetheless, it is crucial to understand that different wood chips have different flavors. Therefore, when making your selection, ensure that you choose wisely. Here is some of the best option to consider;
The hickory
Applewood
Cherry
Oak
Peach
Conclusion
Buying a small smoking grill is a perfect decision if you are not looking to prepare large meals. Moreover, small smoker grills are portable, making them convenient for people who love outdoor cooking. However, besides the size, you must consider other important factors, including the quality of the material, heat distribution, and temperature adjustment. The Traeger Pro 575 Wood Pellet Grill is our number one recommendation for the best small smoker grill.
Similar post: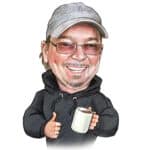 Scot has loved smoking food in his free time for the last few years. Each major holiday or off-weekend, Scot spends days testing and prepping new recipes for perfection.