Nothing beats the satisfaction of making your smoked dishes, whether steaks, salmon, or vegetables. But, if you're going to smoke food at home, propane smokers are unquestionably the most user-friendly and produce beautiful results. There are many alternatives to select from, whether you want to outfit an outdoor cooking space or a smoker that you can carry with you on your outdoor activities. Rather than attempting to convert your wood or gas grill into a homemade smoker, you might consider purchasing a dedicated smoker.
The Best Propane Smokers are Masterbuilt Propane Smoker, Camp Chef Smoke Vault, Cuisinart Propane Smoker, Masterbuilt MPS 20B, Smoke Hollow Propane Smoker, Dyna-Glo Vertical LP Gas Smoker, and Char-Broil Vertical Liquid Propane Gas Smoker. 
We've evaluated the best propane smoker you'll want for your backyard to assist you in looking through some of the better smoking alternatives available.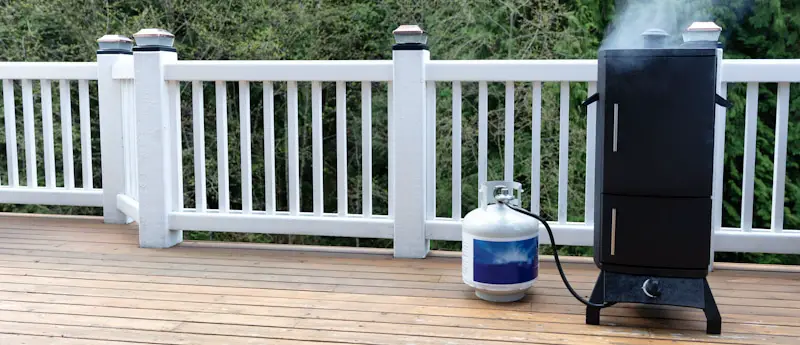 Top 7 Propane Smokers You'll Want To Have
If you want to make smoking as simple as possible, a propane smoker is the way to go. All you'll need are some wood chips and propane to put your gas smoker to work. You won't have to worry as much about temperature control this way. While an electric smoker is an option, we prefer gas smokers because they don't require an electrical outlet and can achieve considerably higher temperatures.
Masterbuilt's latest propane smoker has been updated and comes with several additional features. The thermostatic temperature control, which restricts the amount of gas on the burner and provides you with a far more exact temperature for smoking meat, is the most interesting new feature.
You can cook at temperatures ranging from 180 to 350 degrees Fahrenheit, which is suitable for low and slow cooking. When cooking chicken, you can also get it warm enough for a crispy coating.
A sensor detects when the blaze has been snuffed and shuts off the gas flow, which is a suitable safety device and particularly beneficial on a stormy day.
The solitary stainless steel burner produces 15 7500 BTU and is accompanied by a heat diffuser that properly distributes the heat.
The chip tray is fixed on the lower door, an excellent addition that makes refilling chips a breeze.
Pros
Thermostatic temperature control for more precise temperatures
Fuel gauge and LP gas tank hookup
2-door access
Cons
Minor flaws in the construction
Camp Chef has been manufacturing outdoor cooking equipment for over 20 years, including barbecues, pizza ovens, and smokers. The Smoke Vault stands out in a sea of inexpensive, uninsulated gas smokers with its sturdy build. Although the lid is a little flimsy, the rest of the smoker feels solid. The wood chip pan is made of thick-gauge steel, which is superior to what we've seen in our other smoker evaluations.
You won't have to stay by the smoker all day having a beer because it doesn't require continual supervision.
Pros
Setup is straightforward.
The use of propane is quite limited.
Cons
The door is leaking smoke.
Cuisinart is known for its culinary appliances, so it may surprise you to hear that they also sell a famous propane smoker. With four 14 x 14 in detachable stainless grill racks for a total cooking space of 784 square inches, the COS-244 Alpine Propane Smoker offers a lot for a low price.
The design is comparable to the other vertical cabinet-style smokers we've seen. You have two doors to add liquids and firewood chips during the cooking process. The Cuisinart COS-244 offers a 3-year warranty.
Pros
The materials are of high quality, and the assembly is simple.
The door has a tight seal.
Cons
Design of drip water and trip tray
When it comes to portable propane smokers, there aren't many options. This is odd, given that propane is ideal for tailgating or cooking at a campsite. According to Masterbuilt, you can fit up to four birds or two racks of ribs within.
Due to the narrowness of the racks, a whole frame of ribcage would have to be trimmed down to fit.
You'll need a 1-pound pound gas cylinder of your own. An adaptor hose can also be purchased to run a 20-pound cylinder.
Pros
Foldable legs and a compact size.
Keeps the temperature stable.
Cons
Water pan and chip tray are both tiny.
In a 44-inch vertical propane smoker, Smoke Hollow's dual burner packs seven cubic meters of cooking capacity. It offers you five removable racks so you get a large capacity of smoked food.
In addition, there are 2 jerky-style grids and standard grids each, and one grid/rib rack combo is included.
However, this unit consumes a lot of propane, so if you're only going to smoke the occasional pig butt and don't need to serve a large group, you should probably look for something else.
If you too shallow temperatures of roughly 125°F, you can merely utilize a single burner.
This is a large, solid unit in terms of build. The door is a little on the small side, but that's typical of vertical smokers.
Thanks to the two stainless steel burners, you can quickly reach your desired temperature (11,000 BTU each).
If you choose, this unit can be ordered without a window.
Pros
Solid structure
Dual chip tray
Cons
If you are on a tight budget and can't loosen the purse strings, the Dyna-Glo 36′′ offers you features that are available in expensive models at a lesser price. You still get four retractable steel cable racks for a total cooking area of 784 square inches.
There's also the double door system, which we often recommend because it allows you to reach the wood pellets without opening your cooking chamber.
With a 15,000 BTU burner, electronic fuel injection button, and control lever at the bottom of the smoker, the temperature controller is comparable to the Masterbuilt smoker.
Pros
A big smoker box
Easy access to the water dish and chip tray
Cons
In chilly conditions, it may struggle.
Built-in thermometer that isn't very accurate.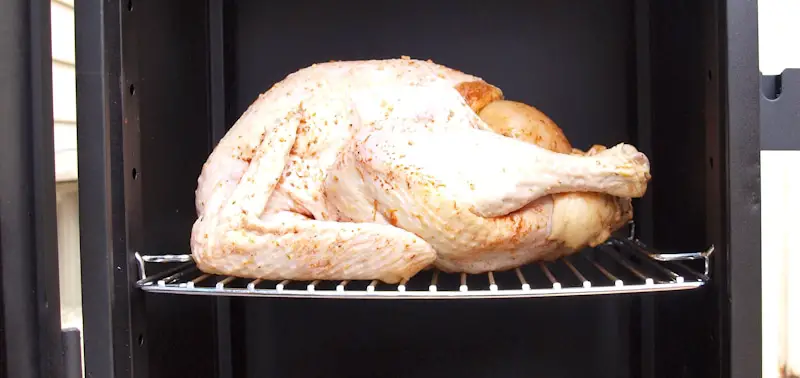 The Char-Broil propane smoker has a compact size of 2'x2'x4′ yet offers a lot of cooking space.
There's plenty of area for racks of ribs with 595 square inches of cooking surface; keep an eye on how wide your slices of meat go and consider picking up extra rib racks to increase your capacity even more.
Although it won't compete with some of the other smokers in this guide, it's a heavy item with a unique overall build for the price.
The thermometer is a little poorer than usual for built-in thermometers, so make sure you acquire an excellent thermometer setup. We don't like the water tray with the room for wood in the middle, but you can solve it with a few simple tweaks or by adding your tiny pan to the bottom.
Pros
Easy to use
Easy to assemble
Cons
Poor accuracy of thermometer setup
Final Words
All propane smokers are simple to assemble, use, and operate similarly. However, the Masterbuilt MPS ThermoTemp XL stands out as the best propane gas smoker and wins our award. After reading our list of the seven best propane smokers, we hope you find one that meets your grilling needs. Have fun grilling!
Also read: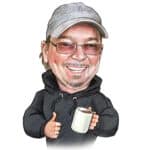 Scot has loved smoking food in his free time for the last few years. Each major holiday or off-weekend, Scot spends days testing and prepping new recipes for perfection.