Grilling season is officially here, and if kabobs are necessary for your summer cookout plans, you'll want to get yourself the best skewers for grilling. There are several different kebab skewers for grilling (short, long, flat, round, metal, bamboo). Your skewer choice depends on your cooker, budget, and personal criteria.
The best skewers for grilling can stand up to heavy meat and vegetables and handle cooking, setup, and flipping quickly. Some of our top picks include the Flaster Kitchen Skewer, the Goutime Kebab Skewers, and the BearMoo Barbecue Skewers.
You can choose between stainless steel or wood, single or double-pronged, and various lengths of stems that help you pile up the food. So, regardless of what you're cooking, we've rounded up our list of the best skewers for grilling!
Best Skewers for Grilling
Overlooked as a scam by some, revered by others, if you want a skewer set with food pushers to use on your grill, this eight-piece Flafster set is worth considering. These long skewers have a substantial 16-inch span so that you can fit a large amount of food on your grill.
The level blades prevent the food from moving around on the skewer. That ensures even the cooking of kabobs throughout the process. The handles give your fingers decent support for handling your food when cooking. Lastly, the food pushers allow you to take your food off the grill with ease without hassle or mess.
This convenient set also comes with a storage bag to keep your skewers while they're not in use for safety and organization. Unfortunately, while the skewers use premium-grade 304-grade stainless steel dishwasher friendly, they can still discolor after extended use.
That said, this does not take anything away from their performance. The only notable drawback is that you might have to check the inner corner of the handles with extra care. In addition, some skewers have unfinished and sharp edges requiring more smoothing. Otherwise, you or your guests could risk cutting your fingers.
Pros
The long and flat design prevents slipping
High-grade stainless-steel
The package includes eight skewers and a storage bag
Good grip and a food pusher
Dishwasher-friendly
Cons
Discolors sooner than you'd like
The handle can have sharp edges
At 17 inches, these BearMoo stainless-steel long skewers can easily hold an entire serving on each skewer. The blade is long and flat, stopping food from slipping and rotating as you grill. That said, be wary of the angled sharp edges. It can be complicated to skew specific hard foods because of the extra width so that you could skew your finger instead.
The ten-piece set also includes a practical carry bag and silicone brush that you can use to oil your kabobs. In addition, the waved knob segments are more manageable to grasp using togs or grill gloves than more conventional ring types for easier flipping.
The skewers are ideal for grilling overall. However, it can be hard to clean them all perfectly, so rinse and wipe them right after use. Otherwise, these skewers have a large skewering capacity and robust construction. So, the BearMoo BBQ skewers are ideal for people who have grilling sessions for lots of people every other day.
Pros
The 17-inch length provides a large capacity
Flat blades and angled piercing tips
Waved grip
Ten-piece set
 It comes with a bag and oiling silicone brush
Cons
 Hard cleanup
Large width makes skewering a longer process
These first-class Goutime kabob skewers have a stainless-steel construction. As a result, the shape can hold significant cuts of meat, including ground kabobs.
The skewers are ideal for grilling an array of cuisines, from Brazilian dishes to Chinese shashlik, shish, or even Indian tandoor. With a tremendous 27-inch length and decent width, the Goutime skewers stand out above a typical kind of skewer.
Seven sturdy metal skewers for grilling come in the set, using premium stainless steel. You also get a storage bag with the skewers, although it is poor in quality compared to the heavy skewers it has to carry. So, it's better to use the skewer holes to hang and store them instead.
Since the skewers are significant in size, make sure that your grill can hold them. You might also require refrigeration for your kabobs before cooking for specific recipes. So, be sure that the skewers can also fit in the refrigerator.
Suppose you're willing to pay the extra price for high-quality metal construction and a large capacity for various meats. In that case, the Goutime Kebab Skewers are ideal.
Keep reading: The Best Grilling Mats That Protect Your Patio Or Deck [MODELS]
Pros
Longest skewers on the list
Blades are flat and wide
Seven pieces in one package
Holes to hang skewers for storage
 Ideal for different meats
Cons
The storage bag is of poor quality
 Too long for average-sized grills
Suppose you want to make some delicious grilled meat. In that case, you'll want some heavy-duty skewers that can handle the temperatures needed for such tasty dishes. That's where the Lanney Metal Skewers come in. The set of 12 skewers uses food-grade stainless steel and accompanies a convenient storage bag for convenient storage.
With their angled tips, 14-inch length and narrow blades, you can load these kabob skewers with peace of mind. They can hold large amounts of meat without worrying about bending or breaking. They are also dishwasher-friendly for easy cleanup and prevent food from rotating on the grill.
The skewers' design allows you to cook high-quality heavy meats like steak cuts. However, they are not ideal for smaller foods like shrimp since they are too thick. So, you'll also have to get an extra smaller skewer set for such things.
The Lanney metal skewers are an excellent choice for grilling if you want the most durable option with the most straightforward use. One drawback would include using excess plastic and waste product in the packages. However, they are the ideal choice for cooking vast amounts of food.
Pros
 Ideal length or average grills
 It comes with 12 skewers in one set
High-grade stainless steel
Wide flat blades and angled tips
Heavy-duty design
Cons
Excessive packaging waste
Not suitable for shrimp and other small foods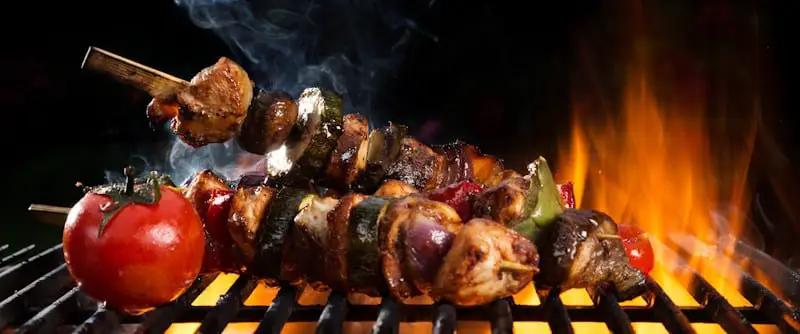 Most people would prefer getting good quality metal skewers for grilling and other outdoor events without breaking the wallet. This 24-skewer set provides more in their package than different sets at half the price for those people. With high-grade stainless steel, the Blue Donuts kabob skewers provide great grilling, easy cleanup and ease of use.
The 12-inch length is decent for cooking lots of food simultaneously if you have a typical sized grill. That said, they're weaker in construction compared to the other options on this list. That means that you can't load them up with too much food. Heavier meats like steak are also a no-go since they can't withstand the weight, so you're better off with more minor cuts or simple vegetables.
The ring top is an excellent design feature for easier handling. You can hang them up conveniently when they're not in use. However, the handles are too thin for adult fingers. So, it can be tricky to turn the skewers on the grill with your tongs while cooking.
They are still a good budget option, thanks to their quality design. Ultimately, you get even cooking and easy grilling, so the Blue Donuts skewers are a nice set to own.
Similar post: Big Green Egg vs. Kamado Joe – Which One Is Better?
Pros
Length is ideal for average grills and the amount of food
A flat tip prevents food from moving around
The ring top allows easy handling and storage
High-quality stainless steel
Dishwasher-safe
Cons
The ring handle is very narrow
Not as sturdy as other options
Final Thoughts
That's all for this list of the best skewers for grilling. Most of them are convenient tools for cooking. Sadly, many skewers also promote gimmicks with inflated prices, so be sure to stick to the recommended options. Nevertheless, grilling with skewers is ideal for cooking a nice meal this summer for you and your family. Happy grilling!
Also read: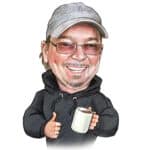 Scot has loved smoking food in his free time for the last few years. Each major holiday or off-weekend, Scot spends days testing and prepping new recipes for perfection.