The best Korean barbecue sauce, when poured over bulgogi or kalbi, bursts them with flavors and gives the perfect combination of sweet and savory. But how to make the best Korean BBQ sauce? Below are some of our favorite recipes to help you out!
We think Ssamjang sauce is the best sauce for Korean barbecue, all credited to its rich sweet and savory flavor. Ssamjang goes well with every Korean BBQ dish, be it beef bulgogi, marinated chicken, or pork ribs.
However, every individual has its own taste and preference. Therefore, we have provided you with the four best Korean barbecue sauce recipes below.
Whether you like red or black, mild or extra-hot, we have a recipe for everyone! But first, let's answer some commonly asked questions.
How Does A Korean Barbecue Sauce Differ From A Regular Barbecue Sauce?
Regular American BBQ sauces are mostly tangy, spicy, and bold-flavored. Korean BBQ sauces, on the other hand, are a mix of both sweet and savory and have comparatively lower spice levels.
What Are Some Of The Best Ingredients To Add To A Korean Bbq Sauce?
While soy sauce is a must in most Korean BBQ sauce recipes, garlic, peppers, onion powder, and rice vinegar can also be used to enhance the flavor of your Korean Sauce.
The Best Korean Bbq Sauce Recipes
The Perfect Blend of Spicy and Sweet: Ssamjang Sauce
Visit any Korean restaurant, and you are bound to find Ssamjang sauce on your table.
Ssamjang is a moderately spicy sauce with a nutty aroma and several ingredients such as honey, garlic, soybean, and other herbs. It is undoubtedly one of the best Korean BBQ sauces, and it goes extremely well with Korean Pork Ribs. It can also be used as a side with wraps, veggies, and even pizzas.
Even though it may be very tempting to buy ready-made ssamjang, there is something unique about making it from scratch. Not only do you have better control over the ingredients and spice level this way, but it is also fresher and better (especially if you prepare it through our recipe!)
So let's start with the recipe.
Ingredients
1/2 cup Korean soybean paste
1 tablespoon hot chili paste
2 teaspoons sesame oil
2 teaspoons roasted sesame seeds
1/2 teaspoon minced garlic
1/3 cup of chopped onion
A few drops of honey
Water (if needed)
Pistachio or any other nuts (according to taste)
Preparation
Transfer all the ingredients into a large bowl
Mix with a spoon until a uniform paste is formed
Time Taken
Serving Size
A Little Saltier, But A Lot Tastier: Sesame Oil And Salt Dipping Sauce
This simple Korean BBQ sauce is based on just three basic ingredients, and yet, it tastes nothing like basic.
Dripping this oily condiment over your grease-laden steak or pork belly may seem a bit too much for some health-conscious barbecue lovers, but let us assure you that it is totally worth it.
The nutty saltiness, combined with the mild spicy undertone of black pepper, lets you relive the authentic Korean cuisine's taste through this Sesame-Salt sauce. You can literally use it with any dish and have a banger taste that will leave you licking your fingers clean.
| Image | Title | Details |
| --- | --- | --- |
| | Korean BBQ for Beef - 29.63fl Oz (Pack of 1) | Learn More |
| | Wang Galbi Marinade, Savory, Sweet and Smoky, Korean Barbeque Sauce, 16.93 Ounce | Learn More |
| | Sweet Baby Ray's No Sugar Added Original Barbecue Sauce 18.5oz Pack of 2 | Learn More |
| | Killer Hogs The BBQ Sauce | Championship Grill and BBQ Sauce for Beef, Steak, Burgers, Pork, and Chicken | Learn More |
Ingredients
1/4 cup of toasted sesame oil
1 tablespoon cracked black pepper
2 tablespoons Sea Salt or Kosher Salt
Preparation
Mix salt and oil in a bowl
Season with cracked pepper
Note
Avoid using deep bowls as the settled salt and pepper would be difficult to reach and result in more pouring of sesame oil than needed. Therefore, we suggest using a broad, shallow bowl for easy (and less oily) mixing.
Time Taken
Serving Size
To Elevate The Flavor Of Your Brisket: Cho Ganjang Sauce
Remember that reddish-brown sauce with garlic chunks that is ALWAYS served with your Korean Grilled Brisket? You guessed it right, it is the famous Cho Ganjang Sauce.
This sugary, savory, and tangy dip contains two unusual ingredients: rice vinegar and wasabi, which makes the taste of Cho Ganjang different yet delicious from all other alternatives.
With Cho Ganjang or more commonly known as "Brisket Sauce," you can add a tinge of fiery, smoke-kissed flavor to any recipe you like. In addition, you can get the taste of the authentic Korean BBQ in any dish, be it kimchi, Ddeokbokki, or your regular chicken thighs.
Ingredients
1 tablespoon of water
1 ½ tablespoons soy sauce
1 teaspoon sugar
1 teaspoon rice vinegar (you can use white vinegar too)
Few finely chopped slices of garlic and onion
Very small amount of wasabi paste
Preparation
Put water, soy sauce, vinegar, and sugar in a bowl
Mix until the sugar dissolves
Transfer the sauce individually to dip bowls
Add the sliced garlic, onion, and wasabi paste to every dip bowl and serve
Time Taken
Serving Size
Makes ½ cup of sauce which can serve to up to 3 people
A Super Healthy, Flavor-Packed Treat: Special Korean Bbq Sauce
Looking for a spicy K-BBQ sauce that is flavorful and healthy? If yes, then this Special Korean Barbecue Recipe is for you. It contains minimal carbs, trans-fat, and cholesterol and therefore is an excellent alternative for individuals on a diet.
And, since it contains corn starch, this condiment is gluten-free. This is as healthy as a BBQ sauce can get!
Just like its taste, the sauce's texture is also ideal. Its smooth, paste-like consistency flawlessly coats your grilled meat and veggies and can also be used as a side dip.
Ingredients
1 cup low sodium soy sauce
1/3 cup of water
½ teaspoon mirin
1 tablespoon brown sugar
2 teaspoons sesame oil
Few drops of rice wine vinegar
1½ teaspoon black pepper
½ teaspoon red pepper flakes
1 teaspoon sriracha sauce
Grated ginger and garlic (according to taste)
2 tablespoons cornstarch
1 cup of water (can be adjusted according to the desired consistency)
A finely diced scallion
Preparation
Combine all the ingredients (except corn starch) with half the quantity of water in a saucepan
Heat the mixture on high flame and bring it to boil
Mix cornstarch with the remaining volume of water in a separate bowl and stir until a smooth slurry is formed
 Add the slurry into the boiling mixture through continuous whisking and cook at low heat (for at least 5 minutes) until it gets thick enough
Remove the pan from the stove and allow the sauce to cool completely
Transfer the sauce into a clean container and serve it with your favorite cut of steak!
Note
The sauce can be stored for up to 3 weeks in an airtight container.
Time Taken
Prep Time: 5 minutes
Cooking Time: 15 minutes
Total Time: 20 minutes
Serving Size
Final Words
The acidic, spicy tastes of Korean barbecue sauces are well-known. And these four best Korean BBQ recipes will make your homemade Korean barbecue taste just as good as the one from any Korean restaurant.
But, don't forget to check the ingredients and the spice level of the sauce before trying out the recipe. Happy barbecuing, everyone!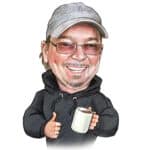 Scot has loved smoking food in his free time for the last few years. Each major holiday or off-weekend, Scot spends days testing and prepping new recipes for perfection.