Korean BBQ holds a special place in the hearts of many Americans thanks to its unique taste. If you are tired of waiting in long restaurant queues to get a bite at your favorite BBQ with your friends, you can make your favorite Korean BBQ at Home.
To make a Korean BBQ, you need to have the meat ready at the dining table, charcoal, gas, or portable grills built into the tables. With everything readily available, you can grill marinated meats such as kalbi and bulgogi and eat them with Korean side dishes known as banchan.
If you are looking to prepare a Korean BBQ at home with your friends or family, this article will provide the information to make your pursuits successful. Read on for details.

How to Make Korean BBQ at Home
They say that Koreans are whizzes of BBQ, and I couldn't agree further. If you get it right, then your Korean BBQ will be unlike anything you have ever had regarding tasty meals. At a very minimum, you will need the following ingredients for a well-cooked Korean barbecue.
Marinated meats
A grill/hot plate
Side dishes or banchan
Drinks
Korean sauce and vegetables
Making a Korean BBQ
A day or a few hours before you want to eat, prepare the vegetables, marinate the meats, buy the banchan, and prepare the sauces. In addition, buy your favorite liquor and refrigerate it, as it is not a good idea to drink warm soju.
Once you are ready to eat, start by making the noodles and the rice. Set the dining table with dipping sauce, banchan, noodles, and rice.
Open the windows and heat your hot plate or grill.
Brush the grill with some oil
When it is hot, add the marinated slices of meat to the grill and flip when necessary.
Once the meat is cooked, get it out of the grill, top it, sauce it, and eat it with your favorite drink.
How to Make Korean BBQ Chicken
Flawlessly grilled Korean BBQ chicken is finger-licking good. Interestingly, it is super easy to make a homemade Korean chicken.
Recipe Ingredients
Chicken breasts
Sesame oil to add classic flavor to the final cooking
Soy Sauce
Spices such as garlic powder, cumin, ground ginger, and paprika add a wonderful flavor to the chicken.
Rice wine vinegar to add tanginess
Honey and brown sugar to enhance the spicy and salt flavors
Cornstarch
Low sodium chicken broth
Salt and pepper
How To Make Korean BBQ Chicken Step-by-step
Step 1: Mix the sauce and the ingredient in a bowl and whisk to ensure they perfectly combine.
Step 2: In a different bowl, combine the cornstarch and chicken broth and whisk to combine
Step 3: Heat the sesame in a skillet or pan over medium heat. Put the chicken and cook it for 4 minutes until it turns white on the outside.
Step 4: Add sauce to your chicken and stir, and cook for 3 minutes
Step 5: Pour in the chicken broth mixture and cook for 6 minutes until the sauce becomes thick and the chicken is ready.
How To Make Korean BBQ Ribs
If you have had a chance to taste the Korean-style BBQ ribs, then you probably know they can be the best. Generally, these ribs are sticky, tangy, and delicious. Using honey, brown sugar, ginger, and vinegar all play a significant role in infusing juicy ribs with unique Korean flavors. The good news is that making Korean BBQ at home is never a complex task.
The Ingredients
Baby back/loin ribs enough to feed your guests
Freshly grounded pepper and salt
Crushed or grated garlic cloves
Toasted sesame oil
Honey
Sliced scallions
Reasonable soft brown sugar
Grated onion
Sesame seeds and extra to serve
Soy sauce
Step-By-Step Directions
Preheat the oven to 177 degrees. Line a baking dish with foil to wrap the ribs in one layer.
Season the ribs with pepper and salt and put them on the lined dish. After folding the foil around the ribs, slide it into the oven for 90 minutes.
While the ribs are cooking in the oven, stir together the garlic, onion, sugar, ginger, soy sauce, vinegar, sesame oil, sesame seeds, and water in a bowl.
Once the 90 minutes have elapsed, increase the temperature to 204 degrees and get the ribs out of the oven.
Carefully open up the ribs and pour the sauce over them. Cover it well before returning it to the oven, turning the ribs often and basting halfway until the sauce gets dark and sticky. The edges may scorch during the cooking, but you do not have to worry because this is entirely normal.
Slice the ribs into sizable pieces and sprinkle scallions over the top before serving with sesame seeds.
How To Make Korean BBQ Sauce
Korean BBQ is essential to making any delicious and irresistible Korean BBQ. Therefore, if you plan to make a sweet Korean BBQ home for your family or your friends, you need to start by making a Korean BBQ sauce.
The Ingredients
Gochujang – fermented Korean Chili paste
Soy Sauce
Rice wine vinegar
Ginger
Brown sugar
Garlic pepper
Toasted sesame oil
Spicy red pepper and spicy red pepper flakes
Making The Korean BBQ Sauce
Put all the ingredients in a blender or a food processing unit and blend them until they are smooth.
Transfer the puree ingredients into a pot and simmer them to a boiling point, and then reduce the heat and leave the puree to simmer for about 10 minutes to make them flavorful.
Once the spree develops the desired flavor, you can use it immediately or transfer it to a sealable container and store it for future usage.
The Best Grill And Grilling Tips For Korean BBQ
Korean BBQ can be as sweet as you want it to be as long as you have all the necessary ingredients and are willing to follow the cooking instructions.
Ensure Proper Air Circulation
Regardless of the type of grill that you will be using, it is vital to ensure proper air circulation. Insufficient ventilation will engulf your home with lots of smoke, which can interfere with the quality of the BBQ. Besides, you do not want your guests or family to swim in smoke while eating.
If you can cook and eat Korean BBQ in a backyard or patio, that will be great because it will solve the ventilation problem.
The Stove
A portable butane stove is one of the most excellent heating appliances you need to make a delicious Korean BBQ. The good thing about these stoves is that they are portable and readily available.
If you do not like stoves for one reason or the other, a small charcoal grill will be a good option. The only challenge with these grills is that they are a bit complicated as you would need to light the charcoal and monitor the temperature during the entire grilling period.
Tools And Place Setting For Korean BBQ
Tongs – help with meat cooking and serving
Scissors – for fast cutting of meat
Serving plates
Individual plates
Rice bowls
Spoons and chopsticks
Dripping bowls
Glasses
Bowls or small plates

Side Dish Ideas For Korean BBQ
Kimchi
Spicy cucumber
Potato salad
Seasoned dried shredded squid
Kelp noodle salad
Eggs
Pancakes/Jeon
Seaweed/Gim
Conclusion
Korean BBQ has become quite popular in the streets of the United States, and this is because they are irresistibly sweet. Whether you make your Korean BBQ at home or eat in a restaurant, the truth is that you will like it. The good thing about Korean BBQ is that it is easy to make as long as you have access to the essential ingredients.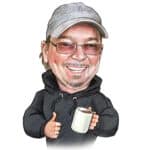 Scot has loved smoking food in his free time for the last few years. Each major holiday or off-weekend, Scot spends days testing and prepping new recipes for perfection.