Nothing is more satisfying than a plate full of tangy and tender ribs at a BBQ party. But, besides the main dish, you should always be prepared to serve a couple of side dishes. What side dishes go best with BBQ ribs? Should you prepare classic side dishes or create some unique options to lure the taste buds of your guests?
Some of the best bbq ribs side dishes are Potato Salad, Classic Baked Beans, Mac & Cheese, Potato Wedges, Shrimp Skewers, and others. You should also add some green salads like the Classic Broccoli Salad, Succotash, Avocado Salad, or the colorful Rainbow Salad to balance the flavors and optimize healthy calorie intake.
Since ribs are high in calories, it is always recommended to select healthy and garden fresh BBQ sides. They also work as great appetizers. Having a variety of sides also allows you to buy some time and the guests can enjoy having them while you prepare the grill. Read more to find out what are the top side dishes that you can serve to your guests.

The Top Side Dishes With BBQ Ribs
Are you wondering what goes with ribs for dinner or lunch? No matter what time of the day it is or what the season is, here is a list of some selected side dishes that always create magic with bbq ribs:
1. Potato Salad
Potato salad is the best side dish to balance the spicy and tangy flavor of BBQ ribs. It is prepared by tossing boiled potato cubes with sour cream, green onions, mayo, milk, and hard-boiled eggs. The classic seasonings used for preparing potato salad are salt, pepper, apple cider vinegar, and a hint of mustard. Sprinkle some freshly chopped celery before you present it to your guests.
2. Classic Baked Beans
Easy to prepare and strong in flavors, the classic baked beans are one of the most popular bbq ribs side dishes. The home-based recipe can be prepared right from the scratch or you can also use canned baked beans. Old-fashioned baked beans are soaked overnight and are usually simmered in a crockpot in a thick, saucy, tomato-based gravy.
3. Mac and Cheese
Another popular side for ribs is the creamy, gooey, and super-comforting Mac and Cheese. Mac and Cheese can be simply prepared with macaroni pasta or elbow macaroni, homemade sauce of milk, butter, and cheese, and your choice of seasoning. You can always improve the taste of your favorite Mac and Cheese by baking it in the oven and using expensive cheese. Garnish with breadcrumbs to add some extra crunch.
4. Potato Wedges
Whether you are celebrating with a booze party, or not, potato wedges is a must-have at every BBQ gathering. The best potato wedges have crispy skin on the outside and are fluffy on the inside. Perfectly seasoned potato wedges can be prepared in less than 10 minutes in an air fryer. For cooking it on a stovetop, you should parboil the potatoes first and then deep fry for the best results.
5. Shrimp Skewers
Now since your pitmaster mode is on, why not grill some tasty shrimps for the BBQ party? The lightweight dish would earn a lot of appreciation, especially if you have guests who are very particular about consuming healthy and protein-rich calories. Shrimp is best paired with garlicky, ginger, hot & spicy (paprika or sriracha sauce), and lemony notes. Garnish with toasted sesame seeds. Serve with some peach or pineapple-based salad to balance the flavors.
6. Broccoli Salad
Looking for something healthy on the menu? The baked broccoli salad is the perfect pick! To prepare this salad, cut some small broccoli florets and marinade them in a fresh and tangy dressing of apple cider vinegar, maple syrup, sea salt, minced garlic, mustard, sea salt, smoked paprika, extra virgin olive oil, and mayonnaise. Add some red onions and dried cranberries to the mix. For adding some extra crunch, garnish with smoked almonds and seeds on top.
7. Rainbow Slaw
Another healthy salad that even children would love on their plates is the crunchy and colorful rainbow salad. Take a large bowl and mix julienned red cabbage, carrot, red, yellow, and green bell peppers and toss them in a vinaigrette made of apple cider vinegar, extra virgin olive oil, maple syrup, tamari sauce, and grated fresh ginger. Don't forget to refrigerate the salad for at least an hour before you serve it to your guests.
8. Sautéed Fresh Corn
American corn is undoubtedly loved by everyone. But, you can give this recipe an extra punch of flavor by simply sauteeing the corn in butter, salt, and fresh ground black pepper. Instead of packed or frozen corn, always try to use fresh corn kernels, cut from the cob.
9. Cornbread
Instead of regular loaves of bread, pitmasters will definitely agree that spongy cornbreads work the best with bbq ribs. To make the side taste even more delicious, you can add some jalapenos, paprika, cheddar cheese, and herbs like rosemary and oregano to the dough.
10. Baked Sweet Potato
Baked sweet potato is warm, nourishing, and is a must-have during the cold winter months. Being rich in vitamin B, C, Beta-carotene, Calcium, Antioxidants, and many other nourishing elements, it is one of the healthiest options you can add to the menu. The best part – you can throw them into the smoker along with the ribs and they will cook (around 400℉) and easily retain the finest bbq flavors. The dish can be topped with a variety of ingredients.
11. Honey Lime Fruit Salad
Add some healthy sweetness to the menu with the super-attractive honey lime fruit salad. The salad is best prepared with the fruits of the summer season, including strawberries, pineapple, blueberries, mandarin oranges, red grapes, kiwi, bananas, and everything fresh you can find in the farmer's market. The dressing is a simple mix of honey, lime juice, and a pinch of lemon zest.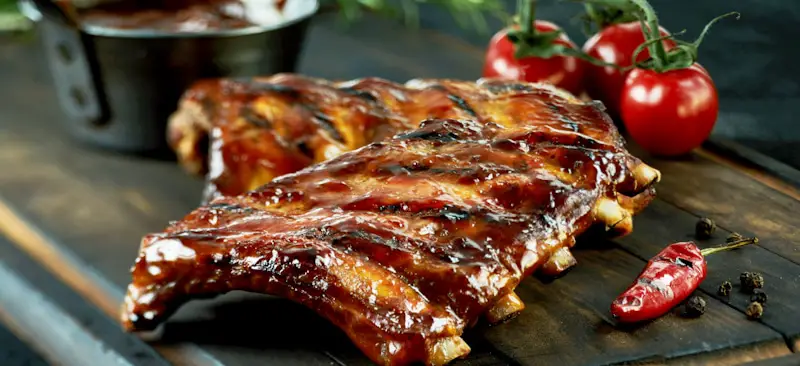 12. Avocado Salad With Pesto
Add more veggies to the sides with this refreshing avocado salad in a delicious basil and pesto dressing. To prepare this dish, dice the avocados, cucumber, onion, and cherry tomatoes and toss them in a dressing made of basil pesto, lemon juice, ground black pepper, and salt. You can also add variations with ingredients like bite-sized mozzarella cheese balls, mango, olives, grilled chicken, boiled eggs, or grilled shrimps and make the salad more satisfying.
13. Succotash
Succotash is a 17th-century American Thanksgiving Classic, but if you love it, you can, of course, enjoy it throughout the year! The dish is prepared with boiled maize, lima beans, and tender summer squash and is full of freshness of herbs and tanginess of tomatoes. The winter version of Succotash is prepared from dried corn, dried beans, and pumpkins. Fresh or dried meat or fish are also some common addition to the dish.
14. Brussel Sprouts
If you have invitees who love Brussel sprouts, you would not take any chance of missing out on this super-easy-to-make dish. While the ribs are cooking, simply toss the Brussel sprouts in the smoker or grill them on the flat top grill. When cooked right, Brussel sprouts are irresistibly delicious, crunchy, and hearty.
So which among these top 14 bbq ribs side dishes will you try next for your guests? Of course, there is nothing tastier than the main dish itself. We recommend you plan for at least 2-3 side dishes (the more the merrier!) to serve with the BBQ ribs. When you select the right sides, your guests will definitely be awestruck before leaving the venue!
Also read: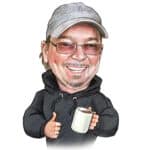 Scot has loved smoking food in his free time for the last few years. Each major holiday or off-weekend, Scot spends days testing and prepping new recipes for perfection.