Air fryer broccoli makes a delicious side dish, and it is hard to find someone who does not like this low-carb recipe. Although there are many ways of cooking broccoli, the air fryer broccoli recipe is the favorite for many.
How do you air fry your broccoli? It takes a three-step process to get a delicious broccoli meal;
Preheat your air fryer to 380 degrees
Season your broccoli with salt, garlic powder, and pepper. In addition, drizzle the broccoli with lemon juice and olive oil.
Arrange seasoned broccoli in the air fryer and air fry for 5 minutes.
One of the precautions you will need to take is to avoid crowding your air fryer for optimal browning and cooking. Read on to learn more about air frying your broccoli.

How Long To Air Fry Broccoli
Proper timing is crucial to cooking any meal because it can make or destroy your delicacy. Therefore, it is wise to ensure you know how long you have to cook your broccoli before it is ready for consumption.
It takes about five minutes to cook broccoli at 380 degrees F. Nonetheless, the cooking duration can vary depending on various factors, including the size of the florets. The trick is to check the status of your broccoli in 4 minutes, and after that, you should check them every minute until the doneness meets your expectations.
How To Air Fry Frozen Broccoli
If you have tried air fry frozen broccoli, you know that it can make a great simple side dish. Here is how to air fry frozen broccoli;
Spray your air fryer basket with olive oil to ensure the broccoli florets do not stick to the bottom.
Put the frozen broccoli into the air fryer basket.
Spray the frozen broccoli with oil, and sprinkle pepper, garlic powder, salt, and onion powder. Stir it to ensure that the spices mix well.
Air fry the seasoned broccoli for 15-25 minutes at 400 degrees while stirring until they attain the desired level of crispiness.
Sprinkle on parmesan cheese to make it more delicious.
Why You Will Love This Recipe
It is one of the best methods to prepare frozen broccoli
The recipe is faster than roasted or even boiled broccoli
It is pretty easy, and you need less than 15 minutes to make a delicious side dish
Gluten-free, low carb, keto, and vegan, meaning that it will suit most diets.
It is always an excellent method for preparing broccoli and lemon flavors.
Essential Tips For Air Frozen Broccoli
Preheat the air fryer to increase the chances of getting the best results
Avoid overcrowding your air fryer basket for even cooking and desirable browning
Use different seasoning for optimum taste
Shake and stir the broccoli halfway to guarantee an even cooking
Be flexible and adjust the cooking time based on the amount of broccoli you are cooking
Remember that the cooking period can vary depending on the different air fryers
Do not defrost the broccoli; instead, you should cook it frozen
It is a good practice to store any leftovers well in the fridge
| Image | Title | Details |
| --- | --- | --- |
| | GoWISE USA GW22956 7-Quart Electric Air Fryer with Dehydrator & 3 Stackable Racks | Learn More |
| | Ninja AF101 Air Fryer, 4 Qt, Black/gray | Learn More |
| | COSORI Air Fryer Oven Combo 5.8QT Max Xl Large Cooker (Cookbook with 100 Recipes), One-Touch Screen | Learn More |
| | Instant Vortex Plus 6-in-1 4QT Air Fryer Oven Combo | Learn More |
How To Air Fry Broccoli And Cauliflower
The air fryer broccoli and cauliflower is a simple and healthy meal you can prepare within the shortest time possible.
The Ingredients
Veggies; you need cauliflower and broccoli. These are popular pairs as they are delicious and healthy. Additional veggies to add are Brussels, carrots, sprouts, and bell peppers.
Seasonings; Garlic, pepper, and salt can do just fine. However, you may experiment with different seasonings to suit your taste. Seasoning blends such as lemon pepper and spicy Cajun can be a perfect addition.
A bowl of ranch, creamy cheese sauce, and honey mustard
Making The Air Fryer Broccoli And Cauliflower
Slice the cauliflower and broccoli into sizable pieces
Toss the pieces into a bowl with seasonings and oil
Cook the veggies in a single layer while shaking the basket halfway through until crisp
Tricks And Tips To Remember
When cutting the broccoli and cauliflower, ensure that they are the same size for consistent cooking.
Leave small stems for easier grabbing when dipping
For the best results, avoid overcrowding the air fryer
How To Buy The Best Broccoli
Buying the best broccoli is one of the best ways to guarantee a delicious side meal. Even if you are a great cook, you may have challenges preparing a delicious meal if you do not have the best broccoli. The following tips should help you purchase the best broccoli for your side meal.
Pick Your Favorite Type
The good thing with broccoli is that they come in different types, and knowing the right type for you will make it easy to make the right choice. The Calabrese broccoli is the most common in the United States and is best known for its large florets and thick stalks.
However, it is possible to find other types, such as sprouting broccoli. The point is that you should have your preferred type in mind before you go shopping. The Calabrese broccoli will be fine if you do not have a favorite type.
Fresh Broccoli
Broccoli is available year-round, and you want to ensure that you purchase the fresh ones for the best results. When shopping for broccoli, you should go for those with bright heads and firm stalks. Broccoli with yellow florets and brown stems is not the best.
Go Organic
It is a good idea to purchase organically-grown products as they are healthy and more delicious. Organically grown broccoli is the best because not many pesticides are used during its cultivation.
Other Methods Of Preparing Broccoli
While air frying broccoli is the most popular method of cooking broccoli, there are other methods that you may want to try out. It all depends on your preference and the time you have for the preparation. Here are some of the additional methods that you can try out.
Roasting Broccoli
The roasting method is one of the popular methods for many people as it gives your broccoli a lot of flavors. Jazzing up your roasted broccoli with a bit of lemon juice will leave you yearning for more. It is also good to note that the roasting method is easy and does not take a lot of your time.
Blanching Broccoli
While blanching tends to lower the flavor rating of your broccoli, it can be a great way to prepare it if you are making a cold broccoli salad and a vegetable platter. The process is straightforward, as all you need is to submerge your broccoli into boiling water before putting it into an ice bath. The boiling water stops the cooking while brightening the broccoli and removes any bitter and undesirable taste. This explains why blanched broccoli is sweeter than raw broccoli.
Sautéing Broccoli
This is another way of preparing broccoli without much struggle. You only need a small amount of oil to sauté your broccoli quickly. You can improve the flavor by adding minced garlic and other favorite seasonings.

Steaming Broccoli
The last method on our list is steaming. It is one of the best ways to prepare a delicious side meal for your family. Many people use steaming to cook their broccoli because it gives it the crisper-tender texture you can hardly get from any other method. However, if you opt to steam your broccoli, you need to be careful so you do not overcook it.
Before steaming your broccoli, it is good to add a little olive oil, pepper, a bit of lemon juice, and salt to better its taste.
Conclusion
Well-cooked broccoli is not only delicious, but it can also have numerous health benefits. With the multiple ways you can prepare your broccoli, you should not have difficulty deciding on the best method to embrace. The air fry is the best method for cooking broccoli for the best taste and flavor.
Similar post: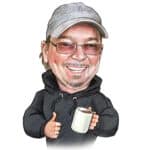 Scot has loved smoking food in his free time for the last few years. Each major holiday or off-weekend, Scot spends days testing and prepping new recipes for perfection.