A combination of sour and sweet flavors can leave your taste buds craving for more. The sweet and sour pork recipe is a delicacy you do not want to miss, especially when relaxed at home with family members.
Sweet and sour pork is a healthy recipe that tastes awesome and gives you an easy time feeding the family without visiting a local takeaway restaurant. For many food lovers, the feeling that this delicacy leaves on your taste buds makes you yearn for more.
If you are looking for a homemade sweet and sour pork recipe to prepare an excellent meal for your family or even friends, then you are at the right place.

Sweet & Sour Pork Recipes
Sweet and sour pork recipes have their origin in ancient Chinese cultures. Ancient Chinese culture considered food preparation a high art. Sweet and sour pork was born from the belief that food had a sacred property, including healing and conferring energy when appropriately prepared.
Pork is the favorite meat for preparing sweet and sour delicacies due to its constituency and texture.
How To Make Sweet And Sour Pork
Although sweet and sour is a delicacy that you will always find in any restaurant around the globe, it is a meal that you can comfortably prepare from the comfort of your home.
What You Need To Make Sweet And Sour Pork
It might seem that you will need a lot of supplies to cook the best sweet and sour pork. However, that is not true because the supplies for the task are things you use daily in your kitchen. The bell pepper, diced onions, and pineapples form tasty additions to the meal and add a bit of flavor and color.
Additional supplies include soy sauce, tomato paste, honey, rice vinegar, water, and cornstarch. The cornstarch works as a thickening agent and combines with water to make a slurry. Adding the slurry at the end of cooking the sauce is essential to give an appetizing appearance.
The Preparation of Sweet and Sour Pork
Combine the pork with marinade ingredients in a bowl and leave the mixture in the fridge for 20 minutes to marinade.
Put corn flour in a bowl and toss the pork chunks that you have already marinated until they are all coated.
Heat the saucepan until it gets to 180 degrees.
Deep fry the pork for about four minutes until it turns golden brown, and ensure that it is cooked throughout
Turn your attention to the sauce. Add oil to a frying pan over medium heat.
Saute your garlic until you get the desired fragrance, and then fry the peppers until they become soft
Add pineapple and keep frying.
Add the vinegar, sugar, and your favorite tomato sauce while stirring until you bring the mixture to a boil.
Put the pork into the mixture and ensure that it is well-covered by the sauce.
Serve immediately with your favorite dish
| Image | Title | Details |
| --- | --- | --- |
| | Boneless Pork Butt Roast 2.5 lbs. | Learn More |
| | Omaha Steaks Super Premium Family Grill Out Butcher's Cut Filet Mignons, Boneless Pork Chops. | Learn More |
| | McCormick Bag 'n Season Pork Chops Cooking & Seasoning Mix, 1.06 Ounce (Pack of 6) | Learn More |
| | Center Cut Pork Chop 8 oz (20 Pack) Juicy and Tender Precision Cut Pork Chops.. | Learn More |
| | Boneless Thinly Sliced Pork Loin Chops 1 lbs. | Learn More |
Easy Sweet N Sour Pork
One of the reasons many people love easy sweet n sour pork is that it is made from scratch, and you do need any struggle. In other words, it is one of the tastiest meals that you can prepare within a short time.
Key Ingredients For Sweet And Sour Pork
To get your delicious meal, you need a few staple ingredients, which include;
Pork – boneless pork loin or boneless pork shoulder will do fine
Rice flour – ensure that the flour is fine
Veggies – Onion and tomato, bell pepper, pineapple
Homemade sweet and sour sauce – you can use dark brown sugar and rice wine vinegar, tamari, and even soy sauce
Making The Easy Sweet N Sour Pork
Combine the sweet and sour sauce – Add all the ingredients of sweet & sour sauce into a bowl and whisk to combine.
Heat a little of your preferred oil in a skillet and toss all your veggies. After about one minute of cooking, you can pull your veggies out of the heat.
Brown the pork by adding some oil into the skillet and tossing your pork to cook it for about five minutes
Pour the sweet and sour sauce into the skillet that has the browned pork and allow it to cook for a few minutes. Be sure to stir well to ensure the pork is well-coated in the sauce.
Serve enjoy
Sweet And Sour Pork With Pineapple
Sweet and sour pork with pineapple has always been one of the favorite Cantonese meals in China and America. Adding bits of pineapples to pork gives an extra sweet flavor that anyone can find attractive.
The Directions
Marinate your well-sliced pork for 30 minutes in a mixture of vermouth, soy, ginger, garlic, and two tablespoons of your favorite oil before setting it aside.
Prepare the sweet and sour sauce by combining all the ingredients in a medium saucepan, excluding the cornstarch mixture. Blend the mixture and bring to a boil. After the mixture has boiled, add the cornstarch mixture and reduce the heat while stirring.
Heat your favorite oil in an oven to 350 degrees.
Get your marinated pork pieces and roll them in cornstarch to coat well before deep frying them until they turn golden brown and crispy.
In a sauté pan, heat your oil on medium heat and fry yellow and red pepper and onions for two minutes. Add your homemade sweet and sour sauce to the fried brown pork and let it simmer for 5 minutes.
Serve and enjoy
Reasons Pork Is Becoming A Meat Of Choice
Although pork has always been a popular choice of meat, its demand seems to increase daily. The truth is that there are a few reasons to explain this phenomenon. They include;
Efficiency and influence – In addition to high protein content and versatility, pork is efficient to produce, making it a perfect choice for those in the meat industry. We all know that food entrepreneurs want to offer healthy, diverse, and cost-effective meats.
Health First – Another reason for pork's growing popularity is that it is a healthy alternative for proteins. Research has shown that excessive consumption of red meat can have a severe health impact on one's boy.

Mistakes To Avoid When Cooking A Pork Meal
Generally, pork provides a lovely meal that those who love pork meat will not hesitate to praise. The only way to ensure that your pork gets the praise it deserves is to cook it well. Here are some common mistakes to avoid when cooking a pork delicacy.
Failing to know the kind of pork cuts you are cooking – a clear understanding of the different cuts of pork meat is necessary because different cuts have different characteristics and cooking requirements.
Not seasoning your pork chops before cooking – Seasoning is an essential part of cooking the chops as it helps bring out the natural flavor of pork. A 30-minute seasoning is enough to make a difference.
Cooking your pork straight from the fridge – is not recommendable because it increases the chances of an unevenly cooked meal.
Overcooking or undercooking your pork chops – Undercooked pork poses the risk of foodborne diseases. On the other hand, overcooking will interfere with the taste. In some situations, the pork will dry out. Therefore, it is a good idea to have a digital meat thermometer to help determine when your meat is done.
Not resting the meat – While it can be tempting to dive into your cooking once they are out of the pan, it is crucial to understand that letting your food rest is essential in enhancing its flavor. Giving your cooked pork a few minutes to rest allows the meat's fibers to relax, making it tender.
Conclusion
Undoubtedly, homemade sweet and sour pork is a rewarding delicacy for your family or even friends. It is a straightforward meal to prepare as long as you are willing to adhere to the instructions to the end. Always remember that your health should always come first. Therefore, avoid undercooked pork as much as you can.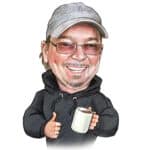 Scot has loved smoking food in his free time for the last few years. Each major holiday or off-weekend, Scot spends days testing and prepping new recipes for perfection.