Baked chicken thighs are a crispy, flavorful, and mouthwatering dinner that you can quickly prepare in your kitchen for your family or even for special guests. Although chicken thighs are an affordable option for dinner, its tasty nature makes it a top contender in your weekly recipe planning. Nonetheless, your kitchen skills must be on another level to avoid disappointment.
Fortunately, cooking delicious chicken thighs is a simple process that is easy to follow. The four essential steps that you need to follow when cooking baked chicken thighs are;
Preheat the oven to 450 degrees
Prepare the chicken
Prepare the sauce
Bake until the chicken thighs have an internal temperature of 165 degrees.
If you are looking to prepare baked chicken thighs and you do not want to make any mistakes, then you will find this post helpful. Read on for a delicious baked chicken meal.

How To Cook Baked Chicken Thighs?
The Ingredients
Chicken thighs
Salt and pepper for seasoning
Olive oil – is the best because it is a neutral-tasting oil
Garlic
Mustard
Red pepper flakes
Honey
Once you have all the ingredients ready, you should start the cooking process. Here is a step-by-step guide on how to cook your baked chicken thighs.
1. Preheat The Oven
The first step is to preheat your oven until it attains a temperature of 425 degrees. In addition, ensure that the oven rack is in the middle.
2. Place The Chicken Thighs In The Pan
Place the chicken thighs in the pan and rub them with marinade or any sauce you wish. You may want to grease the dish with a nonstick spray to prevent the chicken thighs from sticking to the oven.
3. Bake Until The Chicken Thighs Are Cooked Through
When baking your chicken thighs, you need to understand that boneless and skinless thighs cook fast while bone-in thighs may take a bit longer to cook. A digital meat thermometer is necessary to measure the internal temperatures of your chicken thighs. They are ready once the internal temperature hits a 165-degree mark.
4. Let Rest
The last is to remove the dish from the oven and let it rest for about 10 minutes before you can serve. The essence of allowing it to rest is to retain enough moisture so the protein will not dry out when slicing it.
Baked Chicken Thighs In Tomato Sauce
The baked chicken thigh in tomato sauce is a sweet recipe as it is cheap, fast, and easy to cook. Tomato sauce baked chicken thigh is the best option if you are looking for a perfect midweek meal. Here are the simple steps you need to follow for delicious baked chicken thighs in tomato sauce.
Preheat the oven to 350 degrees
Place chicken thighs in a baking dish.
Melt butter in a saucepan and sauté the garlic, onions, dried chili flakes, and thyme for about five minutes
Add crushed tomatoes, cider vinegar, and brown sugar and mix to combine. Once that is done, season with salt and pepper and let it simmer for about 15 minutes.
Remove the mixture from the heat before adding the mustard and mix to combine.
Pour the sauce over the chicken.
Bake uncovered and basted the chicken thighs with sauce after every thirty minutes. The total cooking time should be about seventy minutes.
The baked chicken thighs in tomato sauce are ready to serve
Baked Chicken Thighs In Curry Sauce
The curried baked chicken thighs are juicy, tender, and so tasty. Fortunately, preparing the baked chicken thighs in curry sauce is so easy that you do not have to strain so much to bring the meal to the dining table.
First, you must marinate the chicken in advance to make the cooking process simple and more rewarding. Once the chicken thighs are marinated, they are ready for cooking. Here are the instructions for baked curried chicken thighs.
Add the curry powder, yogurt, olive oil, ginger, cloves, garlic powder, salt, cayenne pepper, and sesame seeds to a mixing bowl and stir to combine.
Add the chicken thighs and stir, evenly coated with the marinade.
Let the chicken thighs marinate in the fridge for a minimum of eight hours and a maximum of forty-eight hours.
Set the oven to 350 degrees and bake the chicken thighs for 35 minutes.
The curried baked chicken thighs are ready to serve.
Baked Chicken Thighs In BBQ Sauce
BBQ baked chicken thighs are best known for their crispy, juicy, flavorful taste. If you cook them well, then they will be rewarding.
Like the other chicken thighs previously discussed in this article, cooking BBQ-baked chicken thighs is pretty straightforward and does not take a lot of your time to prepare. Here are the steps to follow.
Start by setting your oven to 400 degrees. It is an ideal way of guaranteeing even cooking of your chicken thighs.
Use a dry paper towel to dry your chicken thighs.
Mix the seasoning rub, including the pepper and salt, garlic powder, paprika, and onion powder. Ensure that you rub the season all over the chicken thighs.
Brush the chicken thighs with barbecue sauce before baking them in the preheated oven for 20 minutes. Baste with more sauce and bake until the chicken thighs attain a temperature of 165 degrees.
The BBQ-baked chicken thighs are ready to serve
| Image | Title | Details |
| --- | --- | --- |
| | Killer Hogs The BBQ Sauce + Vinegar Sauce Bundle | Learn More |
| | Bone Suckin' BBQ Sauce, 16 Oz | Learn More |
| | Sweet Baby Ray's Honey Barbecue Sauce 18 Oz - Two Pack - SET OF 2 | Learn More |
| | Sweet Baby Ray's Original Barbecue Sauce, 18 OZ | Learn More |
Chicken Thighs Baked In Creamy Sauce
The chicken thighs baked in the creamy sauce can make a perfect dinner for a chilly night. If you love homemade meals and have yet to try out the chicken thighs baked in a creamy sauce, you are losing it because preparing this dish is very simple.
First, you must preheat your oven to attain a temperature of 425 degrees. Secondly, season the spices; paprika, chili powder, butter, salt and pepper, and any of your favorite seasonings. Cook the well-seasoned chicken thighs in a hot skillet for 5 minutes on each side. Remove the chicken thighs from the skillet, add fresh onions, garlic, and crushed pepper, and cook for about 20 seconds.
To make the sauce:
Add a reasonable amount of the seasoned all-purpose flour and butter to a skillet and cook for two minutes.
Add the broth and cook for three minutes while stirring the heavy cream.
Put the chicken thighs back into the skillet and cook for about an hour or until the chicken thighs are fully cooked.
How Long To Bake Chicken Thighs
When making perfect chicken thighs, knowing when they are ready or how long you should cook before you can say that they are ready is important information you do not want to ignore if you want a delicious meal.
The length of cooking chicken thighs highly depends on the temperature you will be cooking them in and the type of chicken thighs. For instance, at a temperature of 400 degrees, you will need 30-40 minutes to cook bone-in chicken thighs.
The best way to tell whether or not your chicken thighs are ready for consumption is to check their internal temperature. Chicken thighs should be ready and safe for consumption once they attain an internal temperature of 165 Faraneights.

Why Do Most People Prefer Chicken Thighs?
While chicken thighs are an affordable meal, it emerges as one of the most sought-after parts of a chicken. Some people prefer chicken thighs for various reasons, including;
The chicken thighs are very delicious.
They are the chicken's dark meat, and this makes it moist and flavorful
Chicken thighs make great leftovers
They are always available and economical
Conclusion
While baked Chicken thighs make a delicious meal for your busy family, cooking them correctly is the best way to get the most rewarding results. Further, it is crucial to ensure that your chicken thighs attain an internal temperature of 165° to ensure that it is ready and safe for consumption.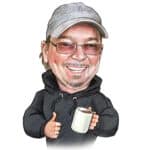 Scot has loved smoking food in his free time for the last few years. Each major holiday or off-weekend, Scot spends days testing and prepping new recipes for perfection.