Looking for the best Korean BBQ grill? Read the characteristics of a good BBQ grill and the factors you should keep in mind while making a choice!
Nothing beats the Korean barbeque. It is known for its savory, smokey barbeque goodness with intensive flavor packed in every bite. While professionals in a Korean restaurant serve the best Korean barbeque, it is possible to replicate the same authentic experience in your kitchen!
But, how to find the best Korean BBQ grills? Grills come in varying sizes to facilitate different needs, but most companies design BBQ grills to fit on countertops and tables. Most grills come with an installed heat source, but some may require you to purchase them separately. Two common choices include electric and gas heating.
Choosing a barbeque grill that best fits your needs can prove to be a gruesome and tiring process. Lucky for you, we have handpicked some of the best options and have evaluated them under expert supervision.
Barbeque can get messy sometimes, and the leftovers are hard to clean. To solve this issue, try to invest in a BBQ grill that comes with a grease tray attached to it. It will collect all the excess grease and save you a lot of hassle and time spent cleaning!
So, let's not wait and get one step closer to your Korean food dream!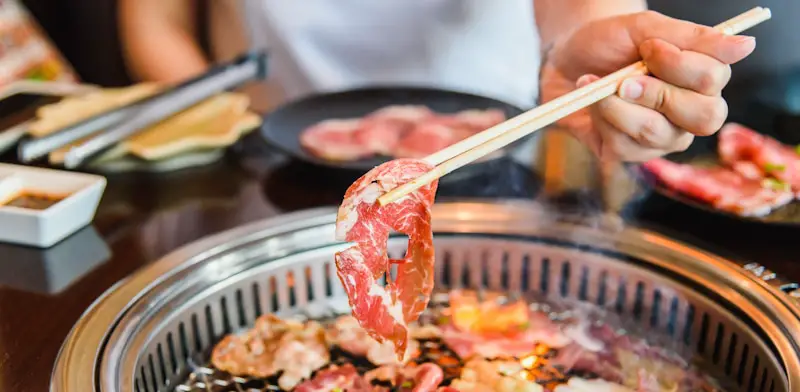 The Best Korean BBQ Grill Models
Slim, stylish, and exquisite; there is no better explanation for TeChef's Stovetop Korean BBQ Grill! The unit is an all-rounder that sports a non-stick Teflon grill and a portable burner. The best part about the grill is that it is non-stick. So you won't have any food sticking to the top. Besides, cleaning it would be a piece of cake.
The selling point is undoubtedly its distinct swirl design that removes excess grease from your food, making it healthier and fat-free without stealing its enriching flavors. Lastly, we were quite impressed by how affordable the grill is! So, if you are looking for a reasonably priced good-quality grill, this is the one!
Pros
Designed and assembled in Korea
Equipped with a portable heat source
The unique built-in mechanism for grease and oil drainage
Compact and hence, requires less space.
Easy to use and assemble
Eye-catching modern design
Cons
The portable burner might get lost or misplaced.
Acquires relatively high power consumption
Liven's Electric Indoor Korean BBQ Grill comes off as more 'versatile' than the predecessor. The reason is its larger size, features more grilling modes, and allows you to cook a large quantity of food at once. So, the unit might be a good option for you if you are planning a Korean BBQ party!
The Grill stands out from the rest due to its built-in electrical burner. Hence, you don't have to worry about arranging a heat source! Another fascinating feature is its 'Dual flavor hotpot.' It enables you to grill food and cook soups simultaneously!
To make things easier for you, Liven has added handles to the unit. Furthermore, the non-stick coating ensures the food doesn't stick to the pan!
Pros
High surface area
Comes with a removable hot pot!
Equipped with two electric burner controls for increased power to maintain higher temperatures
Non-stick matte finish surface for hassle-free cleaning
Side handles make carrying a lot easier.
Practical and easy to use
Cons
Falls under the category of high-priced types of equipment
Might be troublesome to clean the hotpot and the grill together as a single unit
No grease drainage mechanism, so the process might get messy!
Requires more space and is not compact
Indoor Grill's CUSIMAX Portable Korean BBQ Grill isn't just meant to be used for cooking savory barbecues but also for other types of foods like pancakes, which would otherwise require a skillet to make. The 2-in-1 design consists of the grill and the skillet. It also has a compact design, which makes it ideal for small kitchens.
One of our favorite features of this grill is the turbo smoke extractor that significantly reduces the smoke when you are grilling food. It comprises dual U-shaped heating sources that supply heat at a constant temperature. Furthermore, you can adjust the temperature between the range of 200- and 450-degrees Fahrenheit. All you have to do is use the built-in smart LED display.
Error: Unknown Link Type
Pros
Dishwasher Safe (Non Sticky surface)
High-Quality Construction
A Gas lid is included
Cons
The cooking space seems small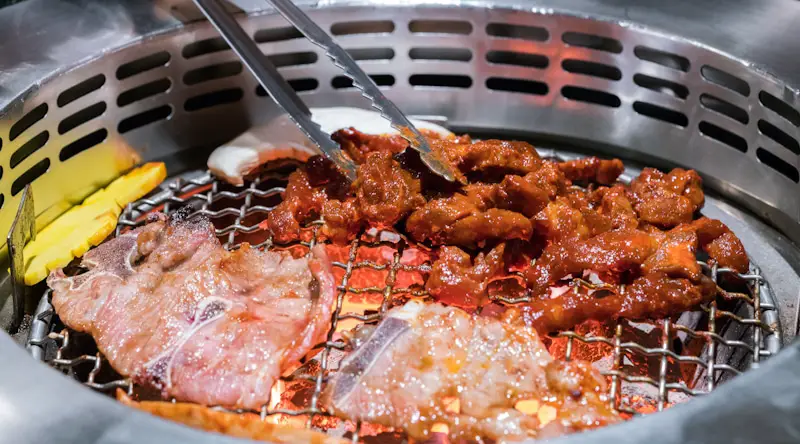 Are you planning a Korean BBQ dinner with friends? If yes, then Costzon's Teppanyaki Table Top Grill is perfect for you.
The rectangular grill has dimensions of 35×9 inches, which gives you enough space to cook for a large group of people. As it comes with a premium, non sticky surface, it requires significantly less oil to grill fish, meat, and veggies on it.
In addition, the unit also comes with six spatulas and two egg rings. Other than that, it is an excellent deal due to its extraordinary features, such as the five different temperature settings giving you access to the ideal temperature required for grilling your desired item.
The unit also comes with a pair of insulated handles present on either side of the grill that allows you to quickly move it wherever you want without thinking twice about picking it up. Lastly, it only weighs six pounds, and you can easily move it from one place to another without any problem.
Pros
Portable and Compact
Multiple people can cook on it
Five different temperature settings
Safe to use
Easy to clean
Cons
Techwood's Korean BBQ Grill product is perfect for you if you plan on making Korean BBQ repeatedly. The 1500-watt griller has an ergonomic design with dimensions of 19×9 inches.
The griller plate is a two-sided plate with one side grooved, whereas the other side is flat and leveled. While the grooved side is ideal for BBQ and leaves beautiful griller marks on the food, the smooth side is perfect for making crepes and similar dishes.
The unit includes eight small raclette trays that are heat-resistant and moveable. Cleaning the trays is pretty easy too. Aside from BBQ, you can make various other foods on the grill, including cheese, eggs, veggies, as well as seafood. You can also use ranchette trays to prepare side dishes.
Thanks to the thermostat, you can change the temperature from 392-536 degrees Fahrenheit, and cooking has become much more manageable. It also has a visible light which shows the current temperature you are cooking at.
Pros
Larger cooking space due to Ranchetta Trays
Grilling surface easy to clean
Comes with an 18-Month Warranty
Drip pan makes the cleaning process easy
Cons
Does not have a safety handle to move the grill when hot.
Final Words
Korean Barbeque Grills certainly make a worthy investment. After all, who wouldn't want to smell the aroma of sizzling Korean BBQ and devour its deliciousness? While purchasing a Korean grill, make sure to check its durability. Each grill has pros and cons, so assess each unit precisely and keep an eye on its design.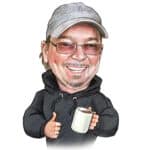 Scot has loved smoking food in his free time for the last few years. Each major holiday or off-weekend, Scot spends days testing and prepping new recipes for perfection.