The beautiful thing about outdoor grilling is that you will never fall short of options. Whether it is meat or vegetables, you can always grill them to perfection without strain. Knowing how to use a grill basket for veggies may be necessary when it comes to grilling veggies.
A grill basket contains large-weave mesh to hold food when cooking on the grill. It is best for grilling seafood, veggies, and even small pieces of meat that may easily fall through the grate of the grill. Generally, using a grill basket is easy as long as you deal with vegetables, small fish, and other delicate food.
Although using a grill basket for veggies is a simple process, there are many things you need to learn about grill baskets. Read on for more details about the grill basket for veggies.

What To Put In A Grill Basket?
The first step to using a grill basket is clearly understanding some of the things you can put in the basket. If you put the wrong product in the grill basket, the chances are that you are not going to achieve the desired results.
Grill baskets are excellent for veggies as they can hold a lot of vegetables and allow enough heat to penetrate to promote the food's browning. In addition, when using a grill basket, you are sure that none of your vegetables will fall or stick to the grill's grates.
Other foods you can comfortably grill on the grill basket for veggies include oysters, shrimp, clams, mushrooms, and tomatoes.
Advantages Of Grill Basket For Veggies
The demand for grill baskets for veggies is pretty high in the modern market, and this is attributable to the fact that there are numerous advantages associated with the grill basket for veggies. The most obvious benefit is that you will not lose your vegetables through any leaks when using the grill. This is because the veggie grill basket can comfortably accommodate small food products and ensure there is no wastage.
Another benefit of a grill basket for veggies is that it promotes even cooking by offering a smaller surface where small food settles. While many vegetables, such as onions and greens, are best when grilled, most people avoid grilling them because they are not ready to put up with the foods dropping right into the center of the charcoal and hence burning.
Lastly, the veggie grill basket makes it easy to grill challenging meals, such as fish, to the desired level of tenderness without falling off. Notably, stainless grill baskets for veggies are easy to clean because thy food does not stick to them.
How To Use A Grill Basket For Veggies
People use a grill basket for veggies when they want to save space on the grill grates, cook several different meals simultaneously, and prevent vegetable pieces from falling off the grill. Although it is easy to achieve all these regardless of the type of grill basket for veggies you have, it is essential to know how to use the grill basket correctly.
Here are some of the essential tips you should always consider whenever you want to use your grill basket.
Slice the vegetables into uniform pieces for even cooking. Since different vegetables have different cooking duration, it is vital to ensure that you put veggies with the same cooking duration to prevent undercooking and overcooking. For instance, potatoes take longer to cook, while onions and peppers take a few minutes before they are ready.
Marinate your vegetables with your favorite seasoning and a bit of oil to prevent them from drying. Herbs and seasoning may not be mandatory because they are meant for additional flavor.
Preheat the grill and the grill basket for meat to help prevent the vegetables from sticking when you start cooking.
Grill the vegetables in the how-to-use grill basket for veggies over the heat while toasting them after every three minutes to prevent burning. You can add extra seasoned oil if you deem it necessary.
Best Grill Basket For Veggies
If you love grilling veggies and other small foods, there is no doubt that at some point, you will have to consider investing in the best grill basket for veggies. Unfortunately, the modern market is littered with a wide range of products, and if you do not take the time to do your due diligence, you may not get value for your money.
After extensive research and comparison, we have established that the Grillaholics Heavy Duty Grill Basket is the best grill basket for veggies. The Grillaholics Heavy Duty Grill Basket is large, well-constructed, sturdy, and features a perfect shape.
Its beautiful design allows for maximum physical contact with the grill for fast and efficient cooking.
In addition, the Grillaholics Heavy Duty Grill Basket boasts convenient handles made of stainless steel to provide excellent heat resistance and the desired durability.
In summary, the is the Grillaholics Heavy Duty Grill Basket is the best for various reasons, including;
Perfectly designed handles
Excellent ventilation
Large enough to provide you with the ample space that you need to prepare a delicious meal
Good price
What To Look Out For In The Best Grill Basket
Before you set out to get the best grill basket for veggies, it is vital to comprehend the essential features to look out for in the best product. The features of the best grill basket for veggies include;
The Materials
Before buying the grill basket, ensure that it is made up of quality materials capable of standing the test of time. A quality grill basket should serve you for a long time without rusting, twisting, or even warping. When examining the material, ensure that you are dealing with an FDA-approved product for health concerns.
The Handles
Besides the materials, the other vital factor to consider is the handle. The handles should be of the right quality to guarantee the convenience and comfort you need when preparing your meals. For instance, the handles should be wide enough to make it easy for you to handle them. In addition, it is crucial to ensure that the dimension of the grill basket is compatible with your grill.
The Holes
The holes should be reasonably large to allow the heat to get through and prevent the small pieces of food from falling when tossing the vegetables.
Cleaning
The essential aspect you should not overlook when shopping for the best grill basket is its simplicity when cleaning it. No one wants to invest in a grill basket that is hard to clean. Therefore, it is wise to go for stainless steel grill baskets as they are dishwasher safe. You need to ensure that the product will comfortably fit into your sink.
Safety
Ensure that you are purchasing a smooth grill basket with no sharp edges that might pose a safety risk to your household. Sharp edges can be lethal when washing the grill basket.

Heat Tolerance
Lastly, you need to pay attention to heat tolerance. This is important because some grilling baskets cannot withstand high temperatures. To be on the safer side, invest in grill baskets that have a high heat tolerance capacity.
Best Veggies For Grill Basket
If you love veggies, you need to understand that investing in the best grilling basket alone is not enough to give you the delicious meal you would love. You must also acquaint yourself with the best veggies for grill baskets and how to grill them.
The list of the best veggies for a grill basket is endless, with vegetables such as broccoli, snap peas from the garden, onion, carrots, fresh cabbage, Brussels sprouts, mushrooms, and potatoes.
Conclusion
With the right grill basket for veggies, grilling your best veggies should be a simple task. Therefore, before you purchase a grill basket, ensure that you do your due diligence to avoid making a costly mistake. When shopping for the best grill basket, consider the material, size, depth, cost, handles, holes, heat tolerance, and appearance. The Grillaholics Heavy Duty Grill Basket is one of the best grill baskets for veggies.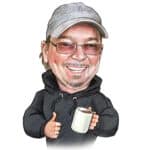 Scot has loved smoking food in his free time for the last few years. Each major holiday or off-weekend, Scot spends days testing and prepping new recipes for perfection.