A grill basket is one of the critical tools that you would need for a great fish grilling experience. It comprises metal baskets that go into your grill, making it easy for you to cook your fish flawlessly. Notably, there are different types of grill baskets that you can get for your grilling ventures.
But why do you need a grilling basket for fish? Although grilled fish can be delicious and savory, most people shy away from grilling fish because of the challenges that come with the process. However, the process becomes quite simple with a grill basket for fish as you do not have to worry about the fish falling or sticking on the grills.
However, with the numerous grill baskets to choose from, it is easy to get confused about the one to purchase. Therefore, before you set out to get a grill basket for fish, you should ensure that you are well-informed to avoid making any costly mistakes. Read on for detailed information about the grill basket for fish and how to get the best.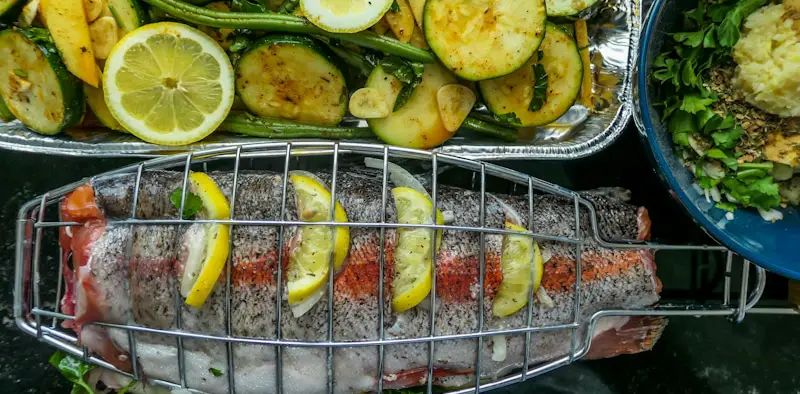 What Are Grill Baskets For Fish?
Grill baskets are what they sound like; they are metal baskets designed to accommodate fish and vegetables without letting any of their content fall. Their design makes it easy for people to grill fish and vegetables. If you want a grill basket for your use, then it is prudent to start by understanding the different types in the modern market.
Grill baskets for fish look like fine mesh baskets, making them great for cooking small items such as Brussels sprouts or chickpeas.
Flat stainless steel basket with perforated holes on the bottom. This will be an ideal option if you need an additional barrier between the frame and your food.
Grill baskets that look like two-sided clamps are perfect for grilling large fish filets.
Whether you want to cook small items that can fall off the grates of your grill or you do not fancy whatever you are cooking coming into direct contact with the flames of your grill, you can always find a perfect grill basket for the task.
Why Is Fish Grill Basket Great?
The use of fish grill baskets is widespread because it makes the grilling of fish convenient. Here are some features that make the use popular among BBQ enthusiasts.
Lockable grill grates ensure that the fish is in place, hence enhancing easy flipping when grilling the fish. Moreover, you can use a fish grill basket to grill steaks, vegetables, shrimp, and any other delicate food you may want to grill.
The fish grill basket provides an excellent hole for grilling small-sized foods that can fall off the grates.
Grid gaps are perfectly designed to offer an even heat distribution to guarantee even cooking of the food.
The fish grill basket is large enough to cook food for 2-3 people. Additionally, you can use the basket with charcoal grills, gas grills, smoke grills, infrared grills, porcelain grills, etc.
Best Grill Basket For Fish
If you are convinced that having a grill basket for fish will give you ample time to prepare your favorite meals, then you need to invest in the best grill basket. While most of the grill baskets you will come across in the market can quickly help you cook your meals, they are never equal in convenience and ease of use.
The AIZOAM Portable Stainless Steel BBQ Barbecue Grilling Basket for Fish is the best grill basket to buy for your cooking ventures. The grill is made up of durable stainless steel to guarantee durability. Additionally, it features a foldable, heat-resistant, and detachable fold to make it easy to use.
Features and Benefits
It comes with an assortment of accessories to make it more convenient for grilling enthusiasts. Some of the accessories that come with the grill basket include grilling gloves, a basting brush, natural bamboo skewers, etc.
It has a large grilling surface, making it convenient for cooking a large volume of food.
It has a creative lockable grate to lock the fish/vegetable in place for easy flipping.
The AIZOAM Portable Stainless Steel BBQ Barbecue Grilling Basket for Fish is lightweight and portable hence the best option for outdoor cooking.
It is a high demand implying that you can hardly get disappointed by investing in this grill basket.
Essential Factors To Consider When Shopping For A Grill Basket
The key to purchasing the best grill basket for fish is familiarizing yourself with some of the crucial qualities to look out for. Always pay attention to the following factors before making your choice.
The Quality
The quality of the grill basket involves its durability, effectiveness, and longevity. As much as you may be eager to grill your fish, you do not want to invest your money in a product that won't serve you for a long time, as that means that you will have to think of purchasing another one. Additionally, a product of inferior quality can negatively impact health in addition to regular maintenance.
Features
Besides the grill basket's quality, you also need to examine the features that the basket brings to the table. A good grill basket should be easy to use, convenient, and safe. This is only possible if the grill basket boasts features designed to make it user-friendly. One way that can help you determine whether or not the grill has all the necessary features is to conduct extensive research.
Customer-Feedback
Before you invest your money in a grill basket for fish, you should try to find out what other people think about the different products in the market. By going through customer feedback, you should be able to tell whether or not you are about to invest in the right product. Customers will leave genuine reviews about a product; you can ignore such reviews for your own peril.
Cost
Grill basket prices vary depending on various factors, including quality, brand, popularity, and usability. Although the price can give an insight into the quality, it is never wise to make a buying decision based on the price alone. Furthermore, you should not spend more than you have in trying to acquire a grill basket for fish. Nonetheless, expensive models have more functionality and offer great durability compared to cheap ones.
How Do You Keep Fish From Sticking To The Grill Basket?
Grilling fish in the grill basket is quite easy. The only challenge you will likely experience is the fishing sticking on the grill basket.
Fortunately, you can easily avoid such challenges by greasing the grill basket. Additionally, it is good to pat your fish with a dry towel before setting them in a grill basket. Patting the fish with a dry towel is necessary as it helps to prevent it from getting mushy and tough.

How To Grill Fish Without A Grill Basket
One of the main reasons for using a grill basket to grill fish is to prevent the fish from sticking to the grill grates. Therefore, if you have to grill fish without the grill basket, the major challenge you will seek to overcome is the fish sticking on the grill grates.
The first step to grilling without a grill basket is to ensure that the grill grate is clean. Any debris on the grates will increase the chances of the fish sticking.
In addition to cleaning the grill grate, you should season the rack to create a nonstick seasoning. Use olive or canola oil to season the rack until a plastic-like polymer that helps to minimize the contact of the fish with the grates is formed. Further, before putting the fish on the grill, ensure that the grate is very hot.
Final Words
The best grill basket for fish will make it easy to prepare your fish or vegetables without any strain. Whenever you shop for a grill basket, pay attention to the quality, durability, cost, customer feedback, and features of the grill basket before making an order. The AIZOAM Portable Stainless Steel BBQ Barbecue Grilling Basket for Fish ticks all boxes for the best grill basket for fish.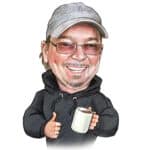 Scot has loved smoking food in his free time for the last few years. Each major holiday or off-weekend, Scot spends days testing and prepping new recipes for perfection.