Flavored charcoal has become common for BBQ enthusiasts who want to elevate their grilling experience. The flavored charcoal offers a perfect way to improve the taste of your grilled foods even further.
In other words, flavored briquettes are designed to heighten the sensory experience making it easy for even a novice griller to gain confidence in their cooking. The point of flavored charcoal is to impart extra flavor to the food without much effort from the griller. Moreover, everyone agrees that seasoned food is excellent, and so is charcoal.
Although there is no doubt that flavored charcoal has the potential to enhance the flavor of the food, there is a lot that you need to know to get the best from your grilling venture, including how to use charcoal. Read on to familiarize yourself with everything you need about flavored charcoal.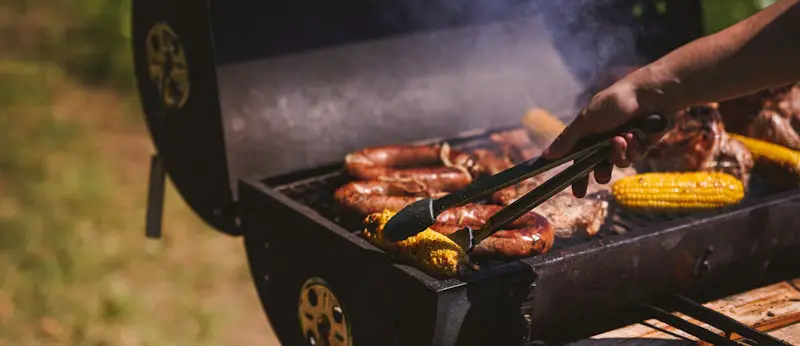 Flavored Charcoal For Grilling
Barbecue experts have adopted various methods of enhancing the flavor of their food, including adding seasonings such as chili powder or garlic powder. While that has always worked, some companies have decided to do it another way.
Instead of spending a lot of your time trying to figure out what seasonings to use for the next meal you are cooking, you can purchase flavored briquettes and save yourself from having to handle different seasonings when preparing your meals. There are several reasons to try out flavored briquettes, especially if you have never given them a try before. Some of these reasons include the following;
Environmental Friendly
Everyone should be willing to protect the environment for future generations. One common characteristic of flavored briquettes is that they are environmentally friendly. For instance, they do not produce smoke that can be harmful to the environment in one way or the other. Generally, flavored charcoal provides a safe environment where you can relax while grilling your best meals.
High Level Of Hygiene
When it comes to grilling, maintaining high levels of hygiene is necessary to maintain the integrity of the food. Using a hygienic product is one way to ensure that your grilled food is safe for consumption. Whether grilling beef, chicken, or turkey, you would not have to worry about toxic and harmful substances finding their way into the food you are cooking.
Easy To Light
Lighting charcoal can be challenging, especially when you do not have the right lighting tools. Most people spend a significant part of their time trying to light their food. With flavored briquettes, you do not have to worry about lighting because they are easy to light and maintain. Further, flavored charcoal burns until there is nothing left.
The easy lighting and minimal maintenance requirement give the user ample time to prepare a delicious meal.
Burn For A Long Time
Charcoal is expensive, especially when preparing a meal for a large group of people. Moreover, having to stop in the middle of cooking to add extra charcoal can be inconvenient. One of the ways to avoid such an undesirable scenario is to invest in quality charcoal that can burn for a long time.
Flavored charcoal is best for burning for a long time. However, it is crucial to understand that the burning duration depends on how they have been manufactured. Therefore, to get plenty of time when grilling, ensure that you invest in the best briquettes.
Produces Significant Heat
Another reason you should use flavored charcoal in preparing your food is that they produce a lot of heat. Therefore, the flavored briquettes will be very good if you are cooking foods that require high heat. Moreover, most foods cooked with flavored charcoal come out tender and more delicious. The production of high heat and the long burning duration makes charcoal a good option for cooking tough meat.
Kingsford Flavored Charcoal
Kingsford flavored charcoal is one of the most popular flavored charcoals currently in the market. The brand has different seasonings mixed in to make the food you cook delicious. Some barbecue enthusiasts describe Kingsford as an innovative flavor booster.
Kingsford flavored charcoal comes in three flavors; Basil Sage Thyme, Garlic Onion Paprika, and Cumin Chili. All these flavored charcoal are made up of 100% authentic spices, meaning that if you use them for your cooking, you will impart the same spices into your food.
In addition to the different flavors, the products come in different formats to suit the needs of various people. For instance, they come in the form of briquettes and pellets to match the user's needs.
Therefore, whenever you need to try out flavored charcoals, ensure that you buy the ones that will fit into your grill.
Charcoal Flavored Pellets
If you are using a pellet grill for your cooking ventures, then charcoal-flavored pellets will be your best option. Unlike the unflavored counterparts, charcoal-flavored pellets get hot fast while producing a lot of heat capable of searing your steaks.
Investing in charcoal-flavored pellets is advantageous in several ways including;
They do not have toxic impurities that might cause health problems
It can produce highly flavorful smoke to elevate the flavor of your food
They burn hotter to allow you to cook a wide range of meals
Provides an ideal way to get authentic BB flavor

How To Buy The Best Flavored Charcoal
Now that there is no doubt about the impact that flavored charcoal can have on your food, the next question you are probably asking is how do you ensure that you invest in the best quality charcoal? Even though there are different brands of flavored charcoal in the market, as long as you know what to look out for in the best charcoal, you won't have a hard time making the right decision.
The Flavor Of The Charcoal
The first step is determining the flavor you want to infuse into your food. While the wood used to make the charcoal has its own flavor, you need a combination of aromas from different seasonings.
Some of the flavors include fruity, coconut, smoky, and nutty. It is a good idea to invest in the flavor you will not have in the entire grilling process through other means.
The Shape Of The Charcoals
While this might come out as a minor factor to consider, the truth is that it can significantly impact the grilling process. A flavored briquette that comes in a uniform shape will give you an easy time setting up your grill ready for cooking.
Failing to consider the shape factor may result in spending a lot of time trying to set the grill, which can be pretty inconvenient.
The Quality Of The Charcoal
You also need to ensure that the charcoal you purchase is top-notch in terms of quality. One way to achieve this is by providing that charcoal does not have a lot of debris on the bottom, as that would indicate poor quality. Briquettes that crumble easily are an indication of poor quality.
Binders And Fillers
Lastly, you should check on the binders and fillers present in the charcoal. Ensure that the binders used are natural to minimize the chances of having toxic impurities in your charcoal. Additionally, the more wood fillers you have in your charcoal, the higher the harsh production rate. The best way to avoid such a scenario is to avoid briquettes with fewer amounts of wood fillers.
Conclusion
Using quality flavored charcoal for your food is one of the best ways to elevate the flavor of your grilled food. However, for best results, always ensure that the flavored charcoal you purchase is of the best quality. Pay attention to the charcoal's flavor, shape, and quality before making your order.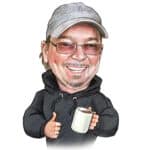 Scot has loved smoking food in his free time for the last few years. Each major holiday or off-weekend, Scot spends days testing and prepping new recipes for perfection.