Smoking meat using a charcoal grill can feel like an impossible goal to you. No more! Find the best smoker boxes for charcoal grills to elevate your outdoor grilling skills to the next stage.
Many people don't know that you can use a smoker box for charcoal grills. The benefit of that is its slow release. Since the wood chips don't get direct exposure to the fire, they can smoke for a more extended period. So, we decided to review the best options in this article.
When picking the best smoker box for charcoal grills, you should know that not all of them are equal. While their primary purpose is the same, their designs and features are quite different. So, it would be best to focus on various factors to select the ideal one for you and your charcoal grill. Here's our list of the best smoker boxes for charcoal grills:
The Best Smoker Boxes For Charcoal Grills
This Cave Tools model is straightforward to use. It's also sturdy, with stainless steel that's 25% thicker, making warping a less potential risk than with other smoker boxes. Another advantage of the stainless-steel thickness is that it minimizes the likelihood of discoloration.
The hinged cover of the box effortlessly allows space for more wood chips. You can circumvent needing to refill frequently so that the lid stays closed for a more extended period. That loading capacity is ideal since more chips equate to more smoke for your food.
Let's say you're a person that can't stand managing hot items. In that situation, people prefer the lid since it provides easy access while making disasters and injuries not likely. It also includes a free and downloadable app with a barbecue journal for iOS and Android. It contains 25 delicious cooking and smoking recipes with stepwise instructions.
This box is an excellent addition to the best smoker boxes for charcoal grills. Even for a beginner cook, it's a decent option regarding sturdiness, smoke production, and other features.
Pros
The affordable price range with good value for cash
Roomy wood chip capacity
It has the ideal size even if you keep it between the flavorizer grills or on top of the charcoal
No holes in the bottom, so chips smoke rather than burn and don't catch fire
Well-suited to nearly any kind of grill or outdoor bonfire
Lifetime assurance with a full refund policy
Cons
The Charcoal Companion smoker box for charcoal grills has a unique V-shape that you can get in two different sizes. It can easily sit between the flavorizer grills of charcoal smokers and provides optimal heat exposure while producing plenty of smoke.
Its multipurpose form also makes it well-suited for other smokers and grills. This smoker box for charcoal grills has a specific design for charcoal grills, which are the more famous choice thanks to their convenience. Like the Cave Tools model above, it includes a hinged lid that provides you with the option to add flavored wooden chips that you prefer with ease.
The Charcoal Companion is also an excellent option for someone who doesn't predominantly relish cleanup. The way its design works, ashes drop to the bottommost part of the smoker boxes as you cook your meat. All deposits stay inside the box. All you have to do for cleaning is vacate the smoker box after smoking and then wipe it inside out.
Ultimately, the Charcoal Companion is a sturdy stainless-steel option with an ingenious design. Its form provides a more concentrated smokey flavor, while the V-shape is compatible with most grill arrangements.
Pros
Obtainable in two sizes
The hinged cover lets you add wooden chips with more ease, so you don't have to pause the smoking process.
Unique V-shape provides a more concentrated smoke buildup
You don't have to scrub off fat from the inside during cleanup since it holds the ashes
Cons
Some people say it corrodes quickly, making it a less sturdy choice than other smoker boxes
You can't fit many wood chips inside it, so you'll waste time refilling during cooking
The Grillaholics smoker box for charcoal grills focuses on simplicity for its operational use. The primary mechanism involves filling the smoker box with your preferred seasoned dry wood chips. Next, place it close to the flame and then you can kick back and patiently wait for the food to smoke.
Wood chips can take up to 15 minutes to begin the smoking process, which is a more extended starting period than the other options on this list. The smoker box's considerable dimensions frequently allow you to add more wood chips without refilling constantly. You can build heat and intense smoke rapidly.
A substantially convenient system and hefty dimensions make it straightforward to use on a charcoal grill without having a giant smoker. The Grillaholics brand makes the outdoor smoking experience more pleasant, even for beginners. This smoker box for charcoal grills is one of the best grilling accessories available.
Grillaholics Smoker Box
Add the wood chips of your choice to our Heavy Duty Smoker Box, and place directly over the flame.
Pros
Well-suited for most kinds of grills
Several holes on the box's surfaces provide optimal ventilation and heat regulation.
It comes with directions to join the Grillaholics VIP group. A compatible community focused on outdoor smoking.
Hefty wood chip capacity allows the smoke to burn for more time, preventing constant refilling.
Complete lifetime refund guarantee
Keep reading: Small Smoker Grills: Do You Need One? [GUIDE]
Cons
Some people complain about warping and discoloration

The Char-Broil model is the only smoker box for charcoal grills listed here that doesn't have stainless steel construction. Its cast-iron design helps it retain heat for more time, although the initial heat-up time is also long.
It can also endure hotter charcoal grill temperatures more efficiently than comparable grills. Its hefty, vented cover design lets the smoke collect close to the food to provide the ideal concentration of taste and heat.
The smoker box's cast iron is a whole quarter-inch thick, making it significantly more robust. The wood chips smoke inside and are less likely to burn as the lid allows smoke to leave. The box does need some maintenance in the beginning to increase its lifespan. The company endorses seasoning it by covering the box with oil when you use it for the first time.
Repeating that method after using the box the first few times can season it so well that corrosion is improbable. The Char-Broil model is an excellent smoker box for charcoal grills that provides an authentic smoky taste ideal for other grills besides charcoal, like gas and electric.
Pros
It is a multipurpose smoker box that works well with most kinds of grills
Wood chips are less likely to catch fire thanks to the sturdy cast iron
The lid vent lets more smoke reach the food
The dual cast iron design increases its durability for the body and lid
Cons
The box's weight and thickness make it difficult to transport around.
The conventional lid design makes it tricky to refill extra wood chips if you need them.
It would be best to have some prep before first use to avoid rust developing.
Cons
Some people say that the box can undergo warping or discoloration
Final Words
Picking the best smoker box for charcoal grills can go a long way when you're trying to cook the most delicious outdoor barbecue meal for your summer guests. Your tastes are markedly better than a standard grill when you convert your charcoal grill into a smoker! So, happy grilling!
Also read: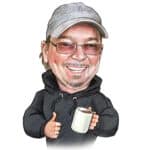 Scot has loved smoking food in his free time for the last few years. Each major holiday or off-weekend, Scot spends days testing and prepping new recipes for perfection.