Are you looking for a durable and reliable Japanese Yakitori Grill but can't seem to find one good enough. Finding a good product is like finding a needle in a haystack. However, don't worry. After researching for days, we finally have a list of the best Japanese Yakitori grills for social gatherings and grilling sessions.
A Yakitori grill is a rectangular-shaped grill used to grill chicken or any meat. Its shape permits you to make the most of the space and cook skewers easily. However, what is different about the yakitori grill from other types? Well, the most distinct difference is the temperature. This particular grill is that it cooks food at 200-250F and essentially uses charcoal.
Finding that one special grill that fulfills all your requirements can be overwhelming. And we don't blame you! In this article, we've reviewed the best yakitori grills on the market. So, check them out!

Best Japanese Yakitori Grills
FireSense makes outdoor heating equipment that is not just innovative but also top-quality. The company certainly understands how much the Japanese love pottery and other products because the grill is manufactured using ceramic.
The material used is factory-grade ceramic, designed to disperse the heat efficiently for quicker cooking. Grilling your meat on this product will ensure you get a succulent and tender cut of beef. Additionally, it comes with a grill clip so that the unit stays in its place when sitting on the ceramic body.
The beautiful grill also sports two adjustable vents that regulate the amount of heat and allows you to alter the cooking temperature. It's got a 17x 10 inches size that could be useful on patios at home or apartment balconies.
The cooking surface has a Japanese tabletop ideal for yakitori preparation. It is ideal for a small kitchen for a family of four. Last but not least, the grill is portable and easy to clean since it has a chrome-plated cooking grate.
Pros
Hand-crafted clay base
Chrome grilling rack
Two adjustable vents
Includes a handle and stand
Great for outdoor cookouts
Ceramic material ensures the even distribution of the heat generated by charcoal within the grilling zone.
Cons
You need to keep the clay exterior dry
You might need to store the grill inside your home when it isn't being used to extend its lifespan.
If you are looking for authentic taste, then you will like Noto Dia's Tabletop Shichirin charcoal grill. The grill is manufactured in Japan. Moreover, it's made of diatomaceous earth, which holds heat. Also, it doesn't get rusty or warp.
Honestly, it made us reminisce about childhood, when we used to sit with our friends and family in our lounge and hear the sizzling meat on the grill. This particular unit definitely fulfills its promise of letting you have the ultimate yakitori experience, especially if you are from Japan.
It features three vents in the back and front. Unfortunately, you cannot adjust the vents, but the airflow is accessible throughout the bottom. It is built with a wood base that prevents heat from moving to other surfaces.
The barbecue grill sports a grilling rack in zinc-plated iron, which is strong and durable. Additionally, the grill has beautiful aesthetics as it adorns Chinese characters over its body. Overall, we would suggest this immaculate Yatoki grill to anyone who is looking for a unit they can use for tabletop grilling gatherings.
Pros
It looks stunning sitting on your table
Made with diatomaceous earth and clay materials
Made by clay construction method
You can cook yakitori without ever leaving your table
Cons
Do not to touch the grill's body because it could become extremely hot when in use.
Grill like a professional with the PartyFairyBox JapaneseYakitori Grills. This is an exclusive commercial-style grill for yakitori. It is constructed from stainless steel, both on the inside and outside. It comes pre-assembled, so you do not have to do much hard work once the unit arrives. All you have to do is unbox it, and that's all. The grill is ready for use!
It features an air vent control on both sides. This helps you to control the temperature and avoid uneven heat distribution. While traditional grills are built with iron which makes them heavy, this stainless steel is lightweight.
Furthermore, it comes with a huge mesh suitable for any skewer. From yakitori to kebabs to shish kebabs, or Malaysian satay, cooking has never been so simple. The grill measures 32 inches in length and 8 inches wide. There's plenty of space to cook your street food yakitori. If you only want to grill a small portion, it's easy to put your charcoal lumps in one location to save the heat to cook your food more quickly.
The charcoal grill comes with a stand. It isn't necessary to slouch or kneel to prepare your meal. Moreover, it's easy to clean. You don't need to be concerned about the storage capacity because it is possible to fold the legs to store them.
Pros
Easy to put together and store
Removable legs
The grilling surface is narrow enough to cook yakitori, kebabs, and many other dishes similar to it.
Ideal design with strong steel and rigid materials
Cons
The grill is for smaller skewers
Not appropriate for large pieces of meat
The grill is available in many sizes and designs, from small grills to massive stoves. Some are big enough to roast meat for seven to eight people, while some are sufficient to grill just one hamburger patty.
This model is an impressive BBQ stove that provides users with superior service. The charcoal grill is constructed with diatomite stone designed to keep the heat and ensure that the outside can get warm but not so hot as ignite.
The designer carefully created the grill with alkaline coal ash, which neutralizes the acidity of various food items and gives off a wonderful smell. In addition, the grills can pass infrared rays, giving you efficient and timely grilling.
The greatest aspect of this Diatomite grill from Kinka is that they provide incredible grilling results. In making the grill, the manufacturers have placed the diatomite blocks through a heat source that can reach 1000 degrees so that the grill can be made more durable and last longer.
This ensures that the bricks keep their thermal insulation properties long. It comes with three adjustable vents at the front of the unit to control temperatures and cook evenly. In addition, it comes with three individual cooking grates.
With just 24 pounds, this hibachi grill is easy to put up and use for outdoor parties since it serves up to seven guests and the handles are large enough to allow for easy movement. In addition, the large surface area can provide an opportunity to cook various vegetables and meats simultaneously.
Pros
A large yakitori grill serves many people
Easy to wash
Diatomite exterior, durable and robust
Large handles for easy movement
Three adjustable vents
Cons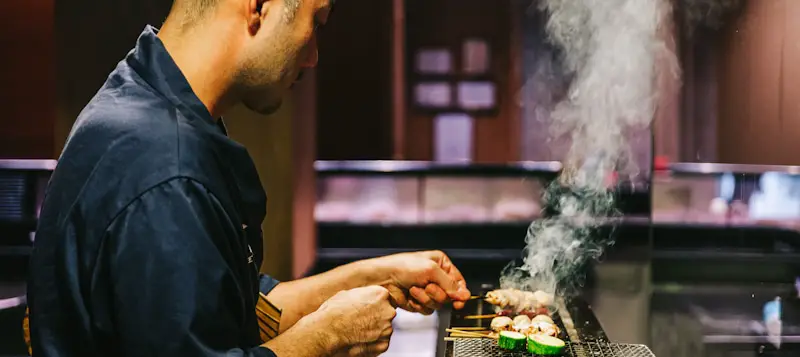 Conclusion
Having a yakitori grill in your home is beneficial since you can use the cooking device for many other dishes. However, choosing the best one can be tricky since everyone has different desires, needs, and budgets.
Be sure to take a look at your situation. Don't rush. Look around before buying your preferred Japanese yakitori grill with these factors in mind.