If you own a gas grill, you most likely know that it's ideal for cooking, both directly and indirectly. So, it would seem pointless to hold both a gas grill and a whole smoker simultaneously. As a meat enthusiast, you can't help but crave the authentic flavor of tasty grilled meat is in its smokiness. That said, only a simple gas grill won't be able to give you that taste. Instead, you'll have to get the ideal smoker box for your grill.
Now the question stands, how do you find the best smoker box out of all the options available? Our top three picks include the Broilmaster Smoking Box, the Napoleon 67013, and the Cave Tools Smoking Box.
That's why you don't have to invest in a whole smoker. Instead, you can just put on smoker box onto your current gas grill and partake in some luscious, smoked food with ease. And the top options available below can help you pick the ideal one for your smoking needs.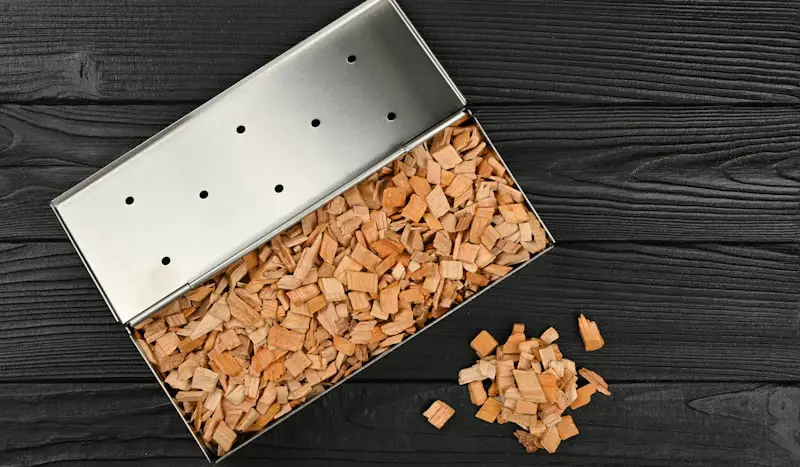 Best Gas Grill Smoker Boxes
The Broilmaster is a cast-iron smoker box that can withstand high temperatures any time you use it on a gas grill. It's even the best smoking box for a charcoal one.
Buyers love the compact profile that lets them use it on any grill, regardless of shape or size. In addition, its lightweight design means that you can easily pack it up and take it to camp or tailgate.
You can make your ideal smoke-flavored recipes on your gas grill without needing a vast, full-sized smoker. Instead, use whatever combo of wood chips you'd like in the box to get the ideal flavor intensity every time you use it.
Pitmasters who want to add a woodier flavor to their meals can enjoy this smoker box. It allows you to experiment with different wood blends at home or go.
Pros
It conducts heat evenly at low temperatures
The vented lid is removable to make adding wood chips easier
Increases flavor and improves grilling experience with every use
It fits on any grill without taking up much space
You can create different wood chip blends for specific flavors
Cons
The expensive price tag isn't ideal for every cook
You'll need heavy gloves while handling it hot
The Napoleon 67013 is a stainless-steel smoker box that acts as an excellent accessory for most Napoleon series grills. But, of course, it also works just as well on any other grill.
It allows you to add a genuine smoky flavor to your meals. Most users fill this smoking box with a significant amount of wood without needing to tend to it often.
It's an excellent bargain for the price point, fitting ideally on most flavorizers or flame tamers. In addition, it's lightweight at under 3 lbs., making it easy to pack and carry whenever you need to take it with you on your travels.
With the Napoleon 67013, it's easier to smoke most meats without worrying about drying, including chicken, burgers, and steaks.
While it works ideally with Napoleon series grills, it's still versatile enough for other grills. Just pack it with your favorite wood and have fun creating your flavors.
Pros
Durable stainless-steel design
The lightweight structure makes it portable and easy to store
It pairs well with most gas grills to give an excellent smokey flavor
Large capacity minimizes the need for repeated wood refills
It can replace a grill's searing plates for more even smoking
Cons
It works well with Napoleon grills, but might not work with other specific grills.
Not a good fit for portable or compact grills
Cave Tools hosts one of the sturdiest smoker boxes on the market. This specific product is 25% thicker than other smoking boxes, preventing the wood from catching fire while in use.
Its innovative design also won't warp, giving it a comparatively longer life span. In addition, the hinge on the box makes it more accessible, so pitmasters don't have to handle hot lids when you have to refill your wood.
You can fit plenty of wood inside the box, providing thicker smoke for your food. Put it between the flavorizers under your grid or directly on your grill. No wood can catch on fire since the box has no holes on the bottom.
Pitmasters can enjoy this box due to its ability to handle high heat. You can surround it with heated briquettes and easily infuse a smokey flavor into your food.
Pros
25% thicker than competitive boxes
A hinged lid makes refills easier and quicker
It comes with a lifetime guarantee and full refunds
Large chip capacity
Sturdy stainless-steel design
Cons
You can't use pre-soaked chips
Smoke has poor access compared to other smokers

HoShip's smoker box uses stainless steel with thicker walls, base, and lid to handle higher temperatures. That allows you to get a deeper smokey flavor without worrying about drying or damaging the grill.
Users can put the smoker box directly on the burners without worrying about damage or warping. They also love that the hinged lid makes refilling a much easier task.
The box can hold many wood chips, so you can fill it up to get a thick smoke across the cooking surface. You don't have to fill it as often as with other boxes, allowing you to focus on other activities instead of standing over a hot grill all day.
This box is ideal for people who prefer to entertain instead of hovering over their grill constantly. You can fill it with whatever wood you choose and enjoy your day.
Pros
Its design prevents warping with high temperatures
The ideal price point for most budgets
Stamped steel makes it thick and conductive
It can hold pre-soaked wood chips for concentrated flavors
It comes with a lifetime guarantee and full refunds
Cons
Refills are needed every 20 minutes
Cold smoke doesn't work with the box
Suppose you plan a trip or have a small get-together on your balcony or patio. In that case, the Rwm Smoker Box provides a simple design for compact and portable grills.
The vent provides plenty of drafts and airflow to get the smoke spreading through your gas grill when the wood chips start smoking.
It can hold over two cups worth of wood chips. You can also make your favorite combos of wood chips to create unique flavors for your meals.
The box works best over gas grills and charcoal ones, so you can even use it with combination grills. Its robustness comes from the stainless-steel design, so you don't have to worry about damage.
This smoker box is ideal for people with limited space on their grills. It fits easily on standard grill grates while leaving plenty of room for an excellent smokey grill.
Pros
Durable stainless-steel design
Fast and even heat conduction
Sound ventilation system for even smoking
No warping with high heat
Dry wood chips don't catch fire
Cons
Needs repeated refills
The lid isn't hinged
Keep reading: The Best Gas Grill and Griddle Combo [TOP MODELS]
Final Words
Finding the best smoker box can help you cook a great barbecue meal. Once you start smoking on your grill, your flavors are way better than what you get with a simple grill!
Whichever smoker box you go for, select a durable one that works properly. And keep an eye out for the lid design and the box's compatibility with your grill! Till then, happy smoking.
Also read: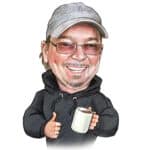 Scot has loved smoking food in his free time for the last few years. Each major holiday or off-weekend, Scot spends days testing and prepping new recipes for perfection.