If you are tired of grilling the usual way, a gas grill and griddle combo can be an absolute game-changer. Griddle grills have a large surface area, which is great if you are cooking for lots of people and is also known to produce better flavors.
Blackstone 1554, Cuisinart CGG 888, Campchef 600P, Pitboss 757, and Royal Gourmet GD 4001B are some of the top pitmaster's picks for outdoor and indoor griddle grills. When buying a grill and griddle combo, do take into consideration factors like portability, design, cooking performance (& BTU), ease of cleaning, design, material, construction, etc. 
Gas grills and griddles for professional and home use are portable and ideal for hot food service at outdoor events. Some brands also provide smokeless indoor grilling options. Here we have reviewed the top models of outdoor and indoor gas grill and griddle combos:
1. Blackstone Flat Top Gas Grill 1554
This professional gas grill and griddle combo from Blackstone is portable with foldable legs, which makes it ideal for camping, home, and other outdoor events. The Blackstone Flat Top Gas Grill is equipped with four adjustable heat zones, which makes space for a versatile cooking surface and can grill large volumes of food.
Pros:
The grill has a 720 sq. inch of expansive cooktop. It is best for cooking burgers, steak, and other meat.
Has a battery powered ignition push button.
Easy to assemble.
Good heat distribution system with four independently controlled burners.
Cons:
The dripping setup is not well constructed and you may face leakage while cooking large volumes of greasy or oily food.
Mediocre customer service.
Extra Features:
Has a bottom shelf and two side shelves for food storage.
2. Cuisinart CGG 888 360° Flat Top Surface Grill & Griddle Cooking Center
The Cuisinart CGG 888 allows you to roast, steam, and bake, and also keeps food warm with its advanced and controlled burner system. The grill features both hot and cool zones for consistent and even cooking. With a temperature range of 200° to 550° Fahrenheit and a portable design, the grill is ideal for backyard or patios.
Pros:
Ease assembly: You can assemble the product in less than 30 minutes.
Impressive round design and heavy construction.
Easy to clean because of the 360 degrees grease tray.
2 X 15,000 BTU burners with 22 inch round cooking surface.
Cons:
Seasoning required before first use.
Consumes propane pretty fast.
Not rust-proof.
The product has a 3-year limited warranty, but the customer service is average, and it is difficult to find replacement parts.
Extra Features:
Integrated paper towel holder.
Comes with 20 pieces deluxe grill set, smash burger grill set, and 36 X 65 inch PVC grill mat.
3. Campchef FTG 600P
With a brand reputation of over thirty years, Campchef is known to provide a variety of outdoor cooking solutions. The Campchef 600P flat top grill is an advanced grill and griddle combo with a pre-seasoned grilled surface. The product has a durable, powerful, and the best portable design.
Pros:
Heavy, yet easily portable design with collapsible legs that makes it suitable for campsite, tailgate, backyard, patio, or any type of outdoor cooking.
Has two side shelves that fold inwards for added protection.
Good size for family meals.
4 X 12,000 BTU burners with 604 square inches cooking surface.
Cons:
Grease management system may be a bit leaky.
Extra Features:
Matchless ignition system, adjustable leg levelers, and bottle opener.
4. Royal Gourmet GD4001B
With a large cooking area and four powerful and independently controlled burners, this grill and griddle combo cooks food in less time. This makes it very easy for high volume cooking. The cold rolled steel griddle plate and four adjustable cooking zones makes the Royal Gourmet GD4001B convenient to prepare a whole family's breakfast, lunch or dinner.
Pros:
Very easy to assemble and operate.
The detachable grease cup makes it easy to clean.
A good deal compared to the cost.
4 X 13,000 BTU burners with 784 square inches cooking surface.
Powder-coated finish.
Cons:
Some units have been reported to have problems with the ignitor.
Prone to rusting.
Limited option for setting temperature.
Extra Features:
Four duty casters with locks for easy transportation.
5. Pit Boss 757 Gas Griddle
From cookies to gravy, burgers, and cheesesteaks, the Pit Boss 757 GD can cook almost everything. With a high BTU value and a portable design, this grill and griddle combo is the ultimate outdoor cooking arsenal for your backyard or patio.
Pros:
Foldable design with side shelves to fold and cover the unit.
Easy push ignition.
62,000 BTU with 748 square inches of cooking area and cast iron pot.
Grease tray is very efficient and easy to clean.
Cons:
Extra Features:
The non-stick cooking surface is pre-seasoned with organic oil.
6. Hamilton Beach Electric Indoor Grill and Griddle
If you are looking for an indoor grill and griddle combo, then the Hamilton Beach 38546 turns out to be an efficient multitasker. It can cook up to 8 servings of a family meal and its adjustable dual cooking zones can be used to grill eggs, bacon, pancakes, pizza, vegetables, and a large variety of food.
Pros:
Two reversible non-stick cooking plates for 3-in-1 grilling – Full griddle, full grill and half griddle or half grill.
Pfoa-free non-stick plates.
Dual adjustable cooking controls to cook two kinds of food at the time.
Dishwasher safe grease tray.
Inexpensive.
Cons:
The 180 square inch cooking surface of the grill and griddle may be too small for large gatherings.
Grease drip collection is not efficient and can damage the heating element.
Dials are loosely attached.
Extra Features:
7. Secura Smokeless Indoor Grill with Griddle
Large grills are difficult to fit into a small kitchen space. This is when portable and lightweight indoor grills with griddle are recommended. The Secura GR 1503 XL electric indoor grill and griddle combo has a small, lightweight and easily portable design. With infrared heating and drip pan design, the electric appliance produces smokeless cookouts (reduces smoke up to 80%), and is a preferred choice for indoor grilling.
Pros:
The appliance cooks quickly and evenly.
Splatter protection and heat retention facilities.
The advanced airflow technology consumes less oil and produces great results each time.
Cons:
Small grease drain size may require frequent cleaning.
The non-stick surface is vulnerable to scratching.
Extra Features:
8. Blackstone 1860 On the Go BBQ Griddle Grill Station
The new BlackStone 1860 is one of the best models to help in all your kitchen, camping, tailgating, and outdoor grilling needs. The range top portable grill and griddle has a generous cooking space that can easily fit-in 12 burgers or 30 hot dogs and feed up to 6 people.
Pros:
Two independently controlled cooking zones.
24,000 + 12,000 BTU burner with 361 square inches cooking surface.
Sturdy feet to ensure stability in uneven terrains.
Cons:
Prone to rusting if not cleaned or stored properly.
Extra Features:
Attached hood protects the griddle from the elements when not in use. The hood is easy to use and speeds up the cooking process.
Unlike the traditional way of grilling, a grill and griddle combo has a flat and open surface that provides a uniform cooking area. They are best used for cooking pancakes, eggs, breakfast foods and other fragile recipes. According to top users, the best outdoor grill griddle combo is Blackstone 1556 Grill and the Campchef FTG 600P. For indoor grilling we would highly recommend the Hamilton Beach 38546.
Also read: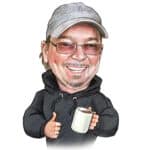 Scot has loved smoking food in his free time for the last few years. Each major holiday or off-weekend, Scot spends days testing and prepping new recipes for perfection.