If you are trying to figure out how long it should take to cook frozen burgers, you are not alone. Burgers are perfect summertime meals, and no one would want to spoil the occasion by missing the point when cooking them.
It does not take a lot of time if you are out to grill a frozen burger, as you only need to make it a bit hotter. Once you have heated your grill to 350 degrees, it should take about 15 minutes to grill a frozen burger as long as you keep flipping it over after every five minutes.
If you want to learn more about grilling a frozen burger, keep reading to the end.
How To Grill Frozen Burgers
While most prefer fresh burgers to frozen ones, some situations will compel you to work with frozen ones. If you find yourself in such a situation, ensuring that you get the entire process right will go a long way in providing you with a delicious meal. Here is how to cook frozen burgers to get the best results.
1. Ensure That You Have All The Ingredients
The first step to grilling your frozen burger well is to gather all the ingredients. You will need several ingredients, including;
An outdoor grill
Frozen burger
Hamburger buns
Spatula
Salt and pepper (if you like pepper)
Sauce
2. Preheat The Grill
Before preheating your grill, it is vital to ensure that your grill is clean. The cleaning part is significant because food debris can lead to the unpleasant flavor of the food you are cooking.
Preheat the grill until it attains 350 degrees. Preheating the grill is essential because it helps prevent the burger from sticking to the grill.
Use a meat thermometer to tell the temperature of the grill. If you do not have a thermometer, you can use the natural senses as long as you do not burn yourself.
3. Prepare The Burger Patties
While grilling the burger patties can appear like a walk in the park for many, it can be the most intimidating process.
Check how your frozen burgers were packaged. Use a spatula to remove the paper separators depending on how they were packaged.
To hasten the separating of the patties, you may need to use a microwave thaw and cold water.
Season each part with your favorite season, pepper and salt included.
4. Grill The Frozen Burger
Once your grill is already preheated, and you have seasoned your burgers, it is time to place your frozen burger on the grill grate.
Ensure that you flip it regularly to foster an even roasting.
Toasting the burger around the grill can also assist in preventing hot spots and flare-ups that may influence how the burger cooks.
Once the burger attains a temperature of 160 degrees, you can set them aside to rest.
| Image | Title | Details |
| --- | --- | --- |
| | Kamado Joe KJ23RHC Classic Joe II 18-inch Charcoal Grill with Cart and Side Shelves | Learn More |
| | KAMaster Large Big Green Egg Side Shelves HDPE Egg Mate Outdoor Storage Side Table | Learn More |
| | Char-Griller E06614 AKORN Jr. Portable Kamado Charcoal Grill, Red | Learn More |
| | Royal Gourmet CC1830SC Charcoal Grill Offset Smoker with Cover | Learn More |
5. Toast The Burger Burns
The last step is to toast the burger buns properly to make them crisp on the outside and toasty on the inside. Grilling is an ideal way of toasting the burger buns quickly and easily.
How To Grilling Frozen Burgers On Gas Grill
If you want to grill frozen burgers on a gas grill and are unsure about the best way to go, here are the instructions that you should follow.
Take your burgers out of the freezer and remove paper separators.
Season the burgers with pepper and salt to taste. You can also add your favorite seasoning if any.
Heat the grill to a temperature of 350 degrees.
Place the seasoned burger on the grill and keep turning them every 3 to five minutes for about 13 to 20 minutes. Once they get to 160 degrees, they are ready to serve.
How Long To Grill Burgers On A Gas Grill
The duration that you will need to wait for your burgers to be done depends on various factors, including your preferences and the grill's temperature. Here is a list of the duration and what to expect;
Four minutes for burgers to get 125 degrees for rare results.
Five minutes for burgers to get to 135 degrees for medium-rare results.
Seven minutes for the burgers to get to 145 degrees for medium-sized burgers.
Nine minutes for the burgers to get to 160 degrees for well-done burgers
Fifteen minutes for frozen burgers to get to 160 degrees
How Long To Cook Frozen Burgers On Grill
For most grilling bosses, cooking frozen burgers is a 20-minute affair. However, numerous factors may influence how long it will take to cook frozen burgers on the grill. Some of these factors include the thickness of the burger, the type of grill, and your preferences.
To cook frozen burgers on a grill until they are well done, you will need to wait until they attain an internal temperature of 160 degrees, and this will take about 15-20 minutes.
The Appropriate Temperature for Cooking Frozen Burgers
Deciding on the proper temperatures to cook your frozen burger at is essential for various reasons. For instance, if you opt to cook your burgers at too high temperatures, they will cook faster on the outside and remain raw on the inside.
Further, you need to know that some parts of the grill might be hotter than others, and therefore, you should keep moving the burgers around depending on their level of doneness.
Grilling Frozen Turkey Burgers
Grilling frozen turkey burgers is a little different from grilling beef burgers. One of the significant differences between these two types of burgers is that the turkey burgers are so lean that exposure to the direct heat may not see them react well. Because of this difference, you will need to grill frozen turkey using indirect heat.
To get the best results when grilling frozen turkey burgers, you should consider the following ways;
Start by preheating the grill to high temperatures to ensure the greats are hot enough to get some grill marks on the burger.
Once the grill is hot, turn the burners to a medium setting. Direct low heat will be perfect for grilling frozen turkey burgers.
Place the frozen turkey burgers over the direct low heat and, after three minutes, rotate them to hatch grill marks and season the top if you like it. When seasoning your turkey burgers, it is important to read instructions first to avoid adding salt or any other seasoning when it is already added.
Continue to grill your turkey burgers for about 15 minutes while rotating them every five minutes until they attain a temperature of 165 degrees. If you notice that they are shrinking, that should tell you that they are overcooking, and pulling them away should be the most appropriate course of action.
Once your turkey burgers are done, you can be creative with the toppings and serving.
The Wrong Ways To Avoid When Grilling Burgers
Encouraging flare-ups
Promoting stickage
Relying too much on salt; excessive salt can prevent it from being juicy
Letting raw patties get warm
Opting for thin and lean burgers
Letting the burger rest for a long time after cooking
Ignoring the bun and letting the bun get soggy
Forgetting to add butter
Overdoing the dimples
Cutting the patties to find out whether they are done
Moving your burgers too quickly
Ignoring the quality of your burgers. If you want to get the best results, ensure that you invest in quality beef.
Starting too quickly – always allow the coals to burn before starting completely.
| Image | Title | Buy |
| --- | --- | --- |
| | Nutrisystem® Hamburger, 12ct. Frozen Beef Burgers on Whole-Wheat Buns to Support Healthy Weight Loss | Learn More |
| | Bison (Buffalo) 100% Burgers 8 oz. - 12 Packs of 2 - COUNT 24 | Learn More |
| | Beyond Burger® from Beyond Meat®, Plant-Based Meat, Frozen, 40 - 4oz. Patties per Box (Total 10 lbs.) | Learn More |
| | Beyond Meat The Beyond Burger,, 8 Oz (Pack Of 8) | Learn More |
Conclusion
While cooking frozen burgers on a grill is fast and delicious, how you do it will highly influence the outcome. Therefore, it is prudent to obtain all the necessary ingredients and follow the appropriate procedures. Cooking a frozen burger until it is well done should take about 15 minutes.
Keep reading: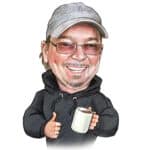 Scot has loved smoking food in his free time for the last few years. Each major holiday or off-weekend, Scot spends days testing and prepping new recipes for perfection.