If you are a professional chef or have taken barbequing as a serious hobby, then buying a suitable apron would be one of the best investments. It protects your clothing from inevitable splatters and spills and keeps things mess-free.
Aprons should be made of durable materials like leather, heavy-duty canvas, or cotton. Some of the top models of the best grilling aprons for men include the Pit Boss Canvas & Leather Grilling Apron, White Bark Workwear Apron, Bragard Travail Bib Chef Apron, Outset Leather Grill Apron, and many others. 
From the choice of materials to the location of pockets, there is a lot of brainstorming and designing that goes into creating a great men's apron. Continue reading to find out the best choices for men's grilling aprons.
What Is The Best Fabric To Make A Man's Grilling Apron Out Of?
Since pitmasters are associated with barbecuing at high temperatures or smoking, bbq aprons for men are usually made of thick and heat-resistant fabrics and other durable elements.
The Best Fabrics
Leather is considered the best fabric for making a man's apron. Leather aprons have been used by men since the middle ages to protect their attire. These aprons not only look classy, but they also provide the highest degree of protection against flames. Leather straps are also preferred over other materials because they provide a firmer grip.
If you want to opt for something lightweight or if you would be cooking in a closed space, then you should preferably wear something lightweight like chambray, linen, or cotton. Denim fabrics with waxed coating or heavy-duty canvas are more durable and easy to clean. For everyday cooking, aprons made of organic cotton or hemp are a sustainable option. If you have an average budget, then the best grilling apron for men would be the one that is made of a mix of heavy-duty canvas/denim with leather detailing.
Cleaning & Maintenance
Dirt, grime, or food particles on leather aprons can be wiped off with a soft cloth or sponge, while cotton and other materials can be machine-washed with mild detergent.
The Best Men's Cooking Apron
There is a different apron for every chef. For pitmasters who love to play with a variety of recipes and cooking techniques, or love baking, they should buy an apron with multiple pockets. For those who have to handle big roasts and barbecues every day, a leather apron would be most suitable for them. Depending upon the usage, budget, and the versatility, you can choose among these 12 best bbq aprons for men:
Made with certified, sustainable, biodegradable, and organic cotton/hemp, we recommend this men's cooking apron for someone who believes in living a clean and sustainable lifestyle. Having a soothing dark green color, the apron is a perfect fit for any bbq lunch/dinner with a lush green backdrop. It has got a dual cross-back design that keeps you comfortable throughout work. The four pockets are super handy for keeping things like a food thermometer, sharpie, or any other small grilling tool.
Do you love wearing a clean look? The Bragrad Travail Chef Apron has no complexity and is super comfortable to wear. Since it's a bib apron, it can be easily slipped over the neck and tied at the back for a strong yet lightweight grip. It has a clean design with stripes. You can also personalize the design by adding personal text and a logo.
With the perfect blend of canvas and leather fabric, this apron is recommended for those men who want comfort, versatility, and style. The apron is embossed with leather tool pockets and an attached bottle opener that makes you the irreplaceable 'one-man army' of a bbq booze party. The design is heavy-duty yet affordable.
The BBQ Butler Grill Apron is made of two-tone cotton canvas fabric and five pockets of horse leather that give a professional look to the user. It can resist intense wear and tear and is perfect for bbq grilling and smoking, for butchers, hobbyists, or any other messy work. The apron is adjustable for sizes up to XXXL and comes in two color variants.
With so many pockets, this apron can hold a whole world of grilling tools and accessories. The apron can be custom-made and is available in different sizes. It has also got two large-sized pockets at the hip, a chest pocket, and a tall pocket to fit a pen, thermometer, or even a reading glass. The apron is made of cotton twill and has an adjustable waist strap along with extra long waist ties for a comfortable fit.
If you have a rustic sense of fashion, then you would love wrapping around this Witloft apron around your waist. The apron is handmade, and each product is crafted with high-quality grain leather detailing. The handy tea towel loop can be used to hang a towel, bag, or any other grilling accessory. Waist-down aprons should preferably be used when you have a chance to soil your clothes below the waist.
Also read: Should You Boil Ribs Before Grilling? [FIND OUT HERE]
The GEFU BBQ Apron is designed to complement the style of a professional pitmaster. It is a heavy-duty rugged men's cooking apron with a comfortable fitting and a long-lasting texture. The waxed cotton material makes it moisture resistant and keeps you free from stains and splashes. The apron is easy to wash.
Are you looking for sustainable and eco-friendly clothing? The Puebco Vintage Tent Fabric Apron is unique because it is made from recycled, repurposed, and handcrafted tent fabric/ old tent shelters. The Japanese brand is known for its unique handmade products made of recycled materials, with every piece having a personal touch of its own. The apron has a single chest pocket and is very comfortable to wear.
If you are looking for an inexpensive cotton (lint-free) option, then we would recommend the Carrotez Chef Apron. The apron has extra long straps with a quick-release buckle. The length of the apron is 31 inches, which makes it suitable for most tall guys. The style is available in many colors, and you can use it for both barbequing or daily cooking.
It won't feel like you are a professional chef, until you wear your bbq uniform. The Omera Chef Apron is a professional apron with a copyrighted pattern. It is made of 65% polyester and 35% cotton. You can also add personal embroidery, including your name and logo, to the design.
Learn more:
This apron from Outset is a super-affordable leather apron. Known for its extreme durability, the apron is made of a brown suede exterior and flame retarding lining. It has two pockets and ties around the waist for a firm grip. With this apron, you can rest assured that you are well-protected against high heat, and your clothes will be free of grease and splatters.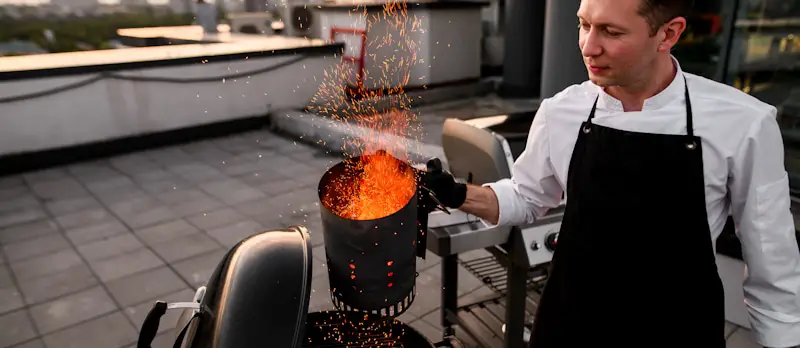 This apron is recommended for professional grillers who have to barbeque large volumes of food every hour. Made with 100% cotton duck; the material is highly durable. The criss-cross straps are made of polyester and are custom fit for balanced weight distribution. You can also use this apron for carpentry and weekend mechanics. The apron has four large tool and utility pockets and is available in brown and black colors.
Aprons having roomy pockets and stylish designs are just an added bonus. However, before purchasing a suitable men's cooking apron, it is important to ensure that it is made of heat-resistant material which fits you comfortably and has a firm grip. Happy barbequing!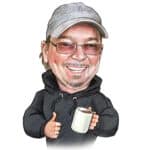 Scot has loved smoking food in his free time for the last few years. Each major holiday or off-weekend, Scot spends days testing and prepping new recipes for perfection.