Whether you are a professional pitmaster or a beginner, wearing an apron is just as essential as any piece of grilling equipment. They not only give you a professional look but also keep you clean while exploring your culinary journey.
The best grilling aprons are the ones that have good ergonomic design, are versatile, comfortable to wear, and long-lasting. Some of the top models of the best grilling aprons are from brands like White Bark Workwear, Bragard Travails, Witloft, Rossie, Assoulin, Chef Works, and others. 
Aprons were first used in the 17th century and were worn as a part of uniforms, trades, and rituals. Over the years, this piece of garment has become a necessity in every kitchen. Continue reading to find out the best grilling aprons that will suit both your needs and personal style.
Things To Consider Before Buying The Best Grilling Apron
Aprons have long been a part of culinary tradition and serve multiple purposes – they protect the wearer from stains and injury, can hold grilling tools, and keep you clean. Grilling aprons should be something that is not only stylish to the wearer but also comfortable and durable. If you are a professional chef, then wearing aprons with multiple pockets for holding grilling tools, a food thermometer, and a few of your personal belongings is really convenient.
Aprons should not be something that will be bulky, weigh down your work, or hamper your movements. The apron you choose will depend on what type of work you intend to use it for and of course, your personal preferences.
Choosing the Apron Style
Criss-cross back aprons distribute body weight more evenly and thus are preferred by someone who has to bend frequently over a stove or a countertop. If you are an occasional griller, then a bib style would suit your needs. If you are messy around the kitchen and need to wash your apron every day, then use a one that is lightweight, inexpensive, yet durable. An apron with lots of pockets and storage options is very convenient for chefs who need multiple tools and accessories while cooking.
Choosing the Apron Material
Aprons are usually made of cotton, canvas, leather, or a blended fabric of different weights. While linen is the most sustainable option, leather aprons give a grandiose look to the wearer. Aprons with a water-repellant finish are preferable.
The Best Grilling Aprons
Whether you are looking for budget options or high-end professional aprons, here is a list of the top 10 best grill aprons of all times:
Made with 100% cotton, this grilling apron is popular for having a dungaree style with adjustable cross-back suspender strips, instead of the traditional neck strap. It also has a right chest pocket and two hip pockets. The fabric has a water-repellant finish. You can also purchase additional suspenders for this style.
This apron from Hudson is one of the best aprons for heavy-duty and professional grilling. It is made of resilient fabric that is also breathable and long-lasting. The apron fits well and is comfortable to wear all day long. With 4 pockets and a towel look, the apron is versatile and one of the best choices for professional and commercial use.
The simple, rugged, and classic design of the Mason Indigo Apron is suitable to handle everyday grilling chores. It has a chest pocket, a thermometer pocket, 2 signature lap pockets, copper rivets, antique brass hardware, a metal latch for easy closure, and a contrast color neck strap. It has no flappy strings attached and gives a clean look to the wearer.
Wear it, wash it, or make a rough use, the classic chef apron is made of durable cotton and poly blend fabric and is the best grilling apron for home use. It has a simple look and color and can be worn to protect from everyday kitchen mess.
If you are a woman and searching for a designer apron, then you would surely love this design. The apron is made of 100% cotton canvas. The exclusive design is made from the dead stock of one of Rossie Assoulin's signature fabrics. This apron features ties around the neck and the waist for an adjustable fit.
The Asaya Chef Apron is an all-in-one arsenal for all your grilling needs. It has three large pockets, a mobile holder, a pen slot, and a bottle opener/ utility clip. The apron is made with 10 oz. cotton canvas, brass hardware, and leather, which makes it extremely durable. It is suitable to fit sizes between M and XXL standard sizes. The set also comes with a custom hand towel.
The barbeque apron looks just like one of those 'TV aprons in cooking shows', but is intended for everyday use. The best part is that you can also customize the Bragard Travail apron and add your own choice of text, logo, and personal embroidery. The apron with bib has an adjustable neck strap with extra long ties. The apron is quite long and wraps you around fully.
If you are barbequing outdoors amidst a beautiful, luscious green backdrop, then this classy dark green apron will just be the perfect match. The barbeque apron is made of environment-friendly and sustainable 55% hemp and 45% organically grown cotton. It is worn by well-known chefs and is popular for its extreme comfortability and ergonomic cross-back design that keeps you pain-free throughout work. The apron fits amazingly and is a good deal for the price.
Made with high-quality grain leather, this leather grilling apron from Witloft is perfect for those who have a passion for barbequing. The apron is available in cognac, green, dark brown, and pure black color. As the leather breathes, the apron gets beautiful over time. The neckstrap is ergonomically designed with canvas material that resists wear and tear.
If you love to have a personalized leather grilling apron, then you can order one from the Lucio Tailoring Company. The material is extremely light, yet it gives a pure luxury feeling to the user. You can choose the color, text, embroidery option, or logo on the apron. Made with 2.5 oz. studio leather, these aprons are unisex and are available from sizes XS to XL.
If you are looking for a budget bib apron then the Larkspur apron gives all the required protection without ripping off your budget. It is unisex and comes in two classic shades of blue. With two patch pockets and 40-inch self-ties, the apron is suitable to fit any body type. The apron is well-stitched with special attention to stress points and brass hardware that increases durability.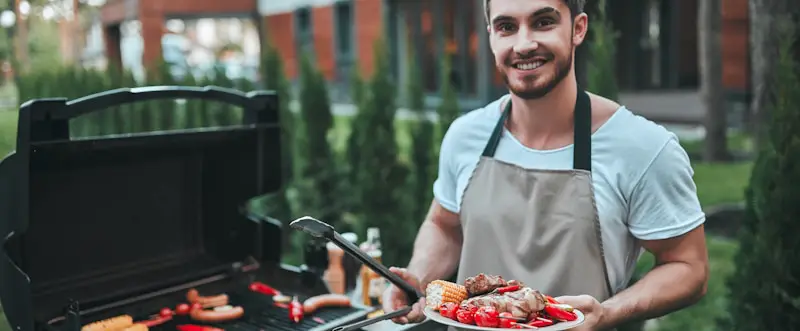 Made in Cambodia, the apron is durable and of good quality. The cheaper alternative serves multipurpose use and can be used for everyday cooking. The best thing about the apron is that it has ergonomic shoulder straps rather than an uncomfortable neck loop. The length of the apron is just perfect for people of short height or for kids who are exploring their culinary art. Make sure you only dry clean the Muji Denim Apron to avoid color loss or bleeding.
These listed grilling apron models are suitable to be used by everyone. The recommendations are made keeping in mind that aprons are something that will get dirtied and destroyed over time. We researched and reviewed these top apron models to help you stay protected while you comfortably grill the best foods in your kitchen or outdoor patio.
More like this: