If you want the perfect flavor from your pellet smoking sessions, you need to make sure you're using the very best wood pellets. With so many options to choose from in the market, it's not always easy to make the right choice. We've gathered some of the best for you in this list.
The ten wood pellets for smoking include:
Traeger Grills Hickory All-Natural Hardwood Pellets
Z Grills Premium BBQ Wood Pellets
Traeger Grills Mesquite Hardwood Pellets
Louisiana Grills Competition Blend Pellets
Green Mountain Grills Premium Apple Pellets
BBQR's Delight Jack Daniels Smoking Pellets
Traeger Grills Signature Blend All-Natural Hardwood Pellets
A-MAZE-N Apple Wood Smoking Pellets
Broil King Smoke Master's Blend Hardwood Pellets
Lumber Jack BBQ 7 Varieties BBQ Pellet Pack
The rest of the article will go over each of these options, analyzing what you can expect from each one. It'll also discuss which pellets are best for smoking specific food. All products recommended can be found on Amazon.com.
Each pack of this Traeger product contains hearty, robust wood pellets guaranteed to leave a truly luscious flavor on your food. The pellets are made from natural materials, making them a popular choice amongst food-smoking enthusiasts.
You can use these pellets when smoking meat and vegetables, they leave a perfect taste on pork, especially. Traeger is a household name in the BBQ space, so it's no surprise that these pellets are some of the best-selling options in the market. They're affordable, too.
If you're looking for a clean-burn product that doesn't leave a lot of ash after smoking, Traeger's Hickory variant should be high on your list.
If you're looking for American Hickory hardwood pellets that don't contain any additives, look no further than this Z Grills product. It's an affordable but quality option that's free from harmful binding agents and fillers. 
By choosing these pellets, you're guaranteed to infuse a strong flavor into your smoked food without putting your health (or the environment) at risk. It's great for all kinds of meat and vegetables.
These premium wood pellets are made in the U.S., so you can be sure of high manufacturing standards. The product leaves minimal ash residue, which saves you clean-up time. 
Z Grills pellets work well with most pellet smokers, and if for any reason you don't enjoy them, you can take advantage of the brand's 30-day refund policy.
If you're smoking lots of classic BBQ cuts, Traeger's Mesquite variant is an excellent way to go. Many people swear by the product when smoking beef, but you can rely on it for most any food you'd like to smoke, including poultry and seafood.
Traeger Grills pellets come in a factory-sealed bag designed to ensure hitch-free handling. The products are made in mills across the U.S., allowing the brand to deliver affordable products as fast as possible. 
Most users who try this product end up placing bulk orders to ensure they always have a pack of this excellent blend ready to go. With the Mesquite wood-fired flavor, you're sure to feel the essence of the smoking in every bite. 
These competition blend pellets from Louisiana Grills are one of the best packs you can get for smoking all kinds of food. It comes in a 40lbs (18kg) bag you can reseal after opening. 
The blend is a mix of 50% maple, 25% cherry, and 25% hickory. It's a favorite option for smoking enthusiasts around the globe due to this blend of flavors.
You can count on these pellets to give you great wood flavor while smoking fish, pork, chicken, and beef. The flavor is strong and healthy because there are no fillers or cheap additives. 
Take note that these pellets are large pieces, and you should confirm they're a good fit for your pellet smoker before buying a pack.
The apple flavor of these 100% hardwood pellets is a major reason for their popularity. Still, Green Mountain takes things up a level by adding some red oak and American hickory to give you the perfect tasty blend. If you're looking for smoking pellets that will leave a real statement on the smoked food, this tasty blend should certainly be considered.
You'll get consistency and efficiency with the burn, and you don't have to worry about excessive ash or moisture. Using these pellets confers the pro-smoker status on you immediately. 
Be sure to keep the bag in moisture-proof storage as the standard pack isn't designed for easy resealing. Still, it's one of the best pellet mixes to consider when you want a powerful flavor from your smoked food.
You can taste the ingenuity of the pellet-making process adopted here with each bite you take out of any BBQ cut it's smoked with. The company makes these pellets by combining charcoal (soaked in whiskey for weeks) and oak woodcuts to get the perfect wood pellet. 
The process gives the wood pellets a strong whiskey and charcoal flavor that's strongly infused onto your lamb, pork, and beef cuts.
The pellets are packed into large 20lbs (9kg) bags and are made out of 100% all-natural oak wood. Since there are no fillers used, the pellets burn cleanly without producing too much ash. The formula works well with most pellet smokers.
However, you have to store them in moisture-proof containers as the combination is quick to soak up moisture. Overall, it's the perfect product to use when you're going for a flavor that your taste buds will remember for a long time.
You've probably noticed a pattern by now; Indeed, Traeger Grills is a brand you can't ignore when discussing smoking pellets. 
The Signature Blend is another excellent product from the popular manufacturer. It's made from 100% natural hardwoods, so the result is clean-burning, low ash, flavorful blue smoke.
If you want a bit of every taste in your smoked food, the signature blend is your best bet. For specific flavors, you should explore some of the other offerings we've mentioned here. The pellets are made from sustainably harvested hardwood sawdust that's compressed using a powerful process.
With the Traeger signature blend, you're guaranteed pellets that will consistently hit the temperatures you need to properly smoke all kinds of food. From meat to seafood to vegetables, these pellets will give you the perfect flavor.
A-MAZE-N makes smoking tubes and baskets, but they also produce their range of smoking pellets in 2lb (1kg) boxes and 5lb (2kg) bags. The pellets are made from 100% natural applewood, as there are no binders, fillers, or artificial flavorings and oils.
The apple flavor is a top option to go with when you're looking for a subtle, fruity flavor for your pork, beef, or poultry. You can also use these pellets when cold-smoking cheese.
The pellets are made in the U.S.A, so you don't have to worry about the overall quality or shipping times. The boxes are not airtight once opened. Store them in a cool, dry area to ensure optimum burning.
If you want other flavors apart from Apple, you can consider going with their other products such as Cherry, Maple, Mesquite, and Oak.
Broil King is a brand popular for its range of gas grills, but their hardwood pellets blend is also some of the best you can find in the market right now. This blend contains a mix of Maple, Cherry, and Hickory. You're sure to get that strong, rich, sweet, and smoky flavor on your food.
The brand uses 100% natural wood in the manufacturing process. No fillers, additives, or binders, so you can enjoy healthy smoked foods. They can generate a consistent blend because the wood sources are mixed before they are turned into pellets.
The product is perfect for smoking game meat, lamb, pork, poultry, and vegetables. Each 9kg (20lb) bag comes with a zipper for easy resealing giving you flexibility in your storage options.
When you're looking for a little bit of everything with your wood flavors, Lumber Jack should be high on your list. Each purchase features seven bags of different flavors, including Mesquite, Maple-Hickory-Cherry, Maple, Hickory, Apple, Cherry, and Pecan. The pellets work well with most pellet smoker models and can also be used in electric smokers.
Lumber Jack leaves the bark on the woods used in their manufacturing process to give you a stronger flavor profile. 
You can buy your products in large 20-40lbs (9-18kg) bags or go smaller with the 1-10lb (0-4kg) options.
Overall, the products are highly rated by smoked food enthusiasts. Keep in mind that the pellets come in paper bags. Therefore, you'll need to make provisions to store leftover pellets from an opened bag.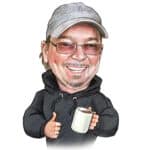 Scot has loved smoking food in his free time for the last few years. Each major holiday or off-weekend, Scot spends days testing and prepping new recipes for perfection.