Cold smoking gives meat, fish, or veggies the smoky aroma of wood pellets without cooking anything over exposed fires. Smoking foods in this manner is easier today, thanks to the plethora of cold smokers on the market, but which ones are the best?
The 16 best cold smokers are:
Skoo Pellet Smoker
Kaduf Pellet Smoker Tray
Smoke Daddy Magnum P.I.G. Cold Smoke Generator
Trojan Grill Smoker Tube Kit
Masterbuilt Analog Electric Smoker
Landmann Smoky Mountain 26″ Electric Smoker
Pit Boss 2.2 Analog Smoker
Bradley BTDS76P 990216 Digital 4-Rack Smoker
Lizzq Premium Pellet Smoker
A-Maze-N Tube Smoker
Carpathen Pellet Smoke Tube
Lanney Pellet Smoker Tube
Mitbak Cocktail Smoker
IMSurQltyPrise Smoke Tube Box
EMBR Premium Hexagon Wood Pellet Smoker
Kingsford 8 Inch Pellet Smoker
The rest of the article will look at each of them, covering all the details you need to know to help you pick the perfect option. All recommended products are from Amazon.com.
The Skoo pellet smoker is a popular choice because it's made of high-quality stainless steel and comes with a few practical freebies. The build quality ensures it'll continue to serve you for years. In the package, you'll get a dust-free pouch for securing the set, a hook for hanging the smoker anywhere you fancy, and a brush that simplifies the cleaning process.
The shape of the Skoo smoker makes diffusion seamless. Its holes are densely distributed, ensuring more surface area to work with when cold-smoking your food. The product delivers a smoke time of five hours—enough time to cold smoke any food regardless of the recipe.
Like other cold smoke accessories we've seen above, this unit is affordable and can work with any grill or smoker. The tray is sizable enough to hold pellets that can smoke for up to 12 hours. 
The open design ensures an even distribution of the smoke on your food.
Cleaning up is easy as the stainless steel material can go in the dishwasher. You can also use a cleaning brush on it. The manufacturers added a recipe eBook to sweeten the deal even further.
The P.I.G cold smoke model is a premium-end solution for hot or cold smoking. Combined with grills or any such machines, you're sure to get the perfect smoky result for your food. 
As you'd expect from a model at this price level, the generator is made of highly durable heavy-duty aluminum. The stainless steel cleaning brush makes cleaning the aluminum straightforward.
The product is best for high volume use, so if you're looking for a small cold smoker for occasional use in your kitchen, you'll find better value elsewhere. Keep in mind that the unit gets very hot to touch when it's working. You'll need a pair of gloves to use the generator safely.
The Trojan Grill Smoker kit is a complete package in one. It's a circular pellet tube popular for its no-roll design. It's a unique design that makes it a great option for all kinds of grills. The build is heat resistant, and it's densely perforated. 
Not many cold smokers can offer the depth of smoke infusion achievable with this unit. Its run time is around the industry average of five hours.
The package contains quite a few extras, including a cleaning brush, a manual/recipe book, and hooks for easy storage as a complete smoke tube kit.  
The manufacturers also offer a lifetime money-back guarantee on their product, making the kit a worthy investment overall. You can use the tube horizontally and vertically.
The Masterbuilt electric smoker is a comprehensive smoking unit for heavy-duty users. It comes with variable temperature control, which simplifies cold smoking at very low temperatures. It's a full standalone unit; instead of a cold smoking tube attachment like some others we've seen here—a fact that's reflected in the pricing.
It stands at 30-inches (76.2 cm), and you get three racks to work with. The heating element on the system is 1500-watts, giving you complete flexibility in how much heat you want for the smoking process. 
More so, the gauge is built into the unit for easy control, and the nicely-made smoking trays have a chrome finish and are durable enough to support years of use.
This Landmann model is designed for low-temperature smoking with some of the lowest operating temperatures you can find on cold smokers. 
There are three racks for food items and another tray for wood chips. The mini-fridge design is one of the best things about this unit as it allows it to hold quite a chunk of food at once.
There's no insulation in the cooking chamber. While this may be a negative for some users, savvy chefs will prefer the design because it allows flexibility with temperatures. The viewing window allows you to keep an eye on your food.
Overall, the product's build quality is some of the best you'll find at this level. It's a highly-rated option, and it's not hard to see why from your very first experience with it. One major downside is the lack of a drip tray which makes cleaning the unit more complicated than necessary.
The Pit Boss analog model is another full-feature option you can count on for your cold smoking needs. It's another option you can use for hot and cold smoking. The design features analog controls, and it has low-temperature capabilities.
You can adjust three built-in racks as necessary, and the entire design fits nicely on a stable and sturdy stand. The base holds an ashtray underneath a drawer made for wood chips. With 593 sq. inches (3825.8 sq. cm) of cooking space inside, you can smoke foods in bulk.
One feature of this unit we must talk about is that you can access the wood pan without opening up the smoker. In cold smoking, this is a significant feature as it helps avoid the transfer of bacteria into your cooking.
The analog meat probe in the package is a nice touch as it allows you to keep an eye on your cooking at all times.
If you're in the market for a truly premium cold smoker with a ton of features, this Bradley model should be high on your list. Like similar options, you can use it for hot and cold smoking. It's electric-powered, and the digital control unit simplifies temperature management overall.
With four well-contained internal racks, this large unit can hold up to two large turkeys simultaneously. There's a built-in drip tray, so cleanup isn't a hassle.  
The unit isn't the best for the average user because apart from the initial outlay needed to buy the product, you still have to buy the specialized wood chips sold by the manufacturers. One full load of the chips can deliver around eight hours of smoking. The placement of the LCD screen could have been better as well.
The Lizzq pellet smoker gives you 12 inches (30.48 cm) of premium stainless steel construction. It's designed to work with all categories of smokers, including electric, propane, and charcoal. The hexagonal shape of the design ensures an even distribution of smoke on your meat and veggies.
The smoker is another model that offers five hours of smoking time. The packaging doesn't contain any extras or bonuses, but that fact is reflected in the price. If you're just looking for a cold smoker, it should be high on your list. However, the free eBook included is a nice touch. It's the right introduction to cold-smoked recipes.
Few pellet tube smokers can match the popularity of the AMNTS12 from the A-Maze-N store. It's an oval smoke generator that delivers excellent results due to its high rate of diffusion and the fact that it doesn't roll around in the grill.
The nicely designed tube can fit horizontally or vertically inside your grill. It delivers four hours of cold smoking. The run time is slightly lower than what's on offer from other products we've recommended, but it's still capable of delivering excellent results on all kinds of food.
The corrosion-resistant build is easy to clean. However, there are no complimentary products in the package. You'll have to order that cleaning brush!
The model is a 12-inch (30.48-cm) square-shaped cold smoker. It's also made of stainless steel, like most of the top options in the market. The square shape is a departure from the hexagonal designs you're used to, but it doesn't reduce the smoking efficiency of the product. It also delivers five hours of smoking.
The product package is fully packed as the manufacturers have included a bunch of freebies such as a storage bag, a digital recipe guide, a meat temperature chart, and more. You also get a full refund if you're unhappy. However, keep in mind that you must fill the tube before use to get the optimum performance.
The Lanney pellet smoker is a traditional smoker tube that works for both cold and hot smoking. Its 12-inch (30.48-cm) no-roll hexagonal shape ensures more diffusion, and you can toss it in the dishwasher after use. It's another product that can smoke for at least four hours.
Lanney has also kept the customers in mind by including useful add-ons like a cleaning brush. The brush comes in handy when you don't want to use your dishwasher. The manufacturer's reputation in the grill business means that you're guaranteed durability and excellent performance.
The Mitbak cocktail smoker is on the higher end of the range for cold smokers. It's an electric handheld cold smoker that delivers excellent performance. The smoke-infusing gun makes it a perfect option to go with if you don't have a grill for smoker tubes and don't intend to buy one. 
You also don't have to wait for hours to get the smoky flavor you're going for, as it completes the process in just a few minutes.
The device is battery-powered, making it a super flexible product to use. Given the flexibility, some users rely on it to infuse a smoky flavor to a wide range of products. If you want a smoky dessert or cocktail, the Mitbak is the perfect product for you.
If you're in the market for a small cold smoker, this 6-inch (15.24-cm) model should be high on your list. It's an affordable option for anyone looking for a compact cold smoker that gets the job done with minimal fuss. Since it's a smaller device, you can use it on tabletops and two-burner gas grills.
Don't let the smaller size deceive you, though. It's still an efficient product made of 304 stainless steel, and the hole distribution is as good as you'd find on bigger smokers. Due to the smaller length, the run time is around 2.5 hours.
Cleaning the tube is also easy due to the smaller size. There are no extras thrown into the box, though.
This EMBR wood pellet smoker tube is a highly durable stainless steel option you can count on for great results overall. The unit fits nicely in most grills, and the excellent hole density guarantees thorough smoking at all times. Once fed with pellets, it can produce consistent smoke for five hours.
Unlike other cold smokers in its class, you don't have to fill the tube to the brim each time you want to use it. You can pack the tube with the right quantity of pellets you need to get the job done and prevent wastage. It's also the perfect option to go with if you want to stay in control of your smoking time.  
The design of the Kingsford Grilling Pellet is an interesting one. It's a triangular 8-inch (20.32 cm) modern that's a type of middle ground between large cold smokers and smaller alternatives. 
Many users love it because it isn't as clunky as some of the biggest models in the market, but it still has a competitive run time. With the shape of the pellet box, wood chips remain well packed, ensuring stability while in use. 
The product is rust-resistant, but the number of holes feels a bit short compared to others we've seen. It's also not the most durable construction on this list, but it'll hold its own in your kitchen for years to come.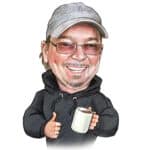 Scot has loved smoking food in his free time for the last few years. Each major holiday or off-weekend, Scot spends days testing and prepping new recipes for perfection.