For years, Traeger has been recognized as a reputable smoker/grill company in the smoker industry. In addition to designing multiple models of high-quality wood pellet smokers, Traeger provides dozens of grilling accessories, including wood pellets. Although Traeger wood pellets are highly favored for their exceptional value, their high-quality products come at a premium price. If you're looking for the best Traeger wood pellet alternatives, you have come to the right place.
The top 7 best Traeger wood pellet alternatives include:
Louisiana Grills Pennsylvania 40-Pound
Pit Boss Natural Hardwood Pellets
Lumber Jack BBQ Grilling Wood Pellets
BBQrs Delight Wood Smoking Pellets – Super Smoker Variety Pack
CookinPellets 40-Pound Perfect Mix Smoking Pellets
Bear Mountain BBQ 100% All-Natural Hardwood Pellets – Gourmet Blend
Green Mountain Grills Premium Hardwood Pellets
If you want to learn more about the best Traeger wood pellet alternatives, read on! Today, we'll explore the top 7 alternatives to Traeger wood pellets in the market.
Our Guide to the Best Traeger Wood Pellet Alternatives
Wood pellets are an essential ingredient for smoking barbeque. In addition to being a fuel source for pellet grills and smokers, wood pellets provide the signature wood-fired flavor that barbeque dinners are admired for. Their ability to enhance that flavor of food makes them a popular alternative to fuel sources such as charcoal or wood chips.
Of course, a wood pellet's quality is only as good as the brand it's produced from. Fortunately, there is no lack in quality when it comes to the best alternatives to Traeger wood pellets. Many of Traeger's competition includes high-quality brands such as Louisiana Grills, Bear Mountain, and Pit Boss Grills. Below, let's take a closer look at the 7 Traeger wood pellet alternatives to consider giving a try.
If you're looking for a high-quality wood pellet brand similar to Traeger wood pellets, look no further than Louisiana Grills Pennsylvania 40-Pound Blend. As a leading brand in the smoker industry, Louisiana Grills is greatly valued for its premium wood pellets at a relatively inexpensive price.
In recent years, the original owner of Traeger Grills, Joe Traeger, has teamed up with Louisiana Grills. Along with this transition comes the guarantee of premium products with optimal wood-fired flavors. Many of Louisiana Grills' top blends include the Cherry Blend, Hickory Blend, Competition Blend, Mesquite Blend, and Apple Blend.
Another unique characteristic of the Louisiana Grills brand is its 40-pound bag design. While it is possible to order the blends in smaller packages, the 40-pound bag is a beneficial quality if you use your smoker a lot. One package is guaranteed to last you several barbeques, which may ultimately save you a significant amount of money.
Whether you're looking for a rich, savory flavor or hints of sweet, fruity tastes, Louisiana Grills Pennsylvania 40-Pound pellets are a delightful addition to any meal. Their variety of blends enhances a wide range of foods to ensure a flavorful smoking experience you will never forget.
If you're looking for all-natural pellets with a real wood flavor, the Pit Boss Natural Hardwood Pellets may be the best product for you. Available in the classic flavors of hickory, cherry, apple, oak, and mesquite, Pit Boss pellets make a fabulous addition to any smoked meal.
The Pit Boss Hardwood Pellets are available in both 20-pound and 40-pound bags. This brand's flavorful blends add a robust taste to various foods, including beef, pork, poultry, wild game, seafood, vegetables, and fruits. Moreover, firing up a grill with these all-natural flavors enhances your backyard with the rich aroma of hardwood.
In short, the Pit Boss Natural Hardwood Pellets are a high-quality, inexpensive alternative to Traeger wood pellets. Whether you're looking for a classic flavor such as apple or hickory, or you're looking for a more bold taste such as the fruitwood blend, Pit Boss Grills has you covered.
Lumber Jack Grilling Pellets is a brand dedicated to bringing high-quality pellets to the smoking industry. By providing popular blends such as the Mesquite Blend and Hickory Pellets, Lumber Jack pellets add a classic taste to a wide range of meals.
Lumber Jack has a different approach when it comes to producing these beloved blends: they de-bark the oak base material. Because the smoke flavor is found in the bark, Lumber Jack removes the bark from oak wood while leaving the bark on their primary woods. As a result, you can expect a strong, rich flavor from each of Lumber Jack's blends.
If you're unsure which alternative to Traeger Wood Pellets you'd like to try, the BBQrs Delight Wood Smoking Pellets may be the best option for you. This variety pack brings to your smoker the flavors of Apple, Hickory, Jack Daniel's, Mesquite, Cherry, and Pecan. What's more, these bags come in 1-pound samples, allowing you to try each pack before committing to a specific flavor.
These wood pellets are ideal for multiple types of grills and smokers, including charcoal, gas, and electric smokers. A benefit to this type of wood pellets is that they do not need soaking prior to use. They are made from 100% hardwood with no artificial flavors, fillers, glues, or chemicals.
Because only 1/3 cup per use is needed, each bag of BBQrs Delight Wood Smoking Pellets provides approximately 10 uses. Whether you're looking for a fruity tint or a savory taste, this pack provides every flavor you need for smoking a variety of foods.
As a leading company for selling wood pellets, CookinPellets 40-Pound Perfect Mix is an excellent alternative to Traeger pellets. Their 40-pound premium mixture features the four most popular hardwoods: hickory, cherry, hard maple, and apple. This wood pellet blend is ideal for practically any smoking recipe, including poultry, seafood, beef, and vegetables.
The large 40-pound bag ensures you'll have plenty of wood pellets for several smoking sessions. Because these pellets have been dried before packaging, they have a low moisture content that makes them easy to light up. Additionally, they are low on ash and dust, allowing you to smoke food longer without adding more pellets.
While CookinPellets come in a variety of packages, the Perfect Mix is the most popular product. Containing a unique blend of 100% natural hardwoods, this mixture is capable of complementing most meats and meat substitutes.
If you're looking to add a gourmet flavor to your smoked meals, consider using Bear Mountain Hardwood Pellets. Made from 100% natural premium hardwood, the Bear Mountain Gourmet Blend is free of additives, binders, and fillers. This custom blend boasts the rich, natural flavors of hickory, maple, cherry, and oak wood pellets.
Featuring smoky flavors with a sweet undertone, Bear Mountain Gourmet Blend pellets are ideal for enhancing beef, pork, seafood, poultry, lamb, vegetables, and fruit. Additionally, it works well with a variety of grills, including Traeger®, Pit Boss®, and Louisiana Grills™.
Besides producing this flavorful gourmet blend, Bear Mountain provides wood pellets in a variety of packages. Their blends include Apple, Hickory, Cherry, and Oak, as well as many other hardwood flavors. No matter what occasion you're cooking for, Bear Mountain is your go-to source for high-quality wood pellets.
The final alternative to Traeger wood pellets is Green Mountain Grills, a reputable company well-known for its quality pellets. Made from 100% kiln-dried sawdust that never touches the floor, Green Mountain Grills pellets offer a fresh flavor to a variety of meals. These pellets contain no additives or fillers and are made from 100% hardwood material.
Available in several blends, Green Mountain Grills wood pellets are the perfect pellets for countless occasions. From the sweet Fruitwood Blend to the strong Premium Texas Blend, these hardwood pellets bring out the flavor in food without overpowering it.
Whether you're looking for a mellow blend or a deep smoky flavor, Green Mountain Grills has it all. Suitable for beef, poultry, pork, fish, and vegetables, Green Mountain Grills' wood pellets are excellent for practically every meal.
Well, there you have it! We hope this guide helped you find a Traeger wood pellets alternative that best fits your needs.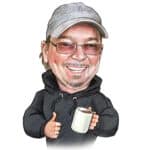 Scot has loved smoking food in his free time for the last few years. Each major holiday or off-weekend, Scot spends days testing and prepping new recipes for perfection.