Summer sausage is one of the tastiest treats you can make, and it lasts for months without needing to be refrigerated. However, if you want to make it – you will need to buy a smoker and it can be a bit of a daunting task selecting your first smoker, luckily, it's very easy to pick a smoker when you know what's involved in the sausage-making process. Let's take a look at that together.
The 10 best smokers for summer sausage are:
The Masterbuilt 44241G2 Gas Smoker
The Camp Chef SmokePro DLX Pellet Grill
Z Grills Wood Pellet Grill Smoker
Masterbuilt MB20052318 MPS 230S Propane Smoker
The Cuisinart COS-244 Vertical 36" Propane Smoker
The Smoke Hollow PS40B Propane Smoker
The Masterbuilt MB20051316 MPS 340G XL Propane Smoker
The PIT BOSS 77435 Vertical Lp Gas Smoker
The Cuisinart CPG-4000 Wood BBQ Grill & Smoker Pellet Grill and Smoker
The Bradley Smoker BTDS108P 990223. 
If you want a more in-depth look into summer sausage, how it's made, and the entire process behind it – scroll past the reviews or click here.
Let's dive in!
The Best 10 Smokers For Summer Sausage
Now, we turn to the smokers. There are plenty of different options for smokers that can make good summer sausage, but we've found 10 of the best so that you can quickly choose one that suits your family's cooking needs. I will explore why each of these made this prestigious list.
Masterbuilt 44241G2 Gas Smoker
This Masterbuilt smoker is something of a beast and with 6.5 cubic feet of internal capacity – it really doesn't matter how hungry your family is, you'll be able to cook enough food to satisfy them for breakfast, dinner, and lunch.
We like the fact that there's a sausage hanger included as standard along with 2 jerky grids. It's very easy to keep the temperature under control with the gas and we like the fact that it uses dual burners to allow you to make small changes to the temperature easily. 
The glass viewing window makes keeping an eye on your sausage's progress very easy too. 
You can find the Masterbuilt 44241G2 Gas Smoker here.
Camp Chef SmokePro SG Wood Pellet Grill Smoker
This fully-featured smoker and pellet grill is one of our favorites. It has a large cooking area and it's easy to switch to a lower temperature and smoke your sausage in it for hours without worrying about it drying out.
We like the fact that it has temperature sensors and a meat temperature probe built-in too. That makes it simple to check on the progress of your summer sausage without letting out too much smoke.
This is a slow cooking system that really delivers value. Highly recommended. 
You can find the Camp Chef SmokePro SG Wood Pellet Grill Smoker here.
Z Grills Wood Pellet Grill Smoker
This "set it and forget it" smoker is absolutely the right choice for families where you simply don't have the time to keep an eye on your smoker. It has a really large grilling and smoking area and you can set up 5 whole chickens side-by-side if you wanted to (or a few summer sausages, for that matter).
It has an "8 in 1" functionality that allows you to smoke, BBQ, bake, roast, braise, grill and more and that makes it a great choice if you want to save space but get as much as possible out of your investment in a smoker. 
You can find the Z Grills Wood Pellet Grill Smoker here.
Masterbuilt MB20052318 MPS 230S Propane Smoker
We love Masterbuilt products and there are several of them on our list. We've found them to be among the most reliable smokers on the market and this one is no exception. It's very solidly built, and we'd expect it to last a long time.
The builtin temperature gauge is very handy when making summer sausage as it allows us to track the progress of the heat without releasing any smoke. 
However, we did find that there was a little smoke leakage around the door with this model and several other online reviews noted the same issue. It's not a deal-breaker but it's not ideal, either.
You can find the Masterbuilt MB20052318 MPS 230S Propane Smoker here.
Cuisinart COS-244 Vertical 36″ Propane Smoker
We like vertical smokers best of all for summer sausage as it allows them to hang easily in the position that they will be stored in. The interior isn't quite as large as some of the others in our tests but you're certainly not going to go hungry with this Cuisinart model.
It has built-in thermometers and temperature control is incredibly easy with the adjustable gas supply and rear vents. We were also pleased to note that it uses a standard propane tank – so there's no need to buy special "vendor-approved" (read: "huge markup") propane for it, either.
You can find the Cuisinart COS-244 Vertical 36″ Propane Smoker here.
Smoke Hollow PS40B Propane Smoker
If you don't have a lot of space than this Smoke Hollow smoker might be the right choice for you. It's one of the smaller models in our tests but it's still perfectly capable of handling enough summer sausage for a whole family for a long period of time.
The built-in air damper makes controlling for moisture content very easy with this smoker and, in turn, that makes it simple to get the consistency of smoke that you want. However, we found it a bit more challenging to control the temperature when compared to other models. 
You can find the Smoke Hollow PS40B Propane Smoker here.
Masterbuilt MB20051316 Mps 340g XL Propane Smoker
This is the easiest Masterbuilt propane smoker to control the temperature with. You set the temperature and it does the heavy-lifting (there's also a safety shut off valve to make sure things never get out of hand). 
It's huge inside and we can't imagine a family dining situation in which you would have to smoke 8 turkeys at once, but you could if you wanted to. The one thing we felt that it was missing was an internal thermometer because, without it, it's hard to ensure that the temperature is accurate. 
You can find the Masterbuilt MB20051316 Mps 340g XL Propane Smoker here.
PIT BOSS 77435 Vertical Lp Gas Smoker
We love the elegant good looks of the PIT BOSS smoker. The front window is large enough that you can see exactly where your summer sausage is during the smoking process. The fact that they've elevated the frame makes it much easier to move food in and out of the smoker too.
It has one of the broadest temperature settings of any smoker in our trials and can easily double as a dehydrator which makes it a good value for money despite the slightly higher price tag. 
One word of caution, our test model worked perfectly but we've heard that their customer service can be a bit hit and miss if there are issues. 
You can find the PIT BOSS 77435 Vertical Lp Gas Smoker here.
Cuisinart CPG-4000 Wood BBQ Grill & Smoker Pellet Grill and Smoker
If you want a smoker which is also a BBQ, you can't go wrong with this Cuisinart CPG-4000. It's really well built, and we've found that it can handle wind and rain quite well when you're working with it. However, we'd still recommend keeping it under cover if possible.
It has a very large grill surface and hopper and you can cater to any large family gathering easily with it. The smoked summer sausages we made with it came out exactly the way we wanted. 
You can find the Cuisinart CPG-4000 Wood BBQ Grill & Smoker Pellet Grill and Smoker here.
Bradley Smoker BTDS108P 990223
A complete 6-rack digital smoker, the Bradley Smoker is for the chef that demands complete control over every aspect of the smoking cycle. Pick how much smoke you want, how long you want the smoking to go on and what temperature you want it at and then sit back and relax while the smoker handles the details.
This kind of control doesn't come cheaply, mind you, and it's one of the most expensive smokers in our test. However, if you want a perfect summer sausage, every single time, this might be the right investment for your family. Watch out, though, it's very heavy. 
You can find the Bradley Smoker BTDS108P 990223 here.
Finalizing the Best Smokers for Summer Sausage
We hope that our list of the best 10 smokers for summer sausage has helped you decide which smoker to invest in for your family. Don't forget that a smoker can help you do much more than making sausage and it's always a good idea to know what else you want to do with your smoker before you decide which model to buy.
Our overall favorite is the Masterbuilt 44241G2 Gas Smoker because we feel that it balances value with capacity. However, there are no bad smokers in our Top 10 and you should opt for the one that feels right for your family's needs. 
What Is Summer Sausage 
Summer sausage is a proud American tradition but one which has its roots in Germany. German immigrants would have brought their recipes for "a hard, dried, smoked sausage with some similarities to salami that can be kept without the need for refrigeration" with them to America.
Each German family would likely have had their own recipe for a unique sausage and this recipe would have been handed down over the years from mother to daughter or father to son. 
Why is it called summer sausage? Well, oddly it's called that because it was traditionally made in the winter. Farmers would harvest large animals in winter because it meant it would be cold enough for them to hand the meat without it rotting away quickly.
They made the summer sausage at this point of the year so that they would have meat in the summer. 
Today, of course, many Americans enjoy their summer sausage with their Christmas dinner which makes the name "summer sausage" feel a little counter-intuitive. 
There is also a frighteningly precise definition of "summer sausage" offered up by Science Direct but we feel it completely takes the magic out of one of our favorite dishes and we'd urge a little caution before you click on the link. 
How To Make Summer Sausage? 
So, how do we make a good summer sausage? Well, our process is as follows:
Our Choice Of Meat
You can make summer sausage from pork, from beef or from a combination of the two. Some of the older recipes call for the addition of beef heart but we find that it gives the sausage a rougher taste that we can't quite gel with.
You can choose any mix you like, of course, but in our experience, a 60% beef and 40% pork mix gives a sausage with a slight beef edge which doesn't completely overwhelm the taste of the pork. 
We recommend that you get the freshest meat that you can find from a local butcher rather than using supermarket-bought as it really does add a lot of flavor to the end product. Ask them to grind it for you or grind it yourself (a fine grind is best). 
Add Your Spices
Spicing a summer sausage is all about your personal preference you can add whatever you like. The traditional recipes ask for a bit of salt, pepper and maybe mustard seeds. 
Peppers are always a welcome addition and black pepper, green pepper, and white pepper can all add a certain depth to the outcome and chili can inject some personality too. 
A lot of people enjoy a little garlic in the mix and others choose to add anything from ginger to coriander. 
The best way to decide what you really like is to experiment. Once you've got the flavor exactly right, you then have your family recipe for summer sausage. 
Fermenting And Curing
You need to ferment the meat to make summer sausage and the easiest way to do this is to buy in a meat culture. FL-C is the most common choice of meat culture and it's well regarded because it helps to prevent Listeria (which is something you definitely want to prevent). Fermentation is what gives summer sausage that tangy bite. 
We recommend that you ferment at 86 degrees Fahrenheit for 24 hours in 85-90% humidity.
You also need to cure your sausage because otherwise, it won't be capable of being stored without rotting. Pink salt is the preferred curing agent and you can find it on Amazon cheaply, this 2.5 lb bag by Wishful is very cost-effective, for example. 
Blending The Meat With The Spices
We've found that if you grind your meat at home – you can add the spices before you grind them and then mix it again when it's done.
If not, you want to make sure that you mix the two by hand and ensure that you've got an even consistency with the spices thoroughly spread out within the meat. It ought to be sticky and clump together by the time you are finished. 
Grab Your Sausage Casings
You will also need some collagen or non-fibrous sausage casings – we find these Smokehouse casings on Amazon to be just right. Alternatively, you can buy some beef middles from your butcher as casings (they won't normally have these on display). 
Then you need a stuffer to fill the casings. You have three options for this: a vertical sausage stuffer (the best choice – something like this LEM Products 5 Pound stuffer on Amazon is ideal), a manual sausage stuffer (like this LEM Products 823 3 Pound stuffer on Amazon) or the worst choice which is an attachment for your meat grinder (grinders aren't really made for sausage stuffing and don't tend to pack the meat in well, at all). 
You want to stuff the casings tightly with no air pockets allowed to remain in the meat. You can't get all the air out, but you want any big spaces gone. 
Also read: How To Smoke A Turkey On A Pellet Grill
Then Smoke Your Sausages
You want to keep the temperature under 190 degrees Fahrenheit as over this temperature the quality of the sausage will degrade and if it gets up as high as 250 degrees the sausage will lose all the fat that makes it so tasty.
Our preferred method is to start at 110 degrees Fahrenheit and over 6 hours (at about 70% humidity) we slowly increase the temperature until the temperature of the sausage at the thickest part reaches 140 degrees. 
We store our sausages at a temperature under 60 degrees Fahrenheit and in a relatively humid environment. 
And that's it! Now, you've got some very tasty summer sausage to enjoy!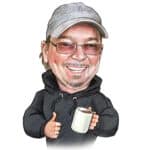 Scot has loved smoking food in his free time for the last few years. Each major holiday or off-weekend, Scot spends days testing and prepping new recipes for perfection.