Who doesn't love a perfectly grilled sliced steak, a cold cut platter, or perhaps a sandwich stuffed with thin slices of chicken or pork salamis? But for procuring evenly cut meat slices, most of us have to rely on prepackaged foods. If you don't want to visit the butcher every time or want to switch to a preservative-free meal, then purchasing a meat slicer for home use can be a great idea.
A good meat slicer for home use should be able to cut both cooked and cold meat into thin slices. When buying a slicer, make sure to buy a one with high motor power. Some of the top models of meat slicers for home use are from brands like Midone, Cusimax, Chef'sChoice, Elite Gourmet, and Beeswood. With good maintenance and regular cleaning, a meat slicer can last up to 10-15 years. 
Meat slicers can chip meats, delis, vegetables, hard cheese, and many other foods, making them extremely versatile. Unlike the commercial ones, meat slicers for home use are available in both electric and hand-cranked versions. An electric meat slicer releases the taste and texture of the meat better than hand-cut slicers. Operating these slicers does not require you to have exceptional skills and experience but will definitely help you save both time and money in the long run.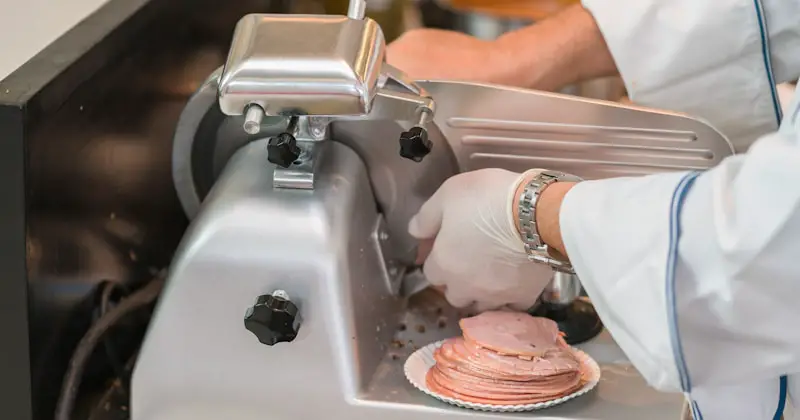 What Are The Best Meat Slicers For Home Use?
Food slicers are very handy to use. Whether you want to slice a roast beef or a chicken salami, here is a list of the top meat slicer machines for home use:
It is a good entry-level slicer with a powerful high torque motor. The slices can be cut to the size of a deli-thin to about 1 inch thick with this machine. The Chef'sChoice slicer is useful for fast and precision slicing of meat, vegetables, a loaf of bread, cheese, and various other types of food and comes with a pusher and a serving tray.
Pros:
Easy to clean with removable blades, food carriage, food pusher, and food deflector.
Has a high-capacity food carriage that allows the slicing of extra-large roasts.
The machine has an adjustable dial that allows you to choose the preferred thickness of each slice.
Secured safety lock feature.
Cons
It may be hard to find replacement parts.
Contains plastic parts.
Struggles to cut thinnest slices. Once the blade turns old, it might be difficult to cut food items like cheese or Japanese shabu shabu.
This meat slicer is great for precisely cutting deli salami, ham, turkey breast, chorizo, beef pastrami, pepperoni, mortadella, firm vegetables, bread, and all other types of meats and cheese. The non-slip construction and easy to clean design make it one of the most popular professional-grade meat slicers for home use.
Pros:
Comes with a high-precision thickness adjuster.
Has rust-proof, 7.5-inch stainless steel blade that cuts up to ½ – inch razor-thin slices.
A blade guard is provided.
Compact for easy storage.
Cons
Not suitable for preparing bigger pieces of meat such as prime rib or London broil.
Slow in operation than many other slicers of the same range.
Noisy.
Quite difficult to disassemble and clean.
If your family needs regular supplies of sliced meat or cheese, we would recommend you to buy the Beswood Premium Meat Slicer. The slicer is suitable for both home and small-sized commercial kitchens. It can slice all types of boneless meat, cheese, vegetables, and ham.
Pros:
The razor-sharp blades are made with a chromium-plated steel coating, which provides high precision slicing. There's no need to sharpen the blades frequently.
Good service.
Heavy duty and quiet.
Cons:
The maximum cutting thickness is 12mm, while many meat slicers of the same range can slice up to 15mm thickness.
Difficult to clean.
Expensive.
The Cusimax meat slicer gives a professional level of fine slicing turkey, ham, chicken, cheese, sausage, vegetables, and fruits. It has a powerful motor of 200W.
Pros:
Comes with stainless steel, removable, non-serrated blades
The non-slip blade provides sturdy handling of the equipment.
It has a 0-15 mm adjustable thickness knob for precise slicing.
Cons
The device is not designed to operate for long hours. The maximum time of continuous operation is just ten minutes.
Can get overheated.
If you want a good-quality slicer within a decent price range, then the Elite Gourmet will be the right choice for you. From super thin to ¾ inch (maximum slice thickness is 15mm) slices of meat, the OSTBA electric meat slicer can produce a variety of food, including deli, roast beef, turkey, frozen meat, and vegetables. The slicer is driven by 150W high yield slicing power.
Pros:
Has child lock protection.
Most parts are removable, including the blade, food carriage, food pusher, and side-lock extension, which makes it super easy to clean and sanitize.
The strong rubber feet keep the slicer stable while working.
Cons
For smooth operation, the slicer needs to be greased frequently.
You may find it difficult to slice fatty meat or soft cheese with this slicer.
With a 200W horsepower, Midone is one of the most powerful meat slicers for home use. It has two 7.5 inch German high carbon stainless steel blades and adjustable, built-in thickness, which makes it suitable for slicing meat, a loaf of bread, roast, and vegetables up to ¾ inch (or 1 to 15mm).
Pros:
With a sleek and durable design, it is easy to fit in any space and will last for several years.
It is a powerful slicing machine. The motor is made of copper, which also makes it very durable.
Cons
The continuous run time is about 5 minutes, after which the machine starts heating up.

How To Clean A Meat Slicer
When you don't regularly clean your meat slicer machine, food residue can get stuck in different parts, which causes pathogenic bacteria to grow. These bacteria can contaminate your food and cause food-borne illnesses. Regular cleaning would also avoid frequent breakdown of the slicer.
Most electric meat slicers come with a removable food carriage and rust-free blades. When handling the sharp blades, make sure to wear cut-resistant gloves. The specific problem areas are ring guard mounts, blade guards, slicer handles, and of course the blades. Here are the steps to perfectly clean a meat slicer:
Carefully remove the blade from the meat slicer. The instruction manual you got in the packaging will guide you on how to remove the blades.
Carefully immerse the blade in warm, non-abrasive soapy water for several minutes. The blades should not be placed in dishwashers.
Rinse and dry thoroughly before next use.
You should also thoroughly examine the seals, gaskets, seams, and any additional cracks. Use a gentle scrub pad to wipe these problem areas and disinfect with a sanitizing spray.
How Often Must A Meat Slicer Be Cleaned And Sanitized
Commercial meat slicers that run continuously are recommended to be cleaned and sanitized every four hours. However, meat slicers for home use must be cleaned after every use.
Some Tips For Using A Meat Slicer Machine
When using a meat slicer, you should never use deep-frozen foods or meats with bone. However, if you want super thin slices or foods that are difficult to slice, it's advisable to partially freeze them for better results.
Not many of us think about installing a meat slicer machine in our kitchen. But if you are a meat lover, have a large family, or perhaps host large gatherings regularly, then meat slicers could be one of the best investments you would ever make!
Keep reading: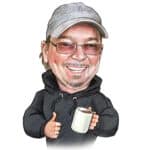 Scot has loved smoking food in his free time for the last few years. Each major holiday or off-weekend, Scot spends days testing and prepping new recipes for perfection.