Pellet smokers have gained immense popularity over recent years for their versatility, performance, and easy connectivity. However, for the most authentic BBQ flavors, one cannot question the extraordinary abilities of the classic 'Kamado style of grilling.' Two of the biggest players in this line are – 'Kamado Joe' and 'Big Green Egg.'
While Big Green Egg is the pioneer, Kamado Joe is relatively new but a popular player in the history of Kamado Grilling. Products from Kamado Grilling are innovative, easy to set up, and readily available for both home and professional use. If you want a complete, elegant, and high-end Kamado grill setup, then Big Green Egg is the recommended brand. 
Shaped like the ancient versions of Chinese and Indian Earthenware cooking equipment, Kamado Grills are ceramic cookers that provide more efficient temperature control and produce excellent results than most modern grills. But, which is the best brand for Kamado grilling? Before making the final decision, you ought to read this detailed review about Kamado Joe Grill vs. Big Green Egg.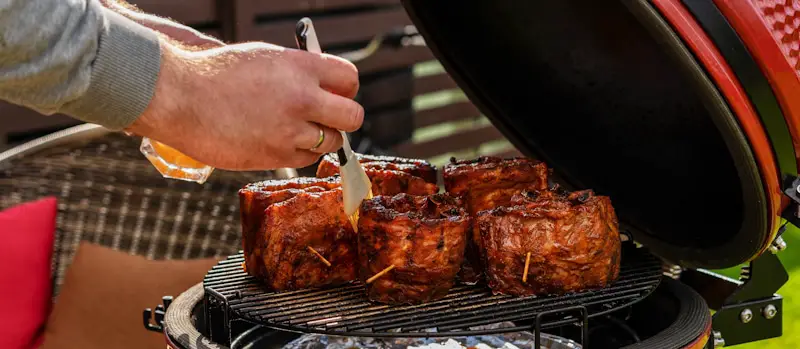 What Are Kamado Grills?
The word 'kamado' means 'stove' in Japanese. They are also called traditional 'Mushikamado cookers' or mobile clay ovens. Kamado grilling is a 3,000-year-old culinary technique and is known to produce impeccable results. This style of grilling gained immense popularity after World War II.
Kamado Grills uses the power of wood or charcoal to introduce smoke and flavor to food. They are a ceramic-coated powerhouse that creates a conventional style air flow within the unit to conserve heat and produce great cookouts in no time.
Brand Overview & Top Models
While Big Green Egg Grill has been the key player in the world of Kamado grilling since 1974, Kamado Joe launched its first product in 2009 and has become one of the most popular brands since then.
Kamado Joe
Kamado Joe has taken the classic style of kamado grilling to the next level with its innovative designs. The brand produces three categories of grills – the Big Joe Series (24 inches), the Classic Joe Series (18 inches), and the Joe Junior Series (13 inches). The venting system of Kamodo Joe is complex but very efficient for producing the juiciest and the smokiest cookouts.
Popular Kamado Joe Grill Models
Classic Joe Grill Series III for $1,999
With its revolutionary hyperbolic smoke chamber, the Kamado Big Joe III is perfect for low and slow cooking. The grill has a 250 square inches maximum cooking space and a 3-tier cooking system that allows you to cook food at different temperatures.
2.Classic Joe Standalone Grill Series III for $1,799
The performance-driven Classic Joe Standalone III produces flavorful charcoal or wood-fired cookouts. You can easily install the SloRoller hyperbolic insert to instantly convert the grill into a smoker. The grill has a heat range of 225℉ to 750℉ and a cooking surface of 18" in diameter.
3. Classic Joe Grill Series II for $1,299
The Classic Joe Grill Series II has a 2-tier divided cooking system and a cooking surface of 18" diameter. Good quality powder-coated galvanized steel cart is used to construct the grill. The precise temperature control and easy usability make this grill ideal for both professional and entry-level users.
Both Kamado Joe Series II and III have a control Tower Top Vent, a built-in thermometer, slide-out ash drawer, AMP Firebox, and Air Lift Hinge. Some of the other models with more cooking space (24 inches) are the: Big Joe Grill Series I, Big Joe Grill Series II, Big Joe Grill Series III, and Big Joe Grill Series II Standalone.

Big Green Egg
Big Green Egg is an old brand popularly known for its quality products and well-engineered designs. Their products come in different sizes and frames/ set-ups.
Popular Big Green Egg Models
Compared to Kamado Joe Grill, Big Green Egg has a wide selection of products to choose from. The grills from this brand are called 'EGGs,' and they come in different sizes and layouts. Though pricey, kamado grills from Big Green Egg can last for a lifetime. Some of their top models are:
The Big Green Egg Large Grill Table Package can bake, sear, grill, roast, smoke, and cater to all your cooking needs. With the patented airflow design and easy-to-calibrate temperature gauge, the unit can be used to cook food from 150℉ to 750℉.
2.XLarge Big Green Egg with Expansion for $2,934
This expensive model from Big Green Egg has an extra large size and comes with 3 Acacia inserts to triple your food capacity (can cook up to 3 steaks at once). The modular nest expansion net frame makes it super convenient to set up a versatile outdoor cooking system. The unit is an all-rounder BBQ, grill, smoker, and brick oven combo and is suitable for direct and indirect cooking.
Some of the other popular picks from Big Green Egg include handler packages and modern farmhouse table packages that come along with the main unit. Depending upon the package, these units can cost you between $779 to $5,299.
Comparing Kamado Joe Grill vs. Big Green Egg
For easy understanding, here is what makes Big Green Egg different from Kamado Joe products:
Kamado Joe Grill
Big Green Egg
Cooking Surface
2 and 3 cooking levels pre-installed.
One level grate is provided. Others need to be installed as required.
Time Taken For Assembling
~ 20 minutes
~ 1 to 1 ½ hour
Cleaning
Has a patented slide-out ash drawer system for easy clean-out.
The Ash Tool is designed to collect ash from the bottom of the EGG.
Minimum Temperature Range 
250℉
150℉
Maximum Temperature Range
750℉
750℉
Price Range
$499 to $2,999
$779 to $5,299
Secondary Air Control System
Cast aluminum control top
Cast iron cap
Color
Red
Green
Lid System
Heavy lids with 'Air Hinge' for easy usability.
Heavy lid with spring to prevent breakage.
Framework
Does not come with any extra framework.
You can either buy standalone EGGs or order an integrated package/ cooking system for functional and versatile outdoor cooking.
Apparels & Gears
Parts, gears, accessories, apparel, and gears can be purchased from their online store.
Branded apparel, grills, and kitchen items can be purchased on the web store.
Availability
Can be ordered online on their website or from Amazon, Walmart, Lowe's, The Home Depot, Atlanta Grill Company, and other popular websites. You can also purchase offline from a dealer near you.
Can be ordered online on the website or offline from a dealer. Discounts on products may be available at offline stores.
Contact and Complaints
For support, you can send an online query form.
For any queries or complaints, you can call 800 793 2292 or send an email at

[email protected]

.
Conclusion
The ultimate decision between Kamado Joe Grill vs. Big Green Egg would depend upon how you would like to use it and, of course, the cost. Kamado Joe is recommended if you need to cook straight from the box and are looking for more space and cooking options. They have more innovative specifications. Two or three-level rack systems are available, which makes it easier to produce multiple cookouts at a given time.
Both Kamado Joe and Big Green Egg look similar, except for one being in red and the other one is green in color. Products from Green Egg Grill produce the most authentic and juicy BBQ results. They have a more traditional approach, and the units maintain the perfect temperature for producing even cookouts every time. If you are looking for a greater temperature range and need a beautiful setup with more accessories, then products from Big Green Egg are recommended.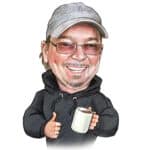 Scot has loved smoking food in his free time for the last few years. Each major holiday or off-weekend, Scot spends days testing and prepping new recipes for perfection.