A smoked chuck roast will be the perfect option if you are after savory smoked beef. Moreover, you will only require six hours or less to prepare a delicious meal. The question is, how do you smoke a chuck roast in a pellet grill to perfection?
The first step to smoking a delicious chuck roast on a pellet grill is to preheat your pellet grill to 250 degrees Fahrenheit and ensure that you top it with your favorite wood pellets. The second step is to rub the meat with seasoning and ensure that the whole of the chuck is well seasoned before putting it on the grill to cook for about 3 hours.
Smoking a chuck roast on a pellet grill is so simple that a beginner can easily make a delicious meal. By the end of this article, you will find smoking a chuck roast very easy.

Smoking A Chuck Roast On A Pellet Grill
If you are looking forward to smoking a chuck roast on your pellet grill, here is step-by-step guidance to make your work leisurely.
Trim And Season The Chuck Roast
Trimming and seasoning are essential when smoking a chuck roast on a pellet grill. The process will influence the kind of flavor you will infuse into the meat. You should trim all the excess fat from the chuck roast.
Once you are done trimming the meat, the next crucial step will be to season it. A bold beef rub is not likely to disappoint. However, it would help to be flexible enough to use your favorite seasoning for the desired flavors.
Let the chuck roast rest for about an hour before considering putting it on your pellet grill. Allowing the meat to rest after seasoning is vital because it allows it to take in the seasoning for a more defined flavor.
Smoking The Chuck Roast
Once you are done with the trimming and seasoning of the chuck roast, the next crucial step is to smoke it.
The more straightforward approach for grilling an excellent chuck roast is to set the temperature to 250 degrees Fahrenheit. Put the seasoned chuck roast in the smoker and smoke it for four hours; remove it and wrap it in foil before returning it to the smoker to cook until it attains the desired level of doneness. The chuck roast is done when it hits the internal temperature of 201-210 degrees Fahrenheit.
Why You Will Love Beef Chuck Roast
When the chuck roast is well smoked on a pellet grill with a touch of the best wood pellets, it becomes amazingly tender, juicy, and pretty tasty as the smoke and the seasoning infuse intense flavor. Here is why you will love a chuck roast in a pellet grill.
Chuck roast is sizable, and it is pocket friendly. The cheap price tag notwithstanding, a smoked chuck roast is super delicious.
The smoke flavor infused with hickory, mesquite, or any wood pellets of your choice will enhance the meat's natural flavor, making it juicier, tender, and more delicious.
The chuck roast is best for slow cooking over low temperatures, guaranteeing a moist beef that absorbs most of the tremendous flavorful smoke.
While cooking some cuts can be challenging, smoking a chuck roast is a simple process that does not involve a lot of instructions. You can comfortably smoke a delicious chuck roast if you have a pellet grill in your backyard.
Preparing the meat is a simple process. All you need is to trim the meat and season. After letting your seasoned chuck roast rest for about an hour, you can allow the smoker to do the work.
You keep the leftovers for meal prep or work lunches.
Chuck Roast Recipes
Since the chuck roast is relatively cheap, you can feed your whole family without breaking the bank. Here are some of the best chuck roast recipes you can try.
Roast Beef And Gravy
Making roast beef and gravy is unbelievably easy. You can make it quite fast, even on a busy day.
Serving the roast beef and gravy with mashed potatoes and fruit salad will leave everyone asking for more.
Guinness Beef Stew
A Guinness beef stew is simply a nice steaming pot stew. You can make this delicious recipe by mixing robust Guinness stout and mix it with fresh herbs and humble veggies. At the end of the cooking, rich, savory flavors are certain.
Moroccan Beef Stew
The Moroccan beef stew tastes delicious, perhaps better than any beef stew you have ever tasted. It is best when cooked slow and for several hours, guaranteeing a meal that melts in your mouth quickly.
Slow Cooker Pot Roast
The slow cooker pot roast is excellent for spectacular comfort food. You can best describe it as a classic meal with real and healthy ingredients. If you get a taste of this chuck roast recipe, there is no doubt that you are going to love it.
Instant Pot Spicy Beef Stew
If you love spicy foods, there is no doubt that you will love the instant pot spic beef stew. To prepare the instant pot spicy stew, you will need to introduce a new kitchen gadget if you do not have it already. Your favorite instant pot makes it easy to prepare this recipe while rendering it pretty delicious.
Shredded Green Chile Beef
The shredded green chile beef is slightly spicy, tender, and delicious, especially when served over rice or mashed potatoes. Further, the beef makes the best soft tacos you have probably ever had. If you have any leftovers, you can ensure that you keep them well to prevent them from drying out.
Japanese Beef Curry
Japanese curry is another incredibly delicious meal you can make from the chuck roast. However, it is not like other curries that you may have tasted elsewhere, as it is like a cross between curry and stew. Its thick, velvety, and intense concoction gives a savory and umami flavor. It is one of the best chuck roast recipes to try out.

Beef Chuck Roast On Pellet Grill
Although smoking a chuck roast is a pretty straightforward process, there are expert tips that you might want to incorporate into the entire process for a delicious meal. Here are some masterful tips when smoking beef chuck roast on a pellet grill.
Intensify the flavor by seasoning the meat and covering it in saran wrap before putting it in the refrigerator for 24 hours to marinate before cooking.
To add moisture to the beef chuck roast, spray it with beef stock as you cook until wrapping it for the holding process.
Ensure that you choose the best wood pellets; hickory, oak, and pecan woods are excellent for smoking a chuck roast.
Regulating the internal temperature of your smoker is essential for smoking a delicious chuck roast. Ensure that you keep the internal temperature of your smoker between 225-250 degrees Fahrenheit. The best way to smoke a chuck roast is to do it low and slow. Slow smoking is necessary because it allows the chuck roast's fat to render efficiently, breaking down the connective tissues.
Remove the chuck roast from the smoker once it hits the temperature of 190 degrees Fahrenheit so that the final doneness of the meat after resting will be 200 degrees Fahrenheit.
Always slice the chuck roast against the grain to make it tender.
Conclusion
The chuck roast is pretty affordable but quite flavorful. You only need to smoke the meat low and slow using the right wood pellets. Remember that the wood pellets you pick for your smoking ventures may influence the flavor. Therefore, go for the best for a flavorful chuck roast. Controlling the temperature of your pellet grill and seasoning the chuck roast can seem similar, but they can make a huge difference.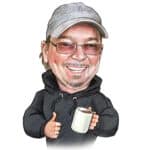 Scot has loved smoking food in his free time for the last few years. Each major holiday or off-weekend, Scot spends days testing and prepping new recipes for perfection.