Wondering what to do with leftover BBQ tri-tips? This extremely flavorful and juicy cut of meat can be used to make some exceptional makeovers! When tri-tips are perfectly seared or smoked, they can be used to make some mouth-watering appetizers, mid-day meals, and one-pot recipes or they can even be transformed to serve as the main dish for your lunch or dinner.
Though economical, beef tri-tips are intensely rich in flavors. Some of the best recipes to try with leftover smoked tri-tips are – Grilled tri-tip Sandwiches, Tri-tip Stroganoff, Tri-tip Instant Soup, and some extra spicy Chili Tri-tip. Before you try out any of these recipes, thaw the leftover tips properly and slice them into ¼ or ½-inch pieces for tender and juicy results every time.
Tri-tip is a type of steak obtained from good-quality sirloin. It is a cut that offers a fine balance of juiciness and umami flavors. Tri-tips are also known as Newport steaks or triangle roasts or steaks. They are extremely delicious for the price and are highly recommended for grilling. You can recreate dozens of different recipes with leftover smoked tri-tips. We have recommended some of the finest ones here.

The Best Recipes With Leftover Tri Tip
If you have leftover tri-tips after a BBQ party, it is important to store them within 2 hours, or else they will be prone to bacterial contamination. It is best to store intact tri-tips. Before you try any of our recipes using leftover tri-tip, the refrigerated or frozen meat should be naturally thawed for the juiciest results. Once thawed, you may slice the tips against the grain, with each tip having a thickness of about ¼ or ½ inch.
Grilled Tri-tip Sandwich
Preparation Time: 10 minutes, Cooking Time: 10 minutes, Calorie (per serving): 430
Sandwiches are probably the most loved meal as they are not only easy to make but are also insanely satisfying. Tri-tip beef sandwiches have a subtle smoky flavor with the ultimate umami taste. The following is one of the easiest and the best sandwich recipes for making good use of leftover tri-tip steak:
Ingredients
1-inch thick Sandwich bread slices, ½ cup mayonnaise, 1 tbsp lemon juice, 1 tbsp minced garlic, 1 teaspoon chopped fresh rosemary, cheese slices, 1 cup arugula, and salt to taste.
Steps
In a large bowl, mix all ingredients with the sliced tri-tips.
Spread the sandwich filling on a slice of bread, top it with a cheese slice, and then close the other end with another slice of bread.
Grill the sandwich on a preheated grill or a sandwich maker. Ensure that the cheese has melted and both sides have a light brown crust before serving.
Tri-tip Stroganoff
Preparation Time: 10 minutes, Cooking Time: 45 minutes, Calorie (per serving): 200
When bite-sized tri-tips are perfectly blended with mushrooms and sour cream, it becomes an unforgettable gastronomic experience for your taste buds. Give a twist to the classic Russian beef stroganoff with this amazing recipe.
Ingredients
A pack of Stroganoff noodles, 1 sliced onion, 7-8 sliced mushrooms, bite-sized leftover tri-tips, 1 tsp Worcestershire sauce, 1 tsp Dijon sauce, 1 tbsp all-purpose flour, extra virgin olive oil, a hint of red wine, a dash of parsley and thyme, ground pepper and salt to taste.
Steps
Use a large pot of boiling water to cook the noodles for about 10 minutes (or as directed in the packaging). While it gets boiled, don't forget to add a pinch of salt. Once fully cooked, strain the noodles.
In a bowl, whisk together some beef broth, Worcestershire and Dijon sauce, and flour to form a slurry. You may also add a splash of red wine.
Use a cast iron skillet on medium heat to saute the sliced onions and mushrooms with olive oil for about 3-4 minutes until it is nice and brown. Once done, add the bite-sized tri-tips.
Bring the pan to a low simmer and add the slurry and some additional beef stock, if required. Stir and cook for about 10 minutes. Add salt and pepper to taste.
Turn off the heat, and finally, add some sour cream right before serving.
Pour the stroganoff gravy on a bed of hot noodles and garnish with some fresh parsley and thyme. You can even sprinkle some shredded cheddar cheese to increase the creaminess of the dish. Serve with classic mashed potato and rice.
Tri-tip Instant Soup
Preparation Time: 10 minutes, Cooking Time: 30 minutes, Calorie (per serving): 240.
After all the fun you had the day before, it is time to detox and have a light meal. For this preparation, you would just need some beef stock and a handful of common kitchen ingredients to make the most satisfying, flavorful, and instant tri-tip soup. This recipe is also a very popular and comforting fall or winter dish.
Ingredients
About 1 or 1 ½ liters of leftover beef broth or low sodium commercial readymade beef broth, 1 cup of chopped vegetables of choice (like green beans and carrot), 1 chopped onion, 2 grated tomatoes, 50 gms of rice noodles, a dash of fresh herbs like rosemary, oregano, basil, and fresh parsley, freshly ground pepper and salt to taste.
Steps
Heat 1 tbsp of olive oil in a large pot and add minced garlic, onions, and other chopped ingredients. Saute for about 3-4 minutes.
Add broth, tomatoes, sliced or chopped leftover beef tri-tips, salt, and fresh herbs. Cover and simmer for about ½ an hour. Stir the soup occasionally.
To add more flavors to the soup, you may add a cinnamon stick or star anise to the broth.
Add the rice noodles to the hot soup and let it sit for about 2 minutes.
Garnish with some freshly chopped parsley. Serve hot with crusty bread or soup sticks.

Chili Tri-tip
Preparation Time: 10 minutes, Cooking Time: 2 hours, Calorie (per serving): 256
If you can't do without adding some spice to your life (and your meals), you ought to try this tempting recipe. Chili tri-tip has a strong flavor and color and is usually recommended for the cold winter months. Use reverse seared tri-tips for the best results. Do note that the dish is super spicy and is best accompanied by cheesy sides and different kinds of bread.
Ingredients
1 cup of ground beef, sliced leftover tri-tips, 1 medium-sized chopped yellow onion, two cloves of chopped garlic, 1 tbsp of Extra Virgin Olive Oil, 1 tsp cumin, 1 tsp chipotle chili powder, 1 tsp of kosher salt or smoked sea salt, 1 tbsp freshly ground pepper, 1 tsp of Kashmiri Red Chili Powder 1 tbsp smoked paprika, 1 tbsp dried oregano, 1 cup red wine, 2 cans of black beans, 2 cans of kidney beans, 2 cans of tomato puree or fire roasted tomatoes, 4 cups of beef stock, some fresh cilantro, 1 tbsp of hickory liquid smoke for flavoring.
Steps
Place a large pot over a medium-heat flame and brush it with some olive oil.
Add minced garlic, chopped onion, and ground beef and saute until golden brown. Once done, drain the excess grease with the help of a strainer.
Next, add the leftover smoked tri-tips and then the beef stock.
Add all other ingredients and simmer for about 2 hours. Adjust the level of spices according to your taste.
You may add some flour paste to thicken the gravy.
Garnish with some fresh cilantro and serve hot.
Conclusion
There are hundreds of other recipes you can try using leftover tri-tip steaks, such as Tri-tip Pie, Steak Quesadillas, Tri-tip Smoked Fajitas, and Tri-tip Fried Rice or Noodles. Whatever you make, be rest assured that if you have stored them right, the results with repurposed tri-tips will always be juicy and flavorful.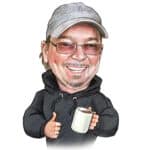 Scot has loved smoking food in his free time for the last few years. Each major holiday or off-weekend, Scot spends days testing and prepping new recipes for perfection.