So you have decided that having a gigantic smoker sitting on your balcony or back porch simply is not an option for your way of living, but you long for the smoky flavor such a machine can produce. Is there a smaller option that can get you what you want without taking up space?
The 12 best food smoker guns you can buy today come from the Joe Chef Professional, Eurolux, MITBAK, Gourmia Portable, TMKEFFC, Nia Home & Kitchen 2-in-1, Costway 2-in-1 Professional, Wancle, Handy Smoker, Gramercy Kitchen Co. Bundle, Polyscience Breville Gun Pro, Chefhut Portable, and Homia.
What is so great about smoking guns is that they come in every sort of shape and size. There are those that match even the smallest of budgets and those that tackle the most gourmet of meals. Regardless, they all get the smoking job done and will leave you wanting for more. Continue reading to see 12 of the best food smoking gun products out there and a brief discussion on the pros to each. 
If you are one who has always wanted to bring a smoky flavor to your food at home but didn't want a smoker out back in order to achieve that, this smoking gun is for you. What is so fantastic about this particular gun is that it has three different smoking levels to really get the right level of smoke for all the different foods you are looking to infuse. 
Even more, this product has a vacuum sealer machine that comes with it to ensure your food's freshness. The vacuum sealer works with wine stoppers, vacuum containers, and even plastic zip bags. 
Along with these features, the Joe Chef Professional Handheld Smoke Gun has a great battery life but is made to be rechargeable ensuring that you will not be going back and forth for batteries every few months. 
All the parts are easily cleaned with some soap and water and once dry, can easily be reassembled. Transform all your smoking dreams with this little device and keep them fresh if there are any leftovers (a shocking, but possible outcome). 
The Eurolox Infusion Smoker is a great option for the cook on the go. This smoking gun is completely portable and compact which makes it easy to take anywhere. Imagine being on a fishing trip, getting your catch of beautiful salmon, taking it back to be cleaned, and smoking it right there amid the mountains and streams surrounding you. Truly, that scene could not sound more luxurious and the Eurolox makes it completely possible. 
Another neat feature of this little guy is its versatility. What this means for you is that you can use it on food, but you can use the smoker for drinks just as well. You can infuse a delicious cocktail or add an extra layer of flavor to your favorite whiskey. You can add wood chips for smoking, but can even place tea, herbs, or spices to make all of your varying infusion dreams come true. The smoking process is around three to five minutes making it extra efficient.
If you are looking for an efficient food smoker gun that is able to be diversified in its functions, then the Eurolux Infusion Smoker is a great option for you. Your guests will be thrilled at the marvelous flavors you are able to embrace in the types of food you smoke with this type of device.
The MITBAK Portable Handheld Cold Smoking Gun has a few fun features among many other more standard ones. First, it comes with a smoking dome which can be a great feature when you are trying to show off your culinary skills to your dinner party. It is specially designed and makes smoking individual items with flare a total breeze. 
This smoker can be handheld during use, but you can also sit and leave it to smoke on its own if you are busy around the kitchen preparing other things. This smoker has also been made to be portable. No longer will you be confined to the space that your extension cord allows you to be.
Even better than it being portable, it has a long battery life and can be recharged when your smoking has drained its life (good for you, exhausting for the smoker). This smoking gun comes with all the bells and whistles and makes a great smoker for those who are entering the world of infused foods for the first time. Even as a gift, this smoking gun will impress even the most weathered of chefs. 
The Gourmia Portable Infusion Smoker is a super compact and easy to use smoking gun. It has a very sleek design and makes a very minimalist statement when perched on your counter. Even with its small size, this smoking gun can create everything you want in your smoking ventures without pulling along too much equipment along with it. 
You do not need a ton of space to keep this bad boy in your home and it can get the job done in a matter of minutes without being plugged in. This smoking gun is not rechargeable, but have no fear, it has a great battery within it that works with the touch of a button. 
Take this smoker to any pool party, boys night, wine evening, or simply to spice up your salmon at home. The Gourmia can go far and wide with its accessibility and ability to produce a large amount of smoke regardless of its small size. If you want all the bells without the whistles, then this smoking gun is the one for you. 
The TMKEFFC Smoking Gun Food Smoker Infuser is actually quite an attractive smoker. It is available in two different colors, but the gold color is one that looks sleek as you prepare the most deliciously infused dishes. 
Along with its aesthetic appeal, you can use all sorts of wood chips and other sorts of smoking items such as dried flowers and herbs to infuse all sorts of dishes. This smoking gun is also great as it is completely portable. Keep in mind, it is battery charged and the batteries must be supplied by you. 
If you are wanting a smoker that is rechargeable or contains a strong battery that is provided by the producer to keep it running, this may be something to consider as your at-home batteries will not have a super long life-span. 
Other than this, the smoking gun produces a great amount of smoke and is easy to clean when it has seen a few too many dishes. Easy to assemble and disassemble, this is a great smoking gun for those who like all things pretty. 
The Nia Home & Kitchen 2-in-1 Smoking Gun Cold Smoker and Vacuum Sealer is another smoking gun that is able to provide for all of your needs for smoking but can also keep your dishes fresh by using its provided vacuum sealer. 
It has three different smoking levels as well helping you to have control over the level of smokiness flavor you desire for differing dishes like cheese or fish. This bad boy can stand on its own as well which helps you to leave it and forget it while tackling other duties. 
One great feature that this smoking fun possesses that many others do not is that the detachable burn chamber and smoking barrel are completely dishwasher safe. This is good news for those of you like me that absolutely hate having to hand wash anything after a long day of cooking, nobody needs that! 
This smoker is also very quiet so you can continue to talk with those around you while you smoke without having to raise your voice over a loud hum. So, whether you are using the Nia Home & Kitchen 2-in-1 Smoking Gun Cold Smoker and Vacuum Sealer for a larger or smaller gathering, you are sure to be in the safe zone.
The Costway 2-in-1 Professional Smoking Gun is a smoking gun that comes with all the equipment you could ever need. It is a smoker and vacuum sealer as well, but it will arrive with a USB charging cord, vacuum sealing bags, and a few other items to get you started and keep you smoking going. It is portable, but it is also able to stand alone on its own without the fuss of standing over your dish for precious minutes. 
This smoker has three different smoke levels, but can all be controlled with the press of only one button. The LED light on the outside helps to indicate the level of smoke that is being produced which can help you gauge intensity. 
To be even more daring, create even more smoky flavor without worry about overheating your dish due to its cold smoking abilities by smoking your dishes twice! That's right, twice. The more (intentional) smoke, the better, right?
The Wancle Smoking Gun Food Infusion Smoker is actually a bit deceptive in its name. It is not a gun in design but is actually a sort of smoking box that can be easily set on countertops. It produces a very thick smoke and although not classified as a cold smoker, the heat produced by the Wancle is blocked and comes out at a much lower level of heat. 
Consider this aspect when it comes to the Wancle. It is not a cold smoker, which can make smoking items like drinks and cocktails relatively difficult. Even though the heat dispersion is low, heat is still produced with the smoke and this can affect dishes such as cheese or cold meats. 
If you are not in need of a smoker for cold items, then this is a fantastic option for you. It is also extremely affordable which is always a win for you and your wallet! So, consider what your needs are for smoking and then decide if the Wancle fits the bill.
The Handy Smoker is a great option if you want something sleek but also need something with a few more items to go along with it. The Handy Smoker comes with a smoking dome as well as a cup lid cover to help infuse liquids. Both of these are great to have on hand without having to find something around the house to contain the smoke within either your dish or your drink. 
We all want to make life a bit easier, and with the products that come with the Handy Smoker, that is possible. The Handy Smoker smoker also comes with two smoking levels as well. Although not three as some have, the two levels should be plenty to get the level of smoke you want for any recipe. 
This smoker is portable and battery-powered but does require batteries provided by you. Keep this in mind if you want a smoker that is rechargeable because the Handy Smoker does not offer such a feature. Regardless, it has a lot of features that can justify the need for batteries. 
The worst part about getting something in the mail is realizing you do not have everything you need to get started immediately on the task you planned to get going the second it arrived. It is absolutely infuriating, but the Gramercy Kitchen Co. Portable Smoke Infuser Bundle changed all of that for you. Instead of having to go out and buy your own wood chips or buy them separately online, wood chips are provided with this smoking gun, meaning you can get started as soon as you open the box. 
This smoker is totally portable and comes with its own cleaning brush to make scrubbing up a breeze. It also comes with replacement parts just in case things for some reason go south as well as a storage bag to keep all of its accessories together. 
There are few things as frustrating as losing needed parts in the black abyss of drawers, and this smoking gun solves that problem. Smoke away with plenty of smoke and lots of sleekness with the Gramercy Kitchen Co. Portable Smoker!
The Polyscience Breville Gun Pro Smoke Infuser smoking gun is actually quite interesting in its smoking process. Instead of a different setting to control the level of smoke being produced by the gun, this product actually has an easy-turn dial that customizes the airflow and smoke intensity that is being administered to your food or drink. 
By having this dial, you are able to more precisely control the intensity of smoke that infuses your dishes, as sometimes you need something in between. This smoker is portable and can be easily disassembled without the use of tools, making it super low-maintenance and user-friendly. 
If you are on the fence about what types of wood chips to use, this smoking gun comes with wood chip samples to help you decide on the flavor that you like before putting down the money to invest in chips you end up not liking. The chamber and smoking barrel are also dishwasher safe which is a win for everyone. 
If you are wanting a smoking gun, but do not need something too big or super professional, the Chefhut Portable Smoke Infuser is a great option for you. This smoking gun is actually a mini food smoker, but can still be used on meats, vegetables, cheeses, and of course cocktails. 
It is great for those who do not tend to make big meals or simply want a smoker for their own personal use. This smoker takes up hardly any space, great for those with no room!
The Chefhut is a handheld device that does not require any outlet and is battery powered through the use of four AA batteries. Because of its smallness and use for smaller products, your batteries should be able to last a bit longer with this smoking gun. 
It is super user-friendly and because of its smallness and "get to business" design, it is very affordable. This is a great option for smaller smoking projects or even for someone who only wants smoked drinks. 
If you want something with absolutely every bell and whistle included, the Homia Smoking Gun Wood Smoker Infuser is the one for you. Yes, some smoking guns come with a few different parts and extras, but the Homia is unsurpassed in how much is unboxed with this product. 
You will get all your basic parts, but also a disk lid, smoking lid, smoking ball, four AA batteries, mesh replacements, seven different flavored wood chips, and even a cleaning brush. This is super easy to use with a one-button touch setting that can produce two smoking speeds. 
It can generate an impressive amount of smoke and will get your food and drinks perfectly flavored every time. If you need something that comes essentially "ready to use" upon arrival, this is a smoker you do not want to pass up. Tackle any sort of smoking venture with all of its fun accessories and impress every dinner guest you have ever had!
Final Thoughts 
Every at-home cook and professional chef is going to have personal preferences when it comes to smoking guns. Some will want one that is portable, others desire one that can stand on its own, and some want one that can easily fit in the smallest of storage places. This list does have the best of the best smoking guns on it, but keep in mind that everyone is different and one that may be the greatest to another may not be suited for your needs! 
Regardless, there is a slew of smoking guns available for those who simply want them at home in their own kitchen to use for quick get-togethers or Sunday brunches and there are plenty that can be used by even the most master of chefs. 
The prices and abilities of each smoking gun vary and can meet nearly any budget. To find the best smoking gun for you, be sure to consider your needs and how the smoking guns included on this list can help you to meet those!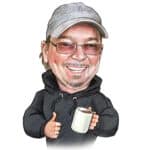 Scot has loved smoking food in his free time for the last few years. Each major holiday or off-weekend, Scot spends days testing and prepping new recipes for perfection.