Do you prefer grilling your favorite BBQ recipes on a gas grill? The direct and consistent heat-producing abilities of gas grills make them efficient for cooking all sorts of BBQ staples. If you are planning to invest in a new gas grill, then Weber is one of the leading brands to check out for. They are known for producing powerful and efficient gas grills, and two of their most popular series are the 'Spirit' and the 'Genesis.'
Weber Spirit is an affordable and compact gas grill with a GS4 grilling system. They are available in different sizes, colors, and options and come with a 10-year warranty. The Weber Genesis is the most advanced and expensive series, which is best suitable for multipurpose cooking and expanded functionality. All Weber Genesis products have a 12-years limited warranty.
Weber has over 60 years of experience in BBQ designing and innovation. Their original 'Kettle Grill' remains one of the most popular designs even today. The brand has constantly worked on innovation and design, and its latest launches are Spirit II and Genesis 325 & 435 gas grills. Continue reading to find out which one is better between two of their most popular series.
Weber Grill Genesis Vs. Spirit
Genesis Series
The Genesis Series, was launched in early 2022 and promises to deliver endless culinary possibilities. From the crispiest pizzas to producing stir fries and burgers, you can cook everything on the Genesis. All Genesis products are equipped with PUREBLU high-heat burners with over 39,000 BTUs per hour, which allows you to roast, steam, bake, and produce great results every time. You can connect the Genesis X Models with integrated Weber Smart Technology for real-time food monitoring through your mobile.
You have the option to choose between Genesis 3 or 4 burner grill, with or without Weber Connect Smart Technology. The advanced models of Genesis are also equipped with Night Vision LED grill lighting, expandable top cooking great for doubling the size of the cooking space, and a grill locker system. All Genesis models come with 12 years of limited warranty.
Reasons For Buying Weber Genesis
Versatility and High-end Multipurpose Cooking.
Large Grilling Surfaces.
Spacious with extra side tables and warming racks.
Includes more burners and higher BTUs than Spirit Series.
Extra large searing zones.
Enclosed cart system and expanded functionality.
Spirit Series
The Weber Spirit Series was first introduced in the 1990s. The Spirit Series are compact gas grills with foldable shelves and high-quality performance. They are relatively cheaper than the Genesis Series.
Spirit Grills have a medium-sized cooking space with an average of 30,000 BTU per hour. They are simpler in construction yet are efficient in producing efficient cookouts. The recently launched models, such as the Spirit II and the Spirit SX 315, can also be operated through the Weber Connect Smart Technology. These grills have flavorizer bars that prevent flare-ups. The Spirit Series come with 10 years of warranty.
Reasons For Buying Weber Weber Spirit
Affordable.
Simple yet intelligent design.
Easy to store and move.
Weber Spirit II Vs. Genesis II
The Genesis II series is the most advanced series from Weber. The re-engineered burners and the improved design ensure even heat distribution for high-volume cookouts. High heat boost setting, handle lights & LED control knobs, and cabinets for added storage makes the Genesis II extraordinarily easy to use and operate. They have also improved the grease management system and updated the flavorizer bars.
After almost three decades, Weber Spirit II was introduced in 2018. The enhanced and lightweight version of the Spirit Series features an expansive grilling area than the previous versions. There is also an upgrade from the primary cabinet design to the open-cart design of the new version. The propane tank is tucked-in neatly, and the improved design of the wheels makes it easy to move, especially on rough terrains. Spirit II comes in a range of colors such as ivory, mocha, red, and mahogany to complement your backyard setup. The available models from this line are – Spirit II E 210 (Liquid Propane & Natural Gas) and Spirit II E-310 (Liquid Propane).
The Spirit Series is recommended for small gatherings and everyday grilling needs for your home, whereas the Genesis is recommended for preparing full-sized meals for large gatherings or professional needs. Genesis II is quite expensive. Even the older version of the Weber Genesis Series costs exponentially higher than the all-new Spirit II model.
Other Popular Gas Grill Models From Weber Spirit And Genesis
Weber Genesis Series
Weber Genesis E 355 Gas Grill
The Weber Genesis E355 comes in two variants. The one with three gas burners has 787 sq inches of cooking space, which can fit in 20 burgers at a time, while the other one with four gas burners has 994 sq in of cooking space and can fit in 28 burgers. With an input of 39,000 BTU per hour (three burners) and 48,000 BTU per hour (four burners), the unit is a powerful beast, crafted for baking, searing, roasting, and more. It has a large searing zone and is equipped with an excellent storage system. The model is quite expensive for a gas grill.
     1. Weber Genesis S 335
The Weber Genesis S 335 is an innovative gas grill that creates a full outdoor culinary experience. The model has an extra large preparation and serving table, expandable top cooking grate, extra large searing zone, and high-performance PureBlu 39,000 BTU burners.
Weber Spirit Series
   2. Spirit E 210 Gas Grill
The Spirit E 210 is a medium-range gas grill. It has porcelain enameled and cast iron cooking grates that retain heat efficiently and ensure tasty cookouts every time. It has 450 square inches of cooking space (360 sq in of main grilling space), which makes it a compact gas grill to suit your everyday grilling needs.
   3. Spirit E 310 Gas Grill
The Spirit E310 is a perfect solution for a small crowd. With 32,000 BTU of total cooking input and 529 square inches of cooking space (424 sq in of main grilling space), it can efficiently grill and sear all kinds of food. The model is easy to clean and is resistant to rusting and peeling.
Difference Between Weber Spirit And Genesis,
In a nutshell, the following are some of the key differences between Weber's Spirit and Genesis:
Weber Spirit

(reference model: Spirit E310)

Weber Spirit II

(reference model: Spirit II E310)

Genesis

(reference model: Genesis E 335)

Genesis II

(reference model: Genesis E 435)

Average Heat Output
32,000 BTU
30,000 BTU
39,000 BTU
48,000 BTU
Color Options
Black
Black, Ivory, Mocha, Red, and Sapphire.
Stainless steel, black, copper, deep ocean blue.
Black and stainless steel.
Cart Style
Closed Cabinet
Open Cart
Open Cart
Open Cart
Number of Wheels
4
2
2
2
Side Tables
Side tables, warming racks, and tool hooks are available.
Folding side tables on the left with an integrated hook design.
Includes extra large prep and serve tables.
Includes extra large prep and serve tables.
Cooking Space (sq in)
529
529
787
994
Number of burgers to fit in
15
15
20
20
Warranty
10 Years Limited Warranty
10 Years Comprehensive Warranty
12 Years Limited Warranty
12 Years Limited Warranty
Both Weber Spirit and Genesis have X or SX or smart grill options. Some of the best models are Spirit E 310, Spirit II E-310, Genesis EX 325S, and Genesis SX 325S. The 'E' models feature porcelain-enameled grates, 'S' models have stainless steel design, while 'X' specifies a smart grill enabled with Weber Connect Smart Grilling Technology.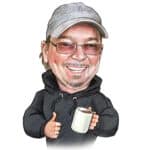 Scot has loved smoking food in his free time for the last few years. Each major holiday or off-weekend, Scot spends days testing and prepping new recipes for perfection.