Tacos are special meals for many as their incredible taste is on another level. Moreover, fish tacos make a healthy and perfect alternative to regular tasks despite the incredible flavor. However, it is easy to get confused when deciding the best sides for fish tacos.
To identify the best side dishes for tacos, you must be creative and remember that the side dishes you settle on should complement the fish tacos. On that note, Pico de Gallo, Manga salsa, Caesar salad, Jalapeno poppers, Mango Guacamole, and Mexican Rice can make a perfect side dish for fish tacos as their color and taste beautifully complement the fish tacos.
Besides being creative with your side dishes, you need to understand that how you cook your fish tacos may influence your side dish choice. Technically, there is more to choosing the best sides for fish tacos, so you need to read this article to the end.

What Are Good Sides For Fish Tacos?
Fish tacos are delicious meals regardless of whether you grill, bake, or fry your fish. Thus, you do not want to spoil the great taste by choosing the wrong side dishes. Here are some of the excellent side dishes you should try.
Jalapeno Poppers
These are one of the most common side dishes for fish tacos. Their spicy flavor and crispy texture make them an easy complement to a delicious fish taco meal. Moreover, they are easy to make as they require simple ingredients that you can easily access in your kitchen.
Plus, you do not need to fly them deep as you can use an air fryer to make them fantastic and save the energy you would have used to deep fry them.
Mango Guacamole
Mango Guacamole is another fantastic side dish for fish tacos as it combines one of the healthiest ingredients, such as lime, avocados, mangoes, cilantro, and salt. In addition, this side dish allows you to experiment with its flavor and taste. For instance, you can add different fruits and vegetables to render them more appealing to your taste and preference.
Besides using mango guacamole as a side dish for fish tacos, you can incorporate them in your breakfast deviled eggs, sandwiches, or sweet potatoes.
Caesar Salad
The Caesar Salad easily complements the texture and flavor of the taco fish because it is light, creamy, and versatile. The absence of eggs or anchovies in the mixture makes it even more unique.
Moreover, you can make the side dish heart-friendly by incorporating healthier ingredients that appeal to your taste buds.
Mexican Rice
Although white rice can serve the same purpose, trying out the traditional Mexican dish made with brown rice will be a good idea. The gorgeous color perfectly pairs with your fish tacos to give you a delicious meal.
Pico De Gallo
If you have never given the Pico De Gallo a taste, it is high time you give it a try. Nothing is better and tastier than fish tacos paired with Pico De Gallo.
Queso Fundido Dip
The Queso Fundido Dip features a rich flavor and texture that perfectly pairs with the fish tacos. Imagine dunking your fish tacos on tasty, melty queso Fundido dip. You are going to love every bite. The recipe is carefully crafted from whole milk, butter, goat cheese, flour, and black pepper. When preparing the Queso Fundido Dip, you need to ensure that it turns golden brown before you can sprinkle it with chopped cilantro.
The Best Sides For Fish Tacos
When it comes to deciding on the best sides for fish tacos, the list is endless. Therefore, you need to have a good way of narrowing them down to settle on the best. The best sides for fish tacos should be delicious and healthiest. Here are the top 5 best sides for fish tacos.
Mango Avocado Salad
The mango avocado salad combines excellent flavors that perfectly work with fish tacos. In addition to being healthy, the Mango avocado salad combines sweet, crispy, sour, and creamy tastes to give a savory meal. You can boost the salad's flavor by infusing garlic and chili powder to have a delicious crunchy salad that perfectly complements fish tacos.
Rice Salad
The rice salad comprises different grains and vegetables making it one of the hearty side dishes packed with various nutrients. You will only need about 30 minutes to prepare a rice salad, which will be a perfect option when hosting a dinner party. Moreover, it is what it takes to feed your guests to satisfaction.
Refried Beans
Another excellent side dish for fish tacos is refried beans. While the name suggests that the beans have been fried twice, that is not the case. The name only emphasizes that the beans are perfectly fried and hence scrumptious.
The flavor and the texture perfectly complement the fish tacos to give you an excellent feast. You can eat the beans as a fish taco topping or put them on the side. It all depends on how you deem it fit.
Elote
Elote is grilled corn but topped with Mexican elements to make it even more impressive. If you have never tried Elote, it is a pretty simple meal to prepare. All you need is to slather grilled corn with sour cream, mayo mixture, cotija cheese, and chili powder. You may need to squeeze a little bit of lime juice before you can serve.
Sweet Potato Fries
Another excellent and sweet side dish that perfectly matches fish tacos is potato fries. Besides being quite flavorful, it is a healthy side dish you enjoy without worrying about any health problems.
Furthermore, sweet potatoes are easy to prepare as they do not require you to utilize extraordinary cannery skills. Rubbing the sweet potato fries with a mix of paprika, cumin, chili, and garlic powder before baking offers an excellent taste.
Healthy Sides For Fish Tacos
Although the list of sides for fish tacos is endless, not all of them might appeal to you if health is your number one priority. In that case, you may need to be a bit picky. However, this does not mean that the list above is not healthy.
Watermelon And Tomato Gazpacho With Chimichurri Sauce
The Watermelon and Tomato Gazpacho with Chimichurri Sauce is one of the top healthy side fish tacos to try out. The sweet juiciness of the watermelon and the tomato perfectly pair with the fish tacos to give you a delicious meal. In addition to being delicious, the side dish features several healthy nutrients, including potassium, vitamins A and C, magnesium, and many others.

Pickled Vegetables
Pickled vegetables are incredibly easy to make and come with a great flavor. All you need to make this healthy and delicious side dish for fish tacos is some carrots, onions, cucumbers, and onions.
Further, you will need water, sugar, salt, and apple cider vinegar.
Cut the ingredients and boil them with some salt for an hour and let them cool down.
Shrimp Avocado Salad
The shrimp Avocado Salad is a perfect combination of flavors that goes well with fish tacos. It combines sour, sweet, and creamy flavors to render a delicious side dish for fish tacos. The ingredients for making this side dish are simple as they include salt, lime juice, red onion, avocados, mangoes, cilantro, and pepper. You may need to incorporate chili and garlic powder to enhance the salad's flavor.
Conclusion
Fish tacos are generally easy to make and delicious. However, to enjoy them to the maximum, you should carefully pick the side dish to make them even more delicious. Pico de Gallo, Manga salsa, Caesar salad, Jalapeno poppers, Mango Guacamole, and Mexican Rice are some of the best side dishes you should consider.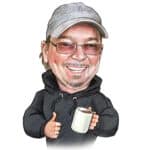 Scot has loved smoking food in his free time for the last few years. Each major holiday or off-weekend, Scot spends days testing and prepping new recipes for perfection.