A portable grill is a must-have for any outdoor grilling enthusiast. However, the numerous brands of portable charcoal grills in the modern market can make it hard for anyone to pick the best one for their use. So, what is the best portable charcoal grill for outdoor BBQ ventures?
The best portable charcoal grill is the Masterbuilt Portable Charcoal Grill. The grill features a simple version of technology to make your outdoor cooking easy and convenient. Further, the Masterbuilt Portable Charcoal grill is porcelain-coated for evenly cooking, heats up quickly, and is easy to clean.
Besides the Masterbuilt portable charcoal grill, the Weber Jumbo Joe Charcoal Grill is another excellent grill that makes perfect outdoor equipment for any outdoor grilling fans. With portability, durability, and ease of cleanliness, the Weber Jumbo Joe Charcoal grill is worthy of your attention. Read on to find out more about the best portable charcoal grill.

How To Choose The Best Portable Charcoal Grill
One way to purchase the best portable charcoal grill for outdoor ventures is to understand what to look for in the finest grills. When you have a good understanding of some of the essential factors to consider when shopping for a grill, the chances are that you will make the right choice.
The Size
The size of the portable charcoal grill is among the essential considerations you will need to make. While you should ensure that the grill is not too large to make its portability challenging, it should be large enough to help cook and take care of your companions. In other words, you must consider the number of people the grill will be catering to. Notably, a cooking surface of 300 square inches is enough to feed about four people.
The Weight
Besides the size of a grill, the other essential factor that will affect its portability is its weight. For a grill to be portable, it must not be too heavy to transport. Therefore, when shopping for a portable charcoal grill, ensure it does not weigh over 40 pounds. A single person can easily carry a 40-pound grill with a lot of ease.
Compactness
The main objective is to find a grill that is easy to carry and transport. Thus, in addition to weight and size, the grill must also display a reasonable level of compactness and ease of packing to guarantee portability. For instance, the grill should easily fold down and be easy to pack. The more compact a portable grill is, the better, as it can perfectly fit in car trunks, backpacks, canoes, or RVs.
Ease To Clean
You also need to ensure that you are investing in a grill that is easy to clean. Whenever you go for outdoor ventures, the chances are that you will have other important things to focus on rather than trying to clean your grill. Therefore, settle for a grill that won't give you a hard time when it comes to cleaning. Factors such as the shape, the depth of the charcoal bin, the presence of ash drawers, and the weight of the grill can have a significant impact when it comes to cleaning a grill.
Durability
As much as you love exploring different outdoor grilling techniques, you definitely would not fancy a situation where you must purchase a grill now and then. Consequently, it is vital to ensure that you buy a grill of quality materials that can withstand the test of time. Generally, a portable grill made of steel or cast iron can serve you for a long time.
The Best Portable Charcoal Grill
The Masterbuilt Portable Charcoal grill is the best portable grill to get. With features such as efficient cast-iron cooking, even distribution of heat, ease of cleanliness, and high portability, the grill is destined to make your outdoor grilling awesome. Furthermore, the grill is easy to use.
How To Use Portable Charcoal Grill
Besides investing in the best portable charcoal grill, you must ensure you know how to use it well. Regardless of the grill's quality, if you do not know how to use it well, you will never have a good cooking experience. There are several tips that you need to make use of your portable charcoal grill effectively.
Always Ensure That Your Grill Is Clean.
One of the critical factors to consider when shopping for a grill is the ease of cleanliness. Cooking using a dirty grill will lower the quality of your meals and expose you to health hazards. Further, the old fats and food can burn to make your food bitter, which is the last thing you want to experience during your grilling ventures.
Therefore, before you start the grilling process, ensure that your portable charcoal grill is clean. Cleaning your grill before you start using it is straightforward. Additionally, it is vital that once you finish with your grill, wash it in preparation for future use.
Get The Right Tools Ready
Besides ensuring that your charcoal grill is always clean before using it, you must also have all the necessary tools ready. Sometimes fumbling with your tools while your steak is on the grill can result in overcooking, which will spoil the quality of your food. Hence, before you start grilling, ensure that you have all the necessary equipment available. Some tools you may need include grill tongs and a spatula, a grill basket, gloves, an instant meat thermometer, and so on. The idea is to ensure you can easily access any tool you want to make your cooking straightforward.
Plan Ahead
Before you start your grilling, you need to plan for it well. Effective planning is necessary because it determines how much fuel you will need to complete the cooking process. It is also essential to keep a good stock of charcoal so that you will never have to stop halfway because of running out of fuel. The additional items that you may need to make use of your portable charcoal grill effectively include;
Wood pellets or chips for enhancing the smoky flavor of your food
Heavy-duty butcher paper or aluminum foil for wrapping the meat
Brush and sauce for basting and layering the meat for enhanced flavor
Two-Zone Cooking
Regardless of the type of food that you are preparing, it is necessary to have a hot and less hot zone on your grill. A two-zone provides the flexibility you need to cook your meals perfectly. Moreover, a two-zone offers a safe spot where you can instantly put your food if you think it is cooking too fast or it may overcook.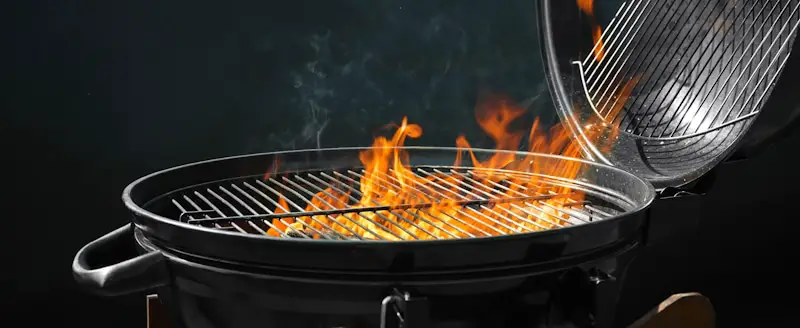 Choosing Your Fuel
Briquettes and lump wood charcoal are the two main types of charcoal that you can use for your grilling ventures. While both the briquettes and lump charcoal are great for grilling, the lump charcoal is the best for most barbecue enthusiasts because they are 100% natural. Additionally, they are excellent for adding different flavors to your food.
On the other hand, the briquette may not add any significant smoky flavor to your food. If you decide to utilize the briquettes in your outdoor grilling, ensure that you invest in quality briquettes that do not have additives.
Conclusion
If you are an outdoor grilling enthusiast, a portable charcoal grill is a must-have. It not only provides an opportunity to impart a delicious smoky flavor to your food, but also it is easy to use. The Masterbuilt Portable Charcoal Grill is the best as it ticks all the boxes, including durability, portability, and ease of use.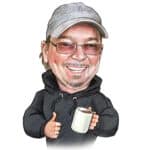 Scot has loved smoking food in his free time for the last few years. Each major holiday or off-weekend, Scot spends days testing and prepping new recipes for perfection.