Smoking meat is an ancient culinary practice. Whether it is a juicy hot steak or smoked pulled chicken, it is literally tough to resist the explicit aroma and texture of freshly smoked meat. However, as rightly said by wise men – 'everything that is good, comes with a price.'
Smoked meat from wood produces certain byproducts such as Polycyclic Aromatic Hydrocarbons and Nitrosamines. These compounds are known to be carcinogenic or cancer-causing agents. Improper cooking techniques can increase the levels of these toxic compounds, which can make regular consumption of smoked meat bad for your health.
Smoked meat is not just relished for its incredible taste, but it is also known to be healthy, proteinaceous, and nutrient-rich. However, the very first evidence for the connection between smoked meat and its health effects was found in the 1960s. So, is having smoked food bad for you? Read more to find out: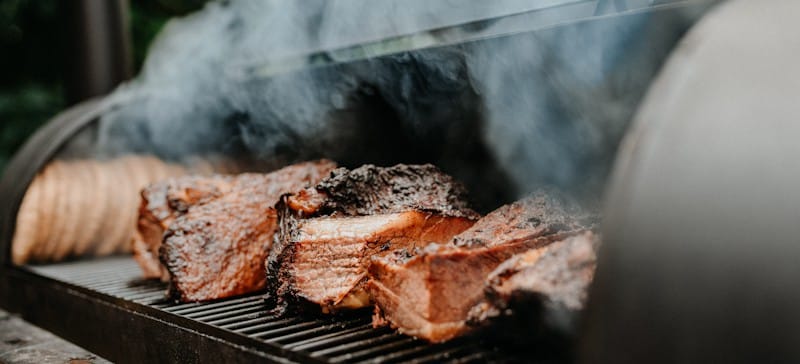 Why Is Smoked Meat Bad For You?
Smoking is the process of slow cooking and flavoring meat. The charred appearance, barbequed aroma, and unique juiciness of the meat are the top reasons why so many of us love smoked meat. However, the same process that makes smoked meat taste so good actually contaminates it.
There are several reactions involved in smoking meat. When fat from the meat melts and the juices drip over the hot flame, smoke is produced. During this process, N-nitroso compounds, Heterocyclic Amines (HAs), and Polycyclic Aromatic Hydrocarbons (PAHs) are formed. HAs, in particular, are made when amino acids in the animal protein react to sugars and creatinine at high temperatures.
These compounds stick to the meat's surface and are unknowingly consumed. According to recent scientific evidence, it was found that such compounds are genotoxic and mutagenic and are responsible for increasing the risk of cancer.
What Are The Dangers Of Consuming Smoked Meat?
PAHs and HCAs are found in meat that is smoked at high temperatures. The following is a list of health risks associated with consuming these compounds on a regular basis:
Cancer – Gastric or Stomach cancer is the most common type of cancer caused by regular consumption of smoked meat. There are certain enzymes in our body that metabolize PAHs and HAs and produce compounds that damage our DNA. In fact, the World Health Organization (WHO) has classified processed meats, including smoked meat, as Group I carcinogens. Spreading of cancer outside the gastrointestinal tract is also linked to pancreatic, breast cancer, and prostate cancer.
Stomach Infection – Smoked food increases the risk of bacterial infections associated with E.coli and L.monocytogenes. Overproduction of E.coli can cause diarrhea and stomach pain, while L.monocytogenes are responsible for causing listeriosis. Smoked fish, in particular, have a high rate of contamination. Consuming processed cold smoked meat is also not considered as healthy since the process does not kill the pathogens very effectively.
Problems in Pregnancy – It is explicitly advised that pregnant women should avoid having smoked meat as it could be contaminated with parasites and bacteria, which can possibly affect the baby.
Overconsumption – The taste of smoked food is undoubtedly tempting. This could lead to overconsumption of calories, especially saturated foods like sausages or pork. Overconsumption can, in turn, increase the risk of weight gain and heart diseases.
Increased Salt Intake – Smoking meat usually starts with the process of brining. This elevates the amount of salt in the meat and may be responsible for increasing the risk of cardiovascular and kidney-related diseases.

Should You Consume Smoked Meat?
Smoking food has been practiced all over the world for centuries. However, not all smoked food is dangerous, and the quality depends upon the ingredients, additives, and processes used for cooking the meat.
While it is practically not possible to completely eliminate the toxic compounds, the levels can be reduced by using proper smoking techniques. The factors that make consuming smoked meat safe are:
Maintaining Good Manufacturing Practices – Some of the GMPs to follow are:
Do Not Consume Burnt Food – Burnt or overcooked food has higher levels of PAHs and HCAs. Therefore, always check the temperature and frequently turn to avoid burning the food. Discard the blackened/ charred or heavily burnt areas.
Trim the fat portions of the meat – Though it is fat which brings the actual taste to slow-roasted meat, do remember that saturated fat in meat contributes to weight and increases the risk of cardiovascular diseases & therefore, should be avoided.
Low temperatures – Opt for low cooking temperatures to reduce the production of PAHs and other chemical compounds during smoking.
Marination – Marinating the meat with vinegar, wine or lemon juice, oil, herbs, and spices is the key to adding a protective layer. The process significantly lowers the amount of HCAs and PAHs produced.
Cooking Time – Avoid prolonged cooking hours so as to decrease the formation of PAH and HCA.
Type of Cuts – Choose thinner cuts that will smoke faster. Since fat dripping on meat is responsible for the formation of toxic compounds, it is best to use poultry or lean cuts, such as tenderloin, loin, or sirloin.
Type of Wood/ Fuel – The choice of wood also determines the quality of smoke produced. Instead of softwoods, always use wood without resins or hardwoods such as Hickory, Oak, Maple, or Pecan wood.
Always keep the grill surface clean, use the right kind of wood/fuel and try to avoid smoky flare-ups.
Reduce Quantity or Frequency of Consumption –  Though there are no federal guidelines that recommend the amount of smoked meat that you can consume, having one or two servings of smoked meat every week can be considered safe. When you reduce the quantity or frequency of consumption, your body automatically receives lower levels of the toxic compounds, which can be easily eliminated and can significantly reduce the risk of damage.
If you are regularly consuming processed, smoked meat, such as ham sausages, bacon, and hot dogs, you may be at a much higher risk. Such processed food undergoes treatments like curing and the addition of chemical preservatives that increase the levels of cancer-causing N-nitroso compounds.
Is Pellet Smoked Food Bad For You?
Traditionalists usually prefer outdoor barbeque smokers, but today many food enthusiasts are switching to pellet smokers. Pellet smokers work by heating food in a cooking chamber and using food-grade hardwood pellets to smoke the food. They do not get as hot as regular charcoal or gas barbeque grillers and are a great option for cooking fish, brisket, racks of ribs, and turkey.
Now since pellet smokers produce lower amounts of heat and use wood that burns slowly and cleanly, the volume of toxic ingredients produced is much lower. Therefore, pellet smokers are pretty much a healthier option than the traditional ones.
What Are The Alternatives?
You can try using a natural liquid smoke substitute. Liquid smoke gives a similar taste and texture to that of perfectly smoked meat but with significantly lower amounts of toxic ingredients. It is made by condensing smoke from burning wood followed by filtration, which removes the toxic impurities. Liquid Smoke is available in different flavors and can be easily introduced into your marinades, sauces, and dressings to draw deeper flavors.
Our ancestors would probably never imagine a weekend without smoking food in the backyards. However, it was the right cooking technique and quality of the ingredients that always did the magic. Always make sure to consume fresh meat and combine it with lots of vegetables to reduce portion size. Smoking food is not really bad for you as long as you can bring down the levels of toxic compounds and produce food that is juicy, tender, healthy, and extravagantly delicious!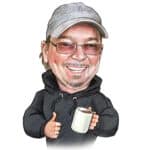 Scot has loved smoking food in his free time for the last few years. Each major holiday or off-weekend, Scot spends days testing and prepping new recipes for perfection.