An outdoor fire pit has many practical benefits, including creating a cozy outdoor atmosphere, lighting up the night, cooking, and even enhancing the value of your property. However, to get the most from your outdoor fire pit, you need to implement some creative outdoor fire pit seating ideas.
To create a relaxing atmosphere, embrace creative fire pit seating ideas. The use of wood furniture, circular benches, outdoor wicker, rounded sofa, classic Adirondacks, a simple sofa, a pair of loungers, outdoor daybeds, hanging egg chairs, and lounge chairs can give your outdoor fire pit an incredible ambient touch.
Regardless of the outdoor fire-sitting idea you embrace, you need to ensure that the quality of the chairs is top-notch. Besides, you may have the best idea, but without quality chairs, the chances are that you will not accomplish the desired outcome.

Fire Pit Seating Ideas
If you are looking for the best outdoor fire pit seating ideas to help create a cozy and relaxing environment for yourself or your guests, here are the top ideas you should check out.
1. Wood Furniture
You are probably still looking for the best outdoor fire pit idea because you are overthinking. Sometimes a simple concept can solve the problem. A set of quality wood furniture strategically arranged around your outdoor fire pit to maximize available space will see you get the cozy, soothing environment you need. Nonetheless, when shopping for wood furniture, you need to invest in an excellent design that will enable you to get the most out of the available space.
2. Circular Benches
One of the obvious strengths of circular benches is that they are quite economical when saving on space. Additionally, the design makes it easy to have a conversation, especially when many guests are involved.
3. Swivel Chairs
Swivel chairs can also turn your outdoor fire pit into a haven of relaxation. After investing in quality swivel chairs, you will need to bring a combination of well-thought sitting ideas to ensure that you bring out the real value of these chairs.
The swivel chairs are short enough to ensure that they do not block any incredible views around, including the view of a swimming pool when they are not in use.
4. Outdoor Wicker
Outdoor wicker allows you to create a modern, relaxing point in your home. In addition to injecting a playful element into your outdoor area, it makes it more appealing to the eye. Additionally, the outdoor wicker is designed in such a way that it can accommodate more people.
5. Rounded Sofa
A rounded sofa is another incredible option that can help enhance the appearance of your outdoor fire pit. The round sofa can comfortably accommodate up to eight people. Therefore, if you are looking for a sitting idea that will help accommodate a high number, the rounded sofa will please you.
6. Classic Adirondacks
Sitting around your outdoor fire pit on your classic Adirondacks creates a relaxing ambiance. The Adirondack chairs are tall with reclined backs that make them excellent for relaxing and enjoying a conversation with your friends or family. Additionally, they are wide with sturdy armrests to provide a comfortable place to put your drinks. Although they are wide, you can place a couple around your fire pit.
7. A Simple Sofa
You do not have to embrace expensive chairs to make your fire pit appealing and comfier. A simple sofa can do the magic for you. Furthermore, a simple sofa is more accommodating than individual chairs. Again, you are likely to reap more from a sofa than single chairs when it comes to comfort matters.
8. A Hanging Swing Chair
If you want to inject some intriguing appearance into your outdoor space, then you can't go wrong with installing a couple of hanging swing chairs around your outdoor fire pit. With the push-throw pillows and blankets, you will enjoy every second around your outdoor fire pit.
9. A Pair of Loungers
If you are not concerned about space, the loungers will be a great option for your outdoor fire pit. Their reclining capabilities and adjustability make them excellent for relaxation. Further, they are normally made up of quality materials, meaning you can use them for a long time without needing to replace them.
How To Make Fire Pit Seating Area
You only need a little experience to convert your home into a haven of beauty where you can comfortably relax with your loved ones. For instance, making a fire pit sitting is a straightforward process you can accomplish independently.
Here is one way of making an appealing fire pit seating area on your property.
Gather for pit materials – you have a wide range of materials that you can use, including RumbleStone Pavers.
Choose a Location – The next step is to determine the most appropriate location. 10 feet away from the house can be ideal.
Arrange the stone in a circular layer to outline the fire pit footprint
Outline the sitting area – A distance of about 12 feet from the fire pit will be best.
Dig the outline position for the fire pit
Fill the hole with a layer of gravel and finish the process with sand.
Lay the stones
Gather the supplies for the seating area. You will need enough fabric to cover up to 500 square feet.
Outline the seating area before applying the fabric
Spread the gravel out evenly
Add the seats of your choice.
Install lighting to create a more ambient environment
The out fire pit with the sitting area is ready at this point.
How Big Should A Fire Pit Seating Area Be
The sitting area for your outdoor fire pit depends on various factors, including the number of individuals you intend to accommodate.
Nonetheless, it is wise to ensure that it is large enough to accommodate a good number, especially if you are a family person.
The rule of thumb is to ensure that you have at least 7 feet of space around the edges of the fire pit. This is significant in the sense that it will accommodate enough furniture. Besides, a large space is better than a limited one.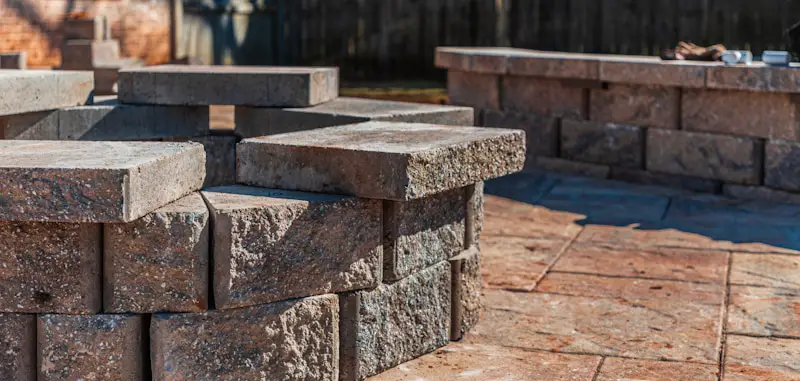 How Far Should Seating Be From The Fire Pit?
The distance for seating from the fire pit is essential as it can influence several crucial factors, including the walking space and the efficiency of the fire pit.
As a general rule, the seating area should be at least 3 feet from the exterior if it is a wood-burning fire and two if it is a gas-burning fire. In a wood-burning fire pit, the intensity of the fire may compel people to move further to avoid the scorching heat. Again, ample space between the fire pit and the sitting area is necessary for ease of movement.
Tips For Building An Excellent Outdoor Fire Pit
Since your outdoor fire pit will enhance the quality of your time at home, you should ensure that it is up to the standard. Besides installing quality chairs, there are several things that you may need to embrace for the best results.
Explore Different building options – Before building your fire pit, do some due diligence so that you have several options to choose from.
Consider accessibility – ensure that your outdoor pit fire is designed in such a way that it permits free movement.
Choose an ideal location for your outdoor fire pit. The place should be free of unfavorable winds.
Avoid using non-porous or flammable building materials.
Install a steel ring in the fire pit to prevent wall material from drying out
Consider the most available fuel for your outdoor fire pit before deciding on the fuel type.
Invest in a fire safety gear
Conclusion
Fire pit seating ideas play a significant role in making your outdoor fire pit more functional and entertaining. Before you decide on the most appropriate fire pit sitting viewpoint, compare the different ideas around you. Either wood furniture, circular benches, outdoor wicker, rounded sofa, classic Adirondacks, A simple sofa, a pair of loungers, outdoor daybeds, hanging egg chairs, or lounge chairs can help you inject some incredible functionality and appearance to your outdoor fire pit.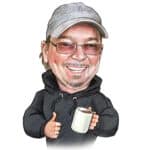 Scot has loved smoking food in his free time for the last few years. Each major holiday or off-weekend, Scot spends days testing and prepping new recipes for perfection.