Cast iron grills have become quite popular thanks to their meal efficiency. While there is no doubt about the efficiency of cast iron grills, there are challenges associated with finding the best-cast iron grills.
The FINEX Cast Iron Double Burner Griddle, Lodge LDCRG Cast Iron Reversible Grill, Uno Casa Cast Iron Griddle, and the Pit Boss 14×28 Cast Iron Griddle are some of the best-cast iron grills that will hardly disappoint. These iron cast grills have the qualities to give value to your money.
Since there are different brands of cast iron grills in the modern market, you need to ensure that you are well informed to be in a better position to make the right decision. Read on for crucial tips and details on purchasing the best-cast iron grills.

How To Choose The Best Cast Iron Grills
If you do not want to spend your money on poor-quality products, you should be ready to spare a good part of your time exploring all the features before making your decision.
The Design Of The Cast Iron Grill
When it comes to designs, you should expect to find a wide range of designs. Therefore, you have to determine the design that will be the most appropriate for you. Although we all love a large cooking design, no one wants a heavy grill because it is naturally hard to transport.
Small cast iron grills with compact designs are popular because they are easy to store and handle. If you like doing your grilling outdoors, the design, size, and weight should be among your top considerations.
The Usage
Besides the grill's design, the other critical factor you will need to consider is the surface that you will use them on. The best griddles should not limit you when it comes to surfaces you can use them on.
The Quality
Investing your money in a cast iron grill without closely examining the built-in quality is a big mistake. One of the essential things to look at when determining the grill's quality is the material. A quality cast iron grill should be able to serve you in a lifetime. In other words, if you invest in the best quality cast iron grill, you will never have to think of purchasing another one anytime soon as long as you take good care of it.
Grip Handles
Grip handles are essential because they ensure that you can easily grip and move the grill when needed. Since these utensils are not designed with coatings as they can easily melt away, it is crucial to ensure that the grips are large enough to allow a firm grip.
The Top 5 Best Cast Iron Grills
To make your work easier, we have reviewed the top five best-cast iron griddles to get for your use.
The FINEX Cast Iron Double Burner Griddle
The FINEX Cast Iron Double Burner Griddle is one of the best-cast iron grills you can get as it is perfect to use in any kitchen. The dual-side design and the efficient heating capabilities of the grill make it easy for you to cook juicy burgers or any other delicious meal.
Further, the grill is made up of pre-seasoned organic flaxseed oil, making it nonstick and rust-proof characteristics that can last for years.
Since the grill is very smooth and made up of quality materials, it is easy to clean, ensuring that you do not waste much of your precious time trying to clean it. In addition, the cast iron grill has a flat surface that provides ample space for putting potatoes or even eggs.
The Best Cast Iron Grill – Lodge LDCRG Cast Iron Reversible Grill
It is hard to discuss cast iron cookware without bringing the Lodge LDCRG Cast Iron Reversible Grill into the picture. Technically, the Lodge is an iconic brand for the manufacture of cast iron cookware.
The remarkable Lodge LDCRG Cast Iron Reversible Grill boasts smooth and ridged sides to give you attractive slated grill marks on your delicacies. Further, the grill is raised on the edges so that it can easily prevent spills. The reversible design and the ergonomic handles are some of the features that make the grill one of the best in the modern market.
The Uno Casa Cast Iron Griddle
The Uno Casa Cast Iron Griddle is another great reversible cast iron skillet that hardly disappoints. It is a favorite griddle for many grilling bosses, indicating that you are not likely to get disappointed if you invest in this fantastic piece of cookware.
If you want to cook pancakes, you deploy the flat side. The heavy-duty side of the grill is ideal for cooking steaks and other cuts that you might find delicious.
Further, the grill is pre-seasoned, meaning you do not have to worry about food sticking on the grill. All that you need is to ensure that you retouch the seasoning before you can embark on cooking your favorite meal.
Another interesting fact to note about the Uno Casa Cast Iron Griddle is that it can withstand high temperatures of up to 370 degrees Celsius, making it perfect for oven, gas, and open campfires.
The Pit Boss 14×28 Cast Iron Griddle
If you are a frequent entertainer, the Pit Boss 14×28 Cast Iron Griddle is designed for you. Many users like the Pit Boss 14×28 Cast Iron Griddle because it provides an ample cooking surface that allows one to cook various dishes at once. The handles on either side make it a bit longer, which is why you need to measure your grill to ensure it can comfortably fit.
Prices pulled from the Amazon Product Advertising API on:
Product prices and availability are accurate as of the date/time indicated and are subject to change. Any price and availability information displayed on [relevant Amazon Site(s), as applicable] at the time of purchase will apply to the purchase of this product.
The Scanpan(R) Professional Grill Pan
The Scanpan(R) Professional Grill Pan is efficient and durable. The cast aluminum construction and a safe nonstick coating make it one of the sought-after grills you can get.
In addition to grill ridges that sear and caramelize your meals, the pan heats relatively fast and uniformly, allowing you to cook your food evenly. It is important to note that you can use this pan on most cooktops other than the induction. Further, the pan can withstand as high heat as 500 degrees F.
How To Season Cast Iron Grill Grates
Once you purchase your best-cast iron grill, it is essential to follow these steps to season cast iron grill grates before you can use the grill for the first time.
Wash the grates using warm water and soap to remove dust and any debris from the packaging
Dry the grates with a clean towel before placing them back onto the grill
Heat the grill to dry the cast iron and open the pores
Turn off the heat and allow the grill to cool
Rub the grates with a thin layer of cooking oil and ensure that every corner of the grill is well coated
Heat the grill again at low-medium temperatures for 30 minutes to create a protective non-stick layer
Turn the grill off and allow it to cool before you can start using it
How To Clean Cast Iron Grill Grates
Ensuring your grill is clean is key to preparing healthy and delicious meals. Further, it is one of the strategies to maintain your cast iron grill so that it can serve you for a long time.
To effectively clean your cast iron grill grates, you need to burn off any food left on the grates and allow the grates to cool before scrubbing them with a clean nylon cleaning brush. Once the grates are clean, the next step is to dry and saturate them with vegetable oil.

The Black Iron Grills
Black iron grills create a welcoming atmosphere for grilling any meal. When shopping for the best black iron grills, always pay close attention to construction, design, performance, heat retention, and cleaning. The top five best iron grills are;
Jean-Patrique Cast Aluminum Griddle Pan
Lodge Pro-Grid Reversible Grill
NutriChef Cast Iron Reversible Grill Plate
Lodge LPGI3 Pro-Grid Cast Iron Reversible Griddle
Amazon Basics Pre-Seasoned Cast Iron Reversible Grill
Conclusion
While purchasing the best-cast iron grill for your cooking needs can be challenging, this post is there to make your work easier. After extensive research and comparisons, we can confidently front the Lodge LDCRG Cast Iron Reversible Grill as the best-cast iron grill to purchase.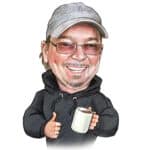 Scot has loved smoking food in his free time for the last few years. Each major holiday or off-weekend, Scot spends days testing and prepping new recipes for perfection.