Selecting the right grilling station usually depends on your cooking style and the level of convenience and user-friendliness you expect from your grill. When it comes to choosing the right model, there is no surprise that both Weber Grills and Napoleon Grills can be on your priority list. But which one is better: Weber Grills Vs. Napoleon Grills? Let's find out the key differences.
Napoleon Grills are generally preferred for pro-level cooking, compact and luxurious aesthetics, and extensive features, while Weber Grills are brought for their durability, ease of use, and flexibility. Napoleon not only offers quick and even cooking with its Infrared Technology but also offers higher heating capacity and more burners. But smart technology, construction, durability, and better customer reach are some of the traits of Weber Grills.
You must consider several factors before buying 'your kind' of grill. For instance, if you are looking for professional-level cooking with more cooking space, quick cookouts, more burners, and higher heating capacity at a decent price range, then you have some incredible options from Napoleon Grills. On the other hand, if you are a home-based pitmaster who wants to showcase some advanced cooking skills without much hassle, then there are dozens of options available from Weber. Keep reading to find out the complete review of Weber vs. Napoleon Grills.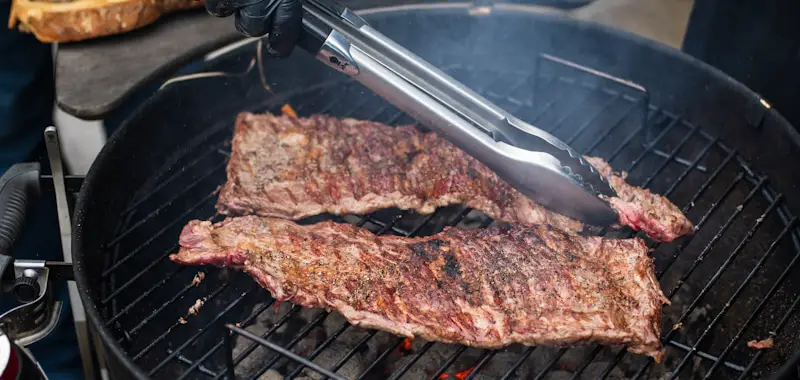 Which Is Better, Weber Grills vs. Napoleon Grills?
Brand Overview
Weber originally started as metal works way back in 1893. Upon the invention of the first-ever kettle grill in 1952, it became one of the pioneers in the BBQ industry. Since then, Weber has been well-known for producing top-notch smokers, grillers, and a wide range of accessories.
Launched by two German immigrants in Canada, Napoleon Grills also started its journey as metal works. Today, it is a subsidiary of Wolf Steel Ltd., and the company manufactures a wide range of heating equipment, including grills, stoves, heaters, in-built grills for your kitchen, and even fireplaces. Napoleon grills are known for their quality, compact design, and luxury features.
Product Lines
Both Weber and Napoleon Grills have a range of products, including Gas grills, Charcoal grills, and Electric/ Portable grills. However, Weber Grills additionally offers Wood Pellet grills. Here we are explaining the difference between three of their best-selling product lines:
1. Charcoal Grills
Weber Grills offers you more versatility with seven types of variants in the Charcoal Gill range, including Original Kettle, Ranch-style Charcoal Grills, Kamado Grill, and Smokey Mountain Grill. The Master Touch Premium Charcoal Grill 22" at $299 is one of their bestsellers which can produce gourmet style BBQ at an affordable price and is also equipped with several features such as direct and indirect grilling and a one touch cleaning system.
On the other hand, Napoleon Grills offer only five types of charcoal grills. All of them come with infrared grilling technology and are available in 22", 18", and 14" sizes. The Napoleon 22" Pro Charcoal Grill for $399 comes with a 10-year warranty and has a masterful airflow management system along with cooking grates that produce distinctive sear marks for a full-fledged grilling experience.
2. Gas Grills
Napoleon Grills are primarily experts in professional-level gas grills. Their Prestige Pro Series for $2,699 features up to 10 burners and 123K BTU. Both the Infrared Sizzle Zone burner and Rear Infrared Rotisserie burner are available which makes it ideal for cooking restaurant-style meals.
The infrared side burner has amazing searing power. Many of their gas grills can also be converted into built-in models. Other series in the gas grill line include:
For extensive backyard grilling – Phantom Series from $549, Prestige Series (up to 6 burners) and Rogue SE Series (up to 7 burners) from $1,299, Rogue XT Series (up to 6 burners) from $799.
Grilling for compact spaces at affordable prices – Rogue Series (4 burners) from $799 and Freestyle Series from $549.
The three main gas grill variants from Weber are – Genesis, Spirit, and Summit Series. Unlike Napoleon Grills, Weber offers a 'smart' upgrade that allows real-time food monitoring through your mobile.
Genesis Series ($999 to $2,099) – comes in 3 and 4 burner options, with or without Weber Connect Smart Technology. The series offers a high-tech way of grilling and comes with a 12-year limited warranty.
Spirit Series ($499 to 969) – The series is the perfect mid-range grilling station that comes with durable cooking grates, side tables for extra prep, 3 burners, and a decent cooking area of 529 square inches.
Summit Series ($2,649 to $4,499) – It is the ultimate grill cum rotisserie system from Weber that offers versatile grilling options, along with a searing station, rotisserie, and a rear burner. It can add a touch of smoke to the dish, supports rotation and perfect searing for your steak. The high-end series comes with a 10-year guarantee on all parts of the grill.
3. Electric & Portable Grills
The TravelQ and the TravelQ Pro Series from Napoleon Grills have sleek and stylish designs that can fit into any space. A total of ten models are available in the portable range that supports full-sized grilling capabilities and are available as propane, electric, and natural gas portable grill options.
The Weber Q Electric Grill is a portable series that can support small grilling needs. The series comes in two varieties, one with a cooking surface of 280 sq. in. and the other with 189 sq. in. Another portable option from the brand is the Weber Traveler that has only 1 stainless steel burner and 320 sq. in. cooking area.
So in the portable or electric line, Napoleon Grills seem to be the clear winner.
Design & Features
Quite undoubtedly, Napoleon grills have more crowd-pleasing aesthetics compared to Weber Grills. Napoleon Grills also offer more burners and higher heating capacity than Weber models. Here are some of the key differences in design and features of both brands:
| | | |
| --- | --- | --- |
| | Weber | Napoleon |
| Location of Gas Tank | Outside | Inside |
| Burners | Individual control for each | Features connected burners |
| Side tables | Usually non-retractable. | At least one foldable side table. |
| Highest BTU available  | 38K to 123K | 32K to 60K |
| Number of burners | 4 to 10 | 3 to 6 |
| Ignition system | Infinity | Jetfire (slightly more efficient) |
| Smart Grilling | Available in Genesis and Spirit Series | Not available |
| Warranty burner to burner | Up to 15 years | From 10 years to even a lifetime warranty in some models like the Prestige Pro 825 RSBI. |
For comparable models, Napoleon offers a larger cooking space compared to Weber Grills. Both the brands provide extra features such as arrangement for side dishes, backlight system, etc.
Note that the features differentiated above are for the majority of the models. Some models may have a different setup.
Availability
All products from Weber Grills are easily available on their website as well as on sites like Amazon, Walmart, and Homedepot.
Talking about Napoleon Grills, most of their products are either out of stock or unavailable online. However, you can browse through their official website and look for contacts of genuine Napoleon Grill dealers near you.

Technology and Ease of Use
If you are looking for technical advancements and user-friendliness, Weber Grills provide better control and usability than Napoleon grills. They also provide better temperature control and the provision of smoking. Weber Grills work by a system that uses vents to circulate the airflow. The circulation evenly distributes heat and ensures that the food is evenly cooked.
However, if you are a pro who is looking for consistency and better cookouts every time, then be assured that Napoleon models can provide quick and even results with its infrared cooking technology and versatile cooking options.
Final Take
While Weber can handle almost every task, products from Napoleon are more convenient for fast and professional-level cooking. For comparable models, Weber models are slightly priced higher than Napoleon models. Here are the best models offered by the brands in different price segments:
Entry-level models – Napoleon Rogue 425 and Weber Spirit II E 310.
Mid-range models -Napoleon Prestige 500 and Weber Genesis EPX 335.
Luxury gas grill lines – Napoleon Prestige Pro 500 and Weber Summit S 470.
Whatever grill you choose, always make sure to read genuine reviews before buying so that you get a better idea of what you are investing in.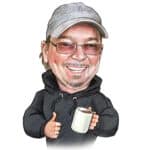 Scot has loved smoking food in his free time for the last few years. Each major holiday or off-weekend, Scot spends days testing and prepping new recipes for perfection.