A smoker tube is ideal for infusing a smoky flavor into your favorite meat. It offers a cost-effective way to modify your grill without spending much money. However, the problem is that many poorly constructed smoker tubes on the market make it hard to make the right choices.
Smoke tubes such as the Pellet Smoker, 12″ Stainless Steel BBQ Wood Pellet Tube Smoker, and the Lanney Pellet Smoker Tube are the best because they work on every type of grill, are made up of corrosion and rust-resistant materials, and are easy to clean. Further, they are 12 inches long to guarantee a 5-hour smoking period.
If you are looking for the best smoke tube for your pellet grill, read on for guidance and more details about the best smoke tubes for your use.

How To Choose The Best Smoker Tube?
With so many models of smoke tubes in the modern market, one has to be well equipped with qualities to look out for in the best smoker tube to make the right choice. Whether it is your first time or an experienced shopper, it is crucial to consider the following.
The Size Of The Smoker Tube
Top of the list of the critical factors you will need to consider is the size of the smoker. The size is significant because it determines the smoking duration. In other words, a large tube holds more pellets, aiding in a longer smoking time.
The other factors influencing a smoker's duration are the pellets used and the grill's working condition. If you require long smoking hours, you would need large smoke tubes. However, you must ensure that the tube can easily fit into your grill.
The Shape Of The Smoke Tube
The shape of the smoker tube also plays a vital role in ensuring proper smoke discharge and distribution. Circular, hexagonal, and rectangular shapes are the shapes you are likely to encounter when going through your shopping venture. The three shapes are popular because they are stable and can stay around the grill without rolling.
The Material
When shopping for smoker tubes for your grills, you need to ensure that they are made up of quality materials so that you are sure that they can serve you for a long time. The standard material used for constructing smoke tubes is stainless steel, which does not melt or get damaged even after prolonged use.
Hole Density And Distribution
You need to ensure that your smoke tube can provide ample smoke distribution by ensuring that it has a higher density of holes.
Nonetheless, it would help to avoid smoke tubes with large holes to prevent a situation where the pellets fall out of the tube.
Ease of Cleaning
After preparing your favorite meal, the chances are that your smoke tube will get dirt, and you do not want to store it in that condition. Generally, avoid a smoke tube that will take a lot of your time cleaning. Moreover, leaving your tube without adequately cleaning it will expose it to damage.
When checking how easy it is to clean a smoke tube, you need to find out whether or not it is dishwasher safe.
What Is A Smoke Tube For Pellet Grill?
A smoke tube is used to hold smoking pellets to generate smoke. After you put your favorite pellets in a smoke Tube and light it, it will generate a decent frame that you can use to burn your meat. A good smoke tube should be easy to use in any grill and smoker and is ideal for hot and cold smoking.
Using A Smoke Tube In A Pellet Grill
Using a smoke tube in a pellet grill is easier than you can imagine. The process is simple; you are supposed to add pellets into the tube and set it up vertically before lighting it up for 15 minutes. Here is a step-by-step procedure on how to effectively use a smoke tube.
Fill your smoke tube with your favorite wood or pellets
Tap the smoke tube on the ground to ensure that all the pellets have settled
Set the smoke tube vertically up
Light it
Allow it to burn for 10 -15 minutes
After that, you can add your food and close the grill
Once the flame starts flowing out, you are ready to smoke your food.
Smoke Tube For Pit Boss Pellet Grill
BBQ enthusiasts use a smoke tube to turn any grill into a smoker. If you already own a pit boss pellet grill, you won't have a hard time increasing the smoky flavor of your food.
While smoke tubes are popular these days, most people do not know how to effectively use a smoke tube in a pit boss pellet grill.
Generally, lighting and using a smoke tube is a straightforward process that anyone can easily handle. All you are supposed to do is fill the tube with pellets, light them, and wait for about 15 minutes before you can start smoking your food.
Why A Smoke Tube?
Since charcoal, gas, and pellet grills cannot sustain smoke production and temperatures below 120 degrees F; a smoke tube becomes necessary for cold smoking. Notably, you can use a smoke tube for cold and hot smoking.
Benefits Of Using A Smoke Tube
It is a cost-effective way to add smoke flavors to your delicacies
Smoke tubes are portable, making them ideal for road trips and camping
Quality smoke tubes are easy to clean
Allows you to infuse different flavors into your food
It burns slowly hence giving you plenty of time
Homemade Smoke Tube For Pellet Grill
If you do not want to shop for a smoke tube, you can use a homemade smoke tube for a pellet grill. All you need is to visit an online store, get food-safe materials with holes, and roll them to form a smoke tube. It is as simple as that. The essential point is that whatever materials you purchase from any store must be food safe.
However, if you do not like the struggles of figuring out the best materials for the work, you may opt for already-made smoke tubes. Here are some of the best three smoke tubes that you can get.
1. Lanney Smoker Tube
The Lanney smoker tube is one of the best options that you can get for your smoking ventures. The smoke tube is made up of quality stainless steel, and it is designed to provide you with enough smoke to let you achieve great smoky flavors. Further, the hexagonal shape makes it compatible with any smoker or grill, while the 12-inch length provides a 5hour period of smoking.
2. The Pellet Smoker, 12″ Stainless Steel BBQ Wood Pellet Tube Smoker for Cold/Hot Smoking
The Pellet Smoker, 12″ Stainless Steel BBQ Wood Pellet Tube Smoker for Cold/Hot Smoking, is another excellent choice to give you value for your money. The smoke tube has everything that you would need to ensure proper maintenance of the tube. In addition to an incredible length of 12 inches, it is made of corrosion and rust-resistant materials and uses all types of pellets.

3. The Skoo Pellet Smoker – BBQ Hexagonal Smoking Tube
The Skoo Pellet Smoker is ideal for both beginners and experts. Besides being made of quality materials, the tube works best with electric, charcoal, wood, and gas grills, which is attributable to its durable and rust-resistant characteristics. Other characteristics that make it stand out include ease of installation and use of the stainless body, and it comes with several helpful accessories such as s digital user's guide.
Conclusion
With its hexagonal shape designed out of top-quality stainless steel, the Lanney Smoker Tube is the best smoke tube. Moreover, the smoke tube is easy to use, and you can be sure that you won't have any challenges adding a deeper smoke flavor to your pellet grill.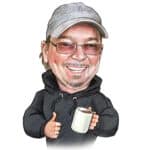 Scot has loved smoking food in his free time for the last few years. Each major holiday or off-weekend, Scot spends days testing and prepping new recipes for perfection.