Without a second thought, two of the biggest names in the world of pellet grilling and smoking are, of course – 'Pit Boss' and 'Traeger Grills.' Both the brands have a neck-to-neck competition and are known to produce efficient and advanced-level smokers and grillers. Their products are designed to be used by both amateur and professional-level pitmasters.
Traeger is the pioneer brand in the world of pellet grills. In terms of durability and construction, Traeger outperforms Pit Boss. However, unlike Traeger, Pit Boss offers a wide range of selections such as vertical smokers, griddles, gas grills, combos, and fire pits. In terms of price, Traeger smokers are costlier than those of Pit Boss.
Both Traeger and Pit Boss Smokers are considered to be the best choices for family dinners, summer parties, outdoor adventure, and a host of other smoking or grilling needs. But, what's better Traeger or Pit Boss? Continue reading to find out what may be the best option for you.

Pit Boss Grills Vs Traeger
Several factors determine the efficiency, versatility, and durability of pellet smokers. Before you decide which brand is better (Pit Boss or Traeger), here is a detailed review based on several factors:
1. Brand Overview & History
Traeger Smoker Grill
Traeger was the first ever brand in the history of pellet grills. It was launched in 1985 by Joe Traeger during his experimentation with wood-burning stoves. Later, the brand obtained a patent on their first ever model in the year 1988. Once the patent expired in 2006, Traeger officially entered into the business and relocated from Oregan to Utah. The brand later collaborated with Dansons to become the leading manufacturer of pellet smokers. Interestingly, Dansons is also the manufacturer of Pit Boss pellet smokers.
Pit Boss Smoker
Pit Boss was formed in 1999 by Dan Thiessen & Sons with the idea of converting sawmill waste into renewable energy sources. Soon they became the biggest competitors of Traeger Grill. It is a subsidiary brand of Dansons Inc. and is one of the top-selling brands in the USA.
2. Price
Standard grills cost about $150 on average. But, if you want professional results, you ought to invest in a pellet smoker or grill. Pit Boss wood pellets grills start from $299, and they can go as high as $999. On the other hand, Traeger smoker grills are costlier than even Pit Boss smokers. Traeger models start from $449, and some of the exclusive models can cost you a whopping $3,799.
3. Versatility
Talking about versatility, Pit Boss produces more versatile units than Traeger Grills. The line of grills produced by Traeger includes the Timberline Series, Ironwood Series, Pro Series, Portable Grill Series, Timberline (Gen 1), and Pro (Gen 1) series.
When it comes to Pit Boss, you can find a host of Wood Pellet Grills, Vertical Smokers, Portables, Griddles, Charcoal Grills, Combos, Gas Grills, and even Fire Pits that you can shop for.
4. Accessories & Other Benefits
You can easily find a range of accessories such as fuel, cooking tools, covers, apparel, cast-iron accessories, and replacement parts at Pit Boss' online or offline stores. You can also upgrade your old smokers with new technology by installing WiFi and Bluetooth Control Boards. Hopper extensions, propane adaptor kits, and cooking grates are also readily available.
When it comes to accessories, Traeger Grills is equally competitive and provides a range of compatible grill covers, grill liners, grill shelves, P.A.L Pop & Lock, outdoor kitchen trim kits, service parts, BBQ cooking tools, MEATER thermometers, apparel, and collectives.
5. Grill Construction & Durability
No matter how costly your equipment is, if it does not provide optimum results, it is a waste of investment, time, and effort. When it comes to design and construction, no brand is as durable and efficient as Traeger Grills. Most of their models feature cast iron grates with non-toxic coating, which will last for years to come.
Talking about Pit Boss smokers and grills, their construction is not as durable as Traeger Grills. In fact, many customers have reported that many Pit Boss units have a flimsy construction and may rust if proper care is not given. Therefore, in terms of design, construction, and durability, Traeger Grills should be preferred.
| Image | Title | Details |
| --- | --- | --- |
| | Kamado Joe KJ23RHC Classic Joe II 18-inch Charcoal Grill with Cart and Side Shelves | Learn More |
| | KAMaster Large Big Green Egg Side Shelves HDPE Egg Mate Outdoor Storage Side Table | Learn More |
| | Char-Griller E06614 AKORN Jr. Portable Kamado Charcoal Grill, Red | Learn More |
| | Royal Gourmet CC1830SC Charcoal Grill Offset Smoker with Cover | Learn More |
6. Cooking Spaces
Most Pit Boss smokers come with a cooking surface of 500-600 square inches. On the contrary, Traeger Grills provide both huge and small cooking spaces. While some of Traeger's top models have a cooking surface of over 1000 square inches, other least expensive and portable models have a cooking surface of a mere 176 or 300 square inches.
7. Temperature Range
Both Traeger Grills and Pit Boss provide a minimum temperature range of 100℉ and a maximum temperature of 500℉ for most of their models.
8. Hopper Size
The hopper size tells you how much wood pellet the smoker unit holds at a given time. It is usually a large canister or container at the bottom of the smoker, which heats up to burn the wood and produce smoke. The more the hopper size, the less refilling would be needed. Most Pit Boss smokers come with a hopper size of 10 to 12 pounds, while Traeger Grills can usually hold ~18 pounds of pellets. Many Trager units also come equipped with ash collecting provisions, which makes them easy to clean and service.
What Are The Most Popular Models Of Traeger Smoker Grill & Pit Boss Smoker?
After considering all the factors, here are the most popular wood pellet units from both brands:
Pit Boss Smoker
    1. Pit Boss 440 Wood Pellet Grill In Mahogany
Pit Boss 440 has a 518-square-inch cooking surface and produces restaurant-quality meals at the best value. It costs $349, yet it is highly versatile and allows you to smoke, braise, roast, char grill, and sear for your entire family. Pit Boss 440 has porcelain-coated steel cooking grates and can cook within a temperature range of 180℉ to 500℉.
    2. Pit Boss Sportsman 1100 Wood Pellet Grill
With a large cooking surface of 1,610 square inches, the Pit Boss Sportsman 1100 is a high-performing unit with 8-in-1 cooking versatility. The model is also equipped with dial-in digital control boards that work with the meat probes and help in monitoring the doneness of the meat without opening the lid. All Pit Boss smokers are covered under a 5-Year warranty.

Traeger Smoker Grill
   1. Traeger Pro 575 in Bronze
The Pro 575 has a cooking space of 572 square inches. It is also equipped with the latest WiFire technology that enables you to monitor and control cookouts from anywhere using the advanced Traeger App. The D2 controllers and meat probe maintains precise temperature and gives out even results every time. The Trager Pro 575 costs $899.99. You can also buy the one with a cooking space of 780 square inches at $999.99.
   2. Traeger Timberline
If you are a professional pitmaster and have a higher budget, then nothing beats the excellency of the Traeger Timberline Series. With 880 square inches of cooking area and a 10-year warranty on the product, you can comfortably rely on the unit for years to come. Timberline is also equipped with Smart Combustion Technology with fully-insulated dual wall construction that does not let the smoke out. The WiFire Connectivity with the Traeger App, induction cooktop, touchscreen display, super smoke mode, and easy cleaning are some of the other features to die for. The only downside is probably the price. The Traeger Timberline costs a whopping $3,499, while the Timberline XL with a cooking space of 1,320 square inches costs $3,799.
So whether you want to buy a Pit Boss Smoker or a Traeger Smoker Grill, it is completely your personal choice. What's better between the two would depend on the purpose you are using them for. If you are looking for something other than pellet smokers, then Pit Boss provides some great options. However, in terms of durability, manageability, and performance, Traeger has a good reputation.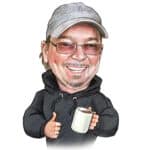 Scot has loved smoking food in his free time for the last few years. Each major holiday or off-weekend, Scot spends days testing and prepping new recipes for perfection.