With so many grills and griddles available in the marketplace, it may get difficult to find a detailed overview of some of the less-popular brands. One such promising underdog in the world of grilling is – LoCo Griddles. Why should you choose LoCo griddle? Which is the best LoCo griddle? Are these griddles portable? What are the unique features of LoCo griddle?
LoCo griddles are best known for precision grilling with their smart temperature (SmartTemp) technology. These griddles are portable with compact design and are available in 3 variants – LoCo 36" 3-burner griddle, LoCo 16" Portable Tabletop Griddle, and LoCo 26" 2-burner griddle. The SureSpark technology ensures faster heating. LoCo griddles also feature extra side shelves, a removable grease tray, and a utensil & paper, holder.
LoCo Cookers is a start-up based in East Texas and South Alabama. They offer a range of products, including portable griddles, fryers, cart boilers, boiling kits, and accessories. For anyone who wants a simple griddle for backyard or outdoor cooking, LoCo griddles can be a great choice. With the improved efficiency of these griddles, you can cook fast and party more! Continue reading to find a detailed review about the best LoCo griddle variant.

What's Unique About LoCo Griddle?
LoCo griddles are the best in the line of portable griddles. The brand has recently launched griddles with SmartTemp technology. The patent-pending SmartTemp is a digital display system that allows you to set precise cooking temperatures with 25 degrees increments.
The push-button ignition and steady temperature settings are amazing, letting you grill whatever you want quickly. Smart temperature control also saves a lot of fuel. The griddles work on liquid propane and the decent heat capacity maintains precise cooking temperature for even cookouts every time.
The Best LoCo Griddle Portable Options
Currently, LoCo manufactures only three types of griddles. Here's a detailed review and features of all three models:
1. LoCo 36" SmartTemp 3 Burner Griddle for $799.99
The Loco 36" Griddle is a flat-top grill and one of the best products from LoCo. The griddle has a heating capacity of 46,500 BTU that can be controlled with its three SmartTemp-equipped burners.
This griddle has built-in sensors inside its cold-rolled steel surface, which can actively maintain the set temperature. Therefore, you no longer need to worry about temperature leaks and recipe disasters. The three digital control knobs in the front panel can help you set the exact temperature you need for your cooking.
Some of the other features of the LoCo 36" SmartTemp Griddle are:
Two extra side shelves provide an extra large area for meal preparation.
Product Dimensions: 70.8 X 27.9 X 43.7 inches.
An extra large cooking surface of 738 sq. in.
Hinged lid and cabinet for easy storage.
SureSpark electronic ignition for faster heating.
Thermocouple temperature sensor.
Double-walled lid that locks in the heat.
A cooktop leveling system that can be adjusted to drip the grease/ mess over the griddle easily into the tray located below.
Easily removable grease tray on the left side of the griddle.
Foldable side shelves and provisions for hanging paper towels and utensils.
6" locking caster and wheels allow you to roll the griddle on any terrain.
2. LoCo Griddle Portable 16" SmartTemp Tabletop for $249.99
If you are looking for a compact unit for outdoor cooking, then the LoCo Griddle Portable 16" model is a great pick. Being equipped with smart temperature control, you never have to worry about overcooking or undercooking with this variant. The cooktop has a surface of 264 sq. in. with only one burner having a heating capacity of 15,500 BTU that runs on propane cylinders.
The griddle top is oil treated. Just like other units, this compact design is also equipped with LoCo's SmartTemp feature, which lets you set 9 different temperatures.
Some other features of the LoCo Griddle Portable 16" Tabletop are
SureSpark electronic ignition system.
Hinged lids for easy storage and cooking.
Digital temperature display.
Oversized wheels and casters for easy movement across difficult terrains.
Efficient griddle top leveling and griddle lock system.
Burner viewing hole.
Here's a full unboxing and video review of LoCo 16" SmartTemp Tabletop Griddle.
3. LoCo 26" SmartTemp 2 burner Griddle for $599.99
The features of the LoCo 26" griddle are exactly similar to the 36" model with the exception that the former has 2 burners with a smaller cooking space of 530 sq. in. The LoCo 26" SmartTemp 2 burner griddle has a compact design with a fully enclosed cart system and provision of propane tank placement inside the cart.
Some other features of the LoCo 26" SmartTemp Griddle are
Total heating capacity of 31,000 BTU (or 15,500 per burner).
Product dimensions: 61 X 27.9 X 43.7 inches.
Two folding side shelves.
Oversized grills and castors, hinged lid, and integrated storage cabinet, paper towel, utensil, and trash bag holders.
Integrated cooktop leveling system for easy drainage of grease through the holes.
A shelf on the inside left side.
How Hot Does LoCo Griddle Get?
The highest heat capacity offered by LoCo griddle is 46,500 BTU which is a feature of LoCo 36" close cart griddle. The griddle can set temperatures ranging from 250° – 450° Fahrenheit. You can set all LoCo models at Lo, 275°, 300°, 325°, 350°, 375°, 400°, 450°, and 'Sear' – all with its single digital display controller. The temperature range is decent enough to meet all your grilling needs.
Portable LoCo Griddle Vs. Blackstone
When compared to other griddles, such as those from Blackstone or Royal Gourmet, LoCo is not feature-rich. Blackstone also has an extensive line of griddles, including the 36" flat top griddles, 22" and 28" models, portable griddles, and electric table-top griddles.
On the other hand, LoCo griddles have a much simpler and sturdy design and are great for cooking pancakes, fajitas, grilled sandwiches, hash browns, meat, and everything else that a high-end griddle may do. LoCo griddles offer a decent cooking space and are easily portable with their side folding design and wheels. Though LoCo has limited features, when compared to other brands of the same price range, the former offers greater precision and more functionality.
Here's a comparison chart of Portable LoCo griddle vs. Blackstone:
| | | |
| --- | --- | --- |
| | Loco Griddle | Blackstone Griddle |
| Maximum number of burners | 3 | 4 |
| Highest heat capacity | 46,500 BTUs | 60,000 BTUs |
| Additional features & accessories | Utensil and paper towel holder. Side shelf. | Cutting board, paper towel holder, etc. Bottom shelf and side shelf. |
| Unique feature | Smart temperature control with the digital display system. | Four-zone cooking. An in-built air fryer and warming drawer are available in some models. |
| Gas tank attachment | Inside | Both open and compact designs are available. |
| Grease Management System | Drainage through an integrated cooktop leveling system. | Rear |
| Maximum cooking surface available  | 738 sq. in. | 769 sq. in. |
| Hood | Present in all models | Option of with/without hood available. |
| Price range | $249.99 to $799.99 | $269 to $549 |

LoCo Griddle Warranty And Return Policy
If you are ordering online, all unopened packs can be returned within 30 days for a full refund. However, you may need to pay the shipping charges if the error is on your side. If you are not satisfied with the product, then the undamaged griddle may also be returned with all its original packaging within the same time frame. Returns are usually processed within 5 to 10 days of approval of the return.
All LoCo products have a 1-year warranty over all defects due to material and craftsmanship. Upon request, replacement of any defective part may be shipped to you free of cost. The warranty cannot be claimed if you are using the product for commercial or business use.
Where To Purchase Loco Griddle?
Loco griddles can be purchased from retailers like Home Depot or Ace Hardware. You can also purchase griddle covers and griddle cases from these retailers.
Customer service with LoCo Griddle
The locally-based company has great customer service. You can expect responses via email within a few hours. They may also provide a few surprise goodies with every order. In case of any problem with your LoCo Griddle or you receive missing parts, they will immediately ship replacements to you. You can mail their customer service at [email protected] or contact them at 1-800-391-0436 from Monday to Friday, 8 am to 5 pm EST.
So whether you are aiming to prepare fluffy pancakes on a Sunday brunch or trying out your favorite grilled chicken recipe, LoCo griddles are hands down one of the best beginner-level, user-friendly, lightweight, and portable gas griddles.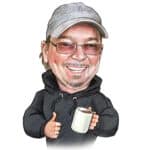 Scot has loved smoking food in his free time for the last few years. Each major holiday or off-weekend, Scot spends days testing and prepping new recipes for perfection.