If you are a true grill enthusiast, it is indispensable to own a versatile and multipurpose smoker. An efficient smoker works as a wonderful culinary tool for getting great BBQ results every time. However, before choosing an efficient smoker, some of the factors to consider are – the type of fuel, ease of control, features, cooking space, durability, and of course, the price.
Our top picks for the best pellet smokers are the Camp Chef SG24 and the Traeger Timberline 1300, while the best gas smokers are the Cuisinart COS 224 and the Masterbuilt MPS ThermoTemp XL. In the digital electric smoker range, the top models are the PitBoss 3 Series Vertical Smoker and the Masterbuilt Gravity Series 560.
Smokers come in many varieties, including pellet smokers, electric smokers, and propane gas smokers. Though pellet grills are very efficient, they are, of course, costlier than electric and propane gas smokers. If you are looking for the best smokers for hassle-free grilling and smoking, here are some of the top models reviewed.

The Best Pellet Smokers For The Money
Pellet smokers are efficient smokers that use ignited wood pellets to smoke, grill, sear, braise, or bake food. They are most notably known for imparting a deep, smoky flavor to your favorite recipe and, of course, for their versatility.
1. Camp Chef SG24 at $749.99
Enabled with new-age WiFi design and a PID controller, the Camp Chef SG 24 is one of the most advanced pellet grill smokers for the money. The PID controller is designed to give more controlled cookouts by real-time adjustment of the grill's environment.
Pros:
You can do almost everything on this machine, including grilling, smoking, and sauteing veggies.
The 'Slide and Grill' feature on this model allows you to flame broil your food.
It comes with a warranty of 3 years.
For remote monitoring, you can use the Camp Chef Connect App for features like temperature adjustment, easy monitoring, and control of the amount of smoke released.
It supports a temperature range of 160℉ to 650℉.
A very efficient ash cleanout system.
You can also add extra shelves to the smoker.
Cons:
The pellet grill gives the best cookout for only 3-4 people.
Does not have a very good WiFi range.
2. Traeger Timberline 1300 Pellet Grill at $2299
The very high-end and sophisticated Traeger Timberline 1330 Pellet Grill is a beast of wood fire grilling. With tons of cooking options and advanced WiFIRE technology, wood-fired cooking is easy and trouble-free with just a push of a button.
Pros:
The Timberline 1300 has a large cooking space of 1342 square inches (also comes in the option of 869 sq in). It can cook up to 12 chickens, 15 ribs racks, or 12 pork butts at a time.
Concealed grease management.
Features grill controller, pellet sensor (helps automatic monitoring of pellet levels), and meat probe.
Heats up quickly with its true convection system and cooks the food evenly without flare-ups.
It also has a sear bottom grate, bamboo cutting board, stainless steel front shelf, and grill tool hooks which make the unit versatile.
The unit is portable and comes with all-terrain/ locking caster wheels.
It has modes like 'Super Smoke' mode for the ones who like some extra kick of smoked flavor to their grilled food.
Comes with a 10 years warranty.
Cons:
The maximum available temperature is 500℉.
The Best Gas Smokers For The Money
Gas smokers are the ones that use propane gas as the heating source.
3. Cuisinart COS-224 Propane Smoker at $299.99
This 36" vertical smoker from Cuisinart has a 784 sq in cooking surface and a great design, which makes it perfect for all outdoor and patio get-togethers for the money. Cuisinart COS 224 adds a wonderful smoky flavor to all kinds of food including chicken, beef, pork, ribs, whole birds, fish, seafood, and large cuts of meat.
Pros:
Versatile and convenient design and decent build quality for the money.
The tight door seal gives total control over the circulating heat and smoke.
The gas smoker has plenty of room to smoke a variety of foods.
Additional tabletop space on the smoker.
Cons:
The water and wood chip tray design is not very effective.
Hard to clean.
4. Masterbuilt MPS ThermoTemp XL Propane Gas Smoker at 369.99
The Masterbuilt MPS ThermoTemp XL is one of the most popular propane gas grills, known for its efficiency, versatility, and hassle-free cooking. With a total of 961 sq in cooking space, the smoker is perfect for large volumes of low and slow cooking, especially on a windy day.
Pros:
The temperature sensor controls give highly accurate temperature readings for the most perfect cookouts every time.
The two-door access system lets you add wood chips without disturbing the main smoker compartment.
The gas tank can be easily attached to a bracket which makes it very convenient to move and handle the smoker.
Can give up to 57 hours of cooking time.
The smoker can cook up to 16 chickens, 6 turkeys, 8 pork butts, or 8 racks of ribs at a time.
Cons:
Comes with only 1 year short warranty period.
Prone to getting dents and rusting.
Short temperature range of 175℉ to 350℉.
The Best Electric Smokers For The Money
Electric smokers can be plugged into an electric power source and use electricity to heat food.
5. Pit Boss 3 Series Electric Vertical Smoker at $289
The Pit Boss 3 Series is a simple and budget-friendly electric smoker. The smoker has 4 adjustable cooking racks and 684 sq in of cooking space, which lets you cook all that your heart desires. The 1650 Watt Smoker is also engineered to offer up to 2 hours of cooking time per load.

Pros:
The patented wood loading design allows you to add wood without opening the smoker.
Has a meat probe with a LED read-out.
Large viewing window for easy monitoring.
A fully insulated and double-walled cabinet along with a locking latch system ensures that no smoke escapes out from the smoker whatsoever.
Integrated with a temperature probe for efficient temperature monitoring.
Heavy and durable design.
Cons:
Slight inaccuracy in temperature readings.
6. Masterbuilt Gravity Series 560 at $499.99
The Masterbuilt Gravity Series 560 is not just a propane gas grill, but it also comes with the versatility of wood smoking. You can smoke, bake, sear, grill, roast, and do so much more with this grill. It is one of the best options for those who want to purchase a gas grill with the convenience of a pellet smoker.
Pros:
The smoker has a digital control panel and digital fan. The digitally controlled hopper can hold charcoal for 12 to 15 hours.
Also includes reversible smoking and cast-iron grates for reversible and low and slow charcoal smoking.
The medium-sized cooking area can cook up to 8 chickens, 4 racks of ribs, 37 sausages, and 21 burgers at a time.
Comes installed with 1 meat probe (total capacity is 4).
The grill can reach up to 700℉ in just 13 minutes!
Very easy to clean.
Cons:
Comes with just a 1-year warranty.
Pre-seasoning required.
Prone to rusting.
The abovementioned choices are reviewed after taking into consideration all the pros and cons. Whether you are using a fattier or lean cut of meat, you are a beginner or a professional pitmaster, or you want charcoal or an electric smoker, there is a smoker for everyone out there. For those who are new to smoking, you are recommended to go for an electric smoker which is not only budget-friendly, but also has a hassle-free operation and is easy to fix when broken. With so many ways to cook and smoke, the perfect pick will depend on what will be the purpose of your usage and how often you would smoke.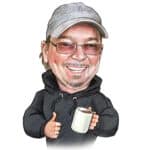 Scot has loved smoking food in his free time for the last few years. Each major holiday or off-weekend, Scot spends days testing and prepping new recipes for perfection.