While quality pellet grills offer a low-cost and convenient way to enjoy a delicious meal, searching for the best grills can be challenging. One of the reasons for this is that there are many options to choose from, and if you are not well-informed, you can easily make a mistake. Fortunately, some best pellet grills under $ 500 never disappoint.
The Camp Chef SmokePro DLX Pellet Grill is the best pellet grill under $500, with an ample space to cook various meals in one sitting. The additional features such as the automatic ignition, temperature control, and the additional rack allow for the preparation of additional items, making it perfect for people on a tight budget.
In addition to the budget, there are several other considerations that you need to make to purchase the best pellet grills for your use.
How To Choose The Best Pellet Grill Under $500
If you are out to find the best pellet grill under $500, you should consider the following factors to ensure that you get the value for your money in the long run.
Ease of use
Portability
Grilling Performance
Hopper size
Material
Ease of Use
A great pellet grill should make it easy to cook your favorite meals without struggle. In other words, when shopping for the best pellet grill under $500, you need to ensure that it boasts several automatic features and is easy to assemble.
Further, it would help if you had an easy time getting the food from the cooking rack. In this case, non-stick grates are the best option.
Portability
Most people who love grilling do it outdoors, which is why portability is an important consideration. Ensure that you invest in a pellet grill with wheels to enhance effortless movement and relocation whenever needed.
Grills with foldable legs are the best options because they are portable and do not occupy much space when storing. Moreover, they are excellent for camping and traveling.
Grilling performance
Perhaps the grill's performance should always be on top of your consideration. Even if you are on a tight budget, you need grills that will serve your interest in the best way possible.
The grill should have adjustable temperatures to barbecue, smoke, braise, or even roast meat. Grills that are powered by pellets are versatile and hence boast a better performance compared to regular grills.
The Material
Since you will be using your grill outdoors, it is vital to ensure that it features durability and is weatherproof.
Most pellet grills are reliable because they are made of stainless steel; hence, they are rust-resistant and last for several years.
| Image | Title | Details |
| --- | --- | --- |
| | Kamado Joe KJ23RHC Classic Joe II 18-inch Charcoal Grill with Cart and Side Shelves | Learn More |
| | KAMaster Large Big Green Egg Side Shelves HDPE Egg Mate Outdoor Storage Side Table | Learn More |
| | Char-Griller E06614 AKORN Jr. Portable Kamado Charcoal Grill, Red | Learn More |
| | Royal Gourmet CC1830SC Charcoal Grill Offset Smoker with Cover | Learn More |
The Hopper Size
To make your grilling work more effortless and efficient, you must choose pellet grills with a large hopper capacity. A large hopper capacity is crucial because it allows you to keep grilling without refilling the pellet hopper.
Construction and Design
Lastly, you need to ensure that the construction design of the grills is perfect for durability and also appealing to the eye. Moreover, it is essential to note that the design of the pellet grills will always influence their usability. Therefore, it is good to ensure that you get the construction and the design right.
The Best Pellet Grill Under 500
While there are many great pellet grills under 500, the truth is that they are never the same. After extensive research, we can establish that the Camp Chef SmokePro DLX Pellet Grill is the best pellet grill under 500.
Camp Chef SmokePro DLX Pellet Grill
The Camp Chef SmokePro DLX Pellet Grill boasts a stainless body that offers resistance and durability. Further, it is lightweight and supported by two caster wheels to make it easy to relocate from one point to another and for portability purposes.
In addition, it has a large cooking capacity, including the 3778 cubic inches chamber to allow for efficient cooking. It is also worth noting that the grill provides a dual LED temperature control, an integrated sensor gauge, and a sturdy stainless steel temperature probe to make the grill more efficient.
Features and Benefits
It is easy to use
It has an automatic pellet that dispenses when the need arises and shut down after completing the work.
It is easy to clean
Ease to assemble
A large-capacity pellet to prevent a situation where you have to refill the pellets often.
What Is The Best Cheap Pellet Grill?
In most cases, when people are on a tight budget, they never pay close attention to the features of the grills. Nonetheless, it is possible to get the best cheap pellet grill with top-notch performance.
Pit Boss PB44OD2 Mahogany Wood Pellet Grill is not only the most versatile grill but is also the best cheap grill. It doubles as a grill or a smoker with accessible cooking because it has digital controls and can handle a temperature range of 180 – 500 degrees. Additionally, the grill has enough space to facilitate sufficient cooking.
Features and Benefits
Capable of maintaining consistent heat throughout the cooking process
It is pretty affordable, especially if you are on a tight budget
It gives the food an incredibly flavorful taste
It comes with a quality cover
The Most Affordable Pellet Grill
If you easily get discouraged by the exorbitant prices advertised for many grills out there, then you need to understand that there are many affordable pellet grills that you can get.
The winner for the affordable pellet grill is the Green Mountain Davy Crockett Sense Mate Electric Wi-Fi Control Foldable Portable Wood Pellet Tailgating Grill. Despite being advanced with the latest features such as WI-FI, it is pretty affordable. Further, the grill is ideal for many uses, including home uses, tailgating, or camping.
Additional modern features that make the grill stand out include a thermal sensor, which monitors the temperature in the grill. In contrast, the WI-FI feature allows you to monitor and control the app via Android.
Features and Benefits
Lightweight and compact for portability
Quality design and structure for durability
Pretty affordable despite high-performance capabilities
Have portable power options to make it convenient for different occasions
Other Affordable Pellet Grills
Traeger Grills Pro Series 575 Wood Pellet Grill and Smoker – This is one of the most popular with excellent performance. Since it has a median price, most grilling bosses find it the most convenient.
Camp Chef SmokePro DLX Pellet Grill w/New PID Gen 2 Digital Controller – The grills boast well-built features that you should expect to see in high-end products. Those who have used the grill before agree that its performance is superb.
Recteq RT-700 Wi-Fi Enabled Wood Pellet Grill has an impressive design and structure that guarantees durability and effective performance. Its good appearance makes it stand out from the rest.
Green Mountain Grill Davy Crockett Pellet Grill – Not many affordable grills can compete with this grill, designed with diversity in mind. It is the best portable grill, making it ideal for camping.
Cookshack PG500 Fast Eddy's Pellet Grill – It is a high-quality grill that sells at an affordable price. The grill boasts numerous features, including four different cooking zones to make it unique and stand out.
Yoder Smokers YS640s Pellet Grill with ACS – It has an ample cooking space making it possible to prepare various foods in one sitting. The outstanding performance and high capacity make it popular among many grilling bosses.
Conclusion
After extensive research and tests, we have settled on the Camp Chef SmokePro DLX Pellet Grill as the best pellet grill under 500. It has excellent performance, a large cooking area, excellent temperature control, and a direct flame portion that effectively cooks a steak. In addition, it is highly advanced, easy to maintain, and has an appealing design and structure.
Also read: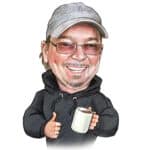 Scot has loved smoking food in his free time for the last few years. Each major holiday or off-weekend, Scot spends days testing and prepping new recipes for perfection.